A simple, yet powerful illustration by young French artist Jean Jullien became a symbol of solidarity after the deadly terrorist attacks on Paris on November 13th. A drawing of the Eiffel tower circled and turned into a peace sign took over the Internet world, accompanied by the Peace For Paris message, as an emblem of support for the people in France who are undergoing what turned out to be the deadliest attack since World War Two. Jean Jullien's Pray For Paris drawing has already had more than 39,000 retweets and 105,000 likes on Instagram, and many celebrities and political figures have re-posted it on their own social network profiles to express their condolences.
#PrayForParis - An Illustration of Unity
More than 130 people lost their lives in several coordinated attacks across the French capital, the deadliest being the one in the Bataclan concert hall, where two armed terrorists killed more than 100 attendants. Many public venues around the world, including the One World Trade Center in New York and the Opera House in Sydney, were lit in blue, white and red, the colors of the flag of France, in honour of those killed in Paris shootings. On the web, the design of Jean Jullien went viral after it was posted shortly after the attacks and continues to be spread out as a symbol of support.
The Paris killings come almost a year after 11 journalists working for satirical magazine Charlie Hebdo were also victims of a terrorist attack in January 2015. Then too, a drawing by another illustrator from France, Lucille Clerc, became an image of hope and sorrow. It depicted a pen being broken in two, an act which then turned it into two new pens, as a strong message of freedom of speech and persistence. The picture was first posted on Banksy's internet profiles, which led many to believe that the artwork was his. Many other artists also joined to create artworks as an act of compassion and unity.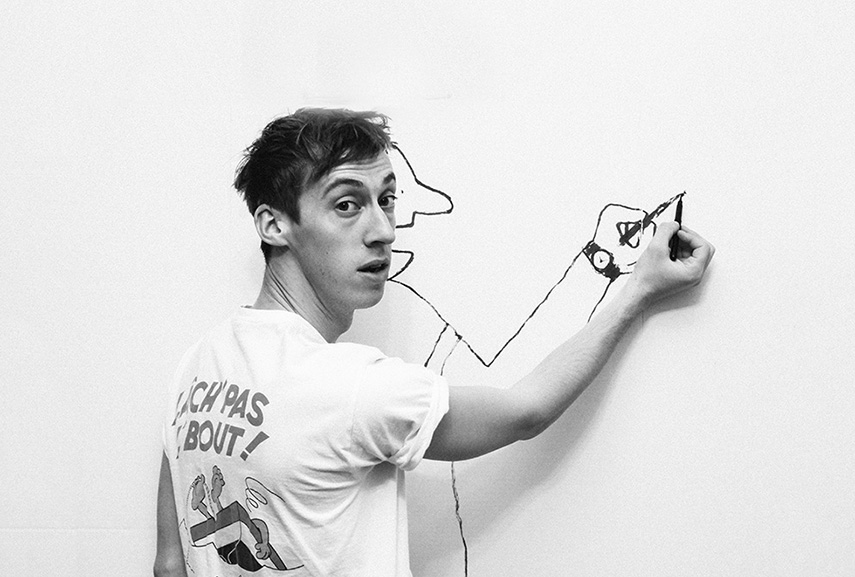 The Art of Jean Jullien
Nantes-born and London-based, Jean Jullien is a talented graphic designer whose education includes Central Saint Martins and the Royal College of Art. One of the most sought after artists in the field of design today, he also works in film, clothing and book design, music projects and installations. Jean Jullien creates observant, critical and playful artworks that almost always reflect the contemporary society and its habits, but he also does commercial work for clients like The New Yorker, Tate, Channel 4, The Guardian, Yale University and many more. Very up-to-date with the happenings in the world, Jean Jullien created News of the Times website in 2012, together with Yann Le Bec and Gwendal Le Bec. A kind of a visual blog, the site features designs that illustrate current socio-political affairs, such as the migrant crisis, so his Peace For Paris drawing doesn't come as a surprise - although he probably didn't expect his pure message of solidarity to draw him as much attention as it did so far.
Share your thoughts on the news on our Facebook page.
All images used for illustrative purposes only.