Working from the opposite ends of the 20th century, but also the opposite sides of the world, Egon Schiele and Jean-Michel Basquiat created a formidable output that turned them into real icons for new generations. Both becoming major figures in the art of their century in under a decade and dying under the age of 30, they are linked by a short-lived body of work with a remarkable impact and permanency. At the same time, both of these oeuvres are characterized by the vital necessity of art.
The work of these two artists will be brought together in concurring presentations at Fondation Louis Vuitton. Simply titled Egon Schiele – Jean-Michele Basquiat, these exhibitions respect the specific context of each body of work, two moments which were as rich as they were different from each other. For Schiele, this was the spirit of the 1900 Vienna, which gave birth to Secession and the effervescent intellectual and artistic modernity, while for Basquiat it was 1980s New York and the vitality of its underground scene and urban downtown culture.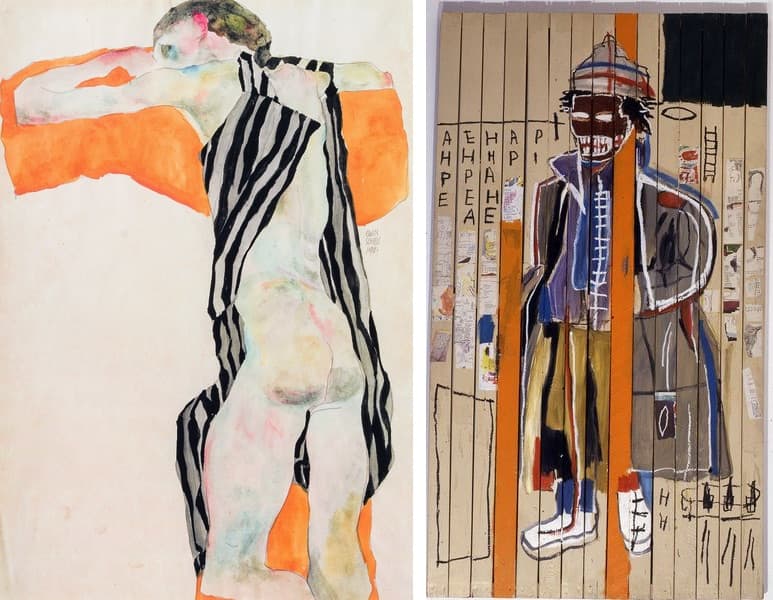 Egon Schiele
A leading Austrian expressionist painter, Egon Schiele developed a distinct graphic style which embraced figural distortion and bold defiance of conventional norms of beauty. He is celebrated for his nudes and self-portraits which lay bare his subjects' raw emotional state and physical tensions. Before he died in 1918, he created some three hundred paintings and several thousand drawings over the course of ten years.
The exhibition will feature around 120 works, including drawings, gouaches and paintings, spanning across more than 600m2 in the pool-level galleries. Some of the highlights include the Self-Portrait with a Chinese Lantern from 1912, on loan from the Leopold Museum in Vienna, Portrait of the Artist's Wife Seated, Holding Her Right Leg from 1917, on loan from the Morgan Library & Museum in New York, Standing Nude with Blue Sheet from 1914, on loan from the Germanisches Nationalmuseum in Nuremberg, Seated Male Nude from 1910, and Self-Portrait from 1912, on loan from the National Gallery of Art in Washington.
The display is organized chronologically across four rooms, following the concept of line and its development in the artist's work. The Ornamental Line brings together works created between 1908 and 1909, characterized by fluidity and the discovery of Gustav Klimt; The Existential Line of Expressionism brings together works creates between 1910 and 1911, such as angular and contorted portraits and self-portraits; The Physical Balance of the Combined Line at the Dawn of the First World War includes works created between 1912 and 1914, characterized by a less sinuous line and a flatness of drawing; and The Amputated, Fragmented Line during the War Years features works created between 1915 and 1918, where the artist introduced formation in the representations of the body.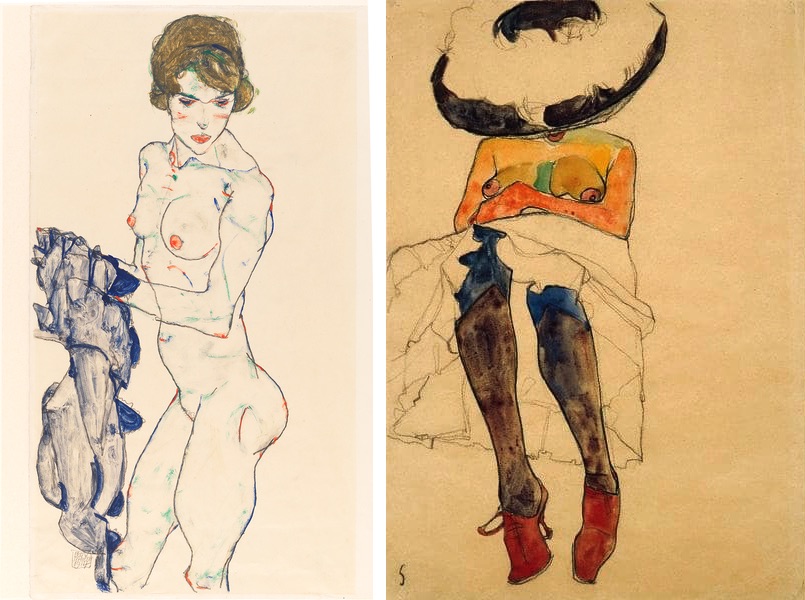 Jean-Michel Basquiat
Regarded as one of the most significant painters of the 20th century, Jean-Michel Basquiat is known for works which were artistically alluring and imbued with a deeper meaning, bringing to the forefront many of the dualities of the time. His work refers to the eruption of modernity, that of the expressionists, but his influences are numerous. Basquiat's raw, vibrant imagery were characterized by a playful approach to text and rebelling against political indifference. After he died, he left one thousand paintings and even more drawings, all carried out in under a decade.
Spreading across four levels of Frank Gehry's building, the exhibition is organized chronologically, but also by groups of works which define themes. Covering Basquiat's entire career, it follows the artist's work from the first drawings and monumental works to the later prints, collages and assemblages, charting a vast array of his concerns.
The display in the Gallery 2 follows on the theme of the street, featuring works created between 1981 and 1982 such as Crowns (Peso Neto), the series Prophets and Irony of Negro Policeman. Displayed in the Gallery 4, the second part includes a series of thirty drawings of heads, for the most part made in 1982, including Untitled (Sugar Ray Robinson) from 1982, St. Joe Louis surrounded by Snakes from 1982, Cassius Clay from 1982, Self-Portrait with Suzanne from 1982, and Portrait of the Artist as a Young Derelict from 1982. The sequence in the Gallery 5 opens with "Heroes and Warriors", including Untitled (Boxer) from 1982 and Obnoxious Liberals from 1982, followed by paintings linking a long history and archetypes to the artist's immediate surroundings, such as Price of Gasoline in the Third World from 1982 and Slave Auction from 1982, and concluding with works inspired by music, such as CPRKR from 1982 and Horn Players from 1983.
The Gallery 6 brings together six paintings in which writing plays a central role, such as Museum Security (Broadway Meltdown) from 1983 and Hollywood Africans in Front of the Chinese Theater with Footprints of Movie Stars from 1983, while the Gallery 7 features four pieces based on a motif of a grid on which the figures are superimposed, Lye from 1983, Flash in Naples from 1983, Napoleonic Stereotype from 1983, Red Savoy from 1983. The Gallery 9 features two major groups of works - those which include references to African culture such as Grillo from 1984, and the ones which focus on the relationship between Basquait and Warhol. Finally, the last room is organized in two sections, one centered around the large formats of the 1985-1987 period and the other which includes some of the artist's last works, including the stunning Riding with Death from 1988.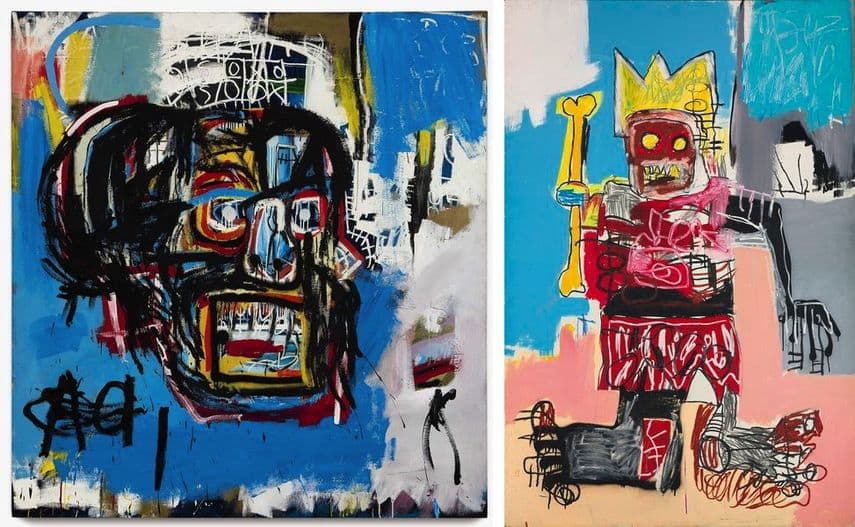 Jean-Michel Basquiat and Egon Schiele at Fondation Louis Vuitton
These two presentations at Foundation Louis are in line with one of the Collection's four themes: the subjective and expressionist visions of the artist. Suzanne Pagé, Artistic Director of the Louis Vuitton Foundation, explained that these two exceptionally intense bodies of work translate "a deep and deeply incarnated distress, by mean of a particularly striking line".
With Schiele, a distorted and tortured line raises worrying questions and dares to express crude sexuality by way of implacable introspection and the harsh gaze he trains on himself and on his models, with whom he identified. The premonition of tragedy is everywhere. With Basquiat, a line infused with youthful impetus and carried by real rage aims to impose the presence of the black figure, following the artist's painful realization of its absence in the world of art, and particularly in museums.
While the exhibition of Egon Schiele is the first time that the Fondation Louis Vuitton has dedicated a monograph to a "historical" artist, the Basquiat presentation is the first showcase of this size devoted to a single artist at this institution.
The exhibition Egon Schiele – Jean-Michele Basquiat will be on view at Fondation Louis Vuitton in Paris from October 3, 2018 until January 14, 2019.
Featured images: Jean-Michel Basquiat - Untitled (detail), 1982; Jean-Michel Basquiat - Untitled Boxer, 1982; Jean-Michel Basquiat - Dos Cabezas, 1982. Acrylic and oilstick on canvas mounted on tied wood supports, 152.4 x 152.4 x 2.54 cm. Private Collection © Estate of Jean-Michel Basquiat. Licensed by Artestar, New York. Picture: © Robert McKeever; Egon Schiele - Self-Portrait with Chinese Lantern Plant, 1912. Oil and opaque colour on wood, 32.2 x 39.8 cm. Leopold Museum, Vienna, Picture: © Fotografie Leopold Museum, Vienna; Egon Schiele - Wilted Sunflowers (Autumn Sun II), 1914. Oil on canvas, 100 x 120.5 cm. Private Collection, courtesy Eykyn Maclean. All images courtesy of Foundation Louis Vuitton.