From a pioneering street artist to achieving a status of the legend, Jef Aérosol is without a doubt one of the most famous artists in the contemporary world. The latest Jef Aérosol art exhibition will soon be on view at Galerie David Pluskwa. Titled People and Things, the exhibition shows the artist's poetic commitment that characterizes him. For this exhibition, the artist has prepared a new body of work created on cardboard and recycled wood, the living supports so rich of their poverty. Depicting subjects and objects next to each other, these works complement, dialogue, and tell what we are and what constitutes us - dreams, fears, hopes, anger, tears, smiles, memories, questions, etc. Sometimes deep or dark, and sometimes light or futile, these pieces are imbued with nostalgia, but also stirred by the actuality.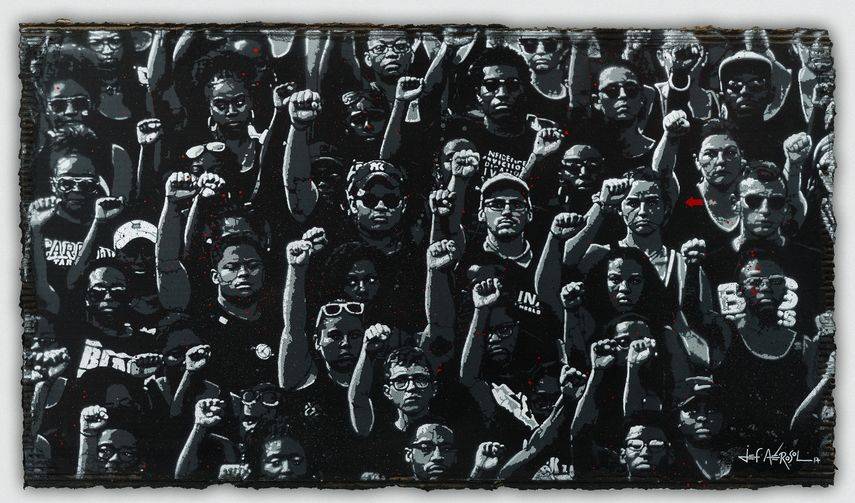 The Master of Stencil
Slowly building up his reputation since his beginnings in 1982, Jef Aérosol is now considered a master of stencil who has influenced generations of street artists. Always being fascinated by portraiture, his very first stencil created in Tours was a human face - a self-portrait enlarged from a photobooth photo. Seen on the streets or around the world, but also gallery spaces, his now iconic portraits include both the famous and the ordinary. Yet, all of these works are created to show the truth, resembling a great photographer who captures the authenticity of a moment in time. This uncanny ability to get at the truth of his subjects and convey it to the audience is one of his greatest gifts to the art world.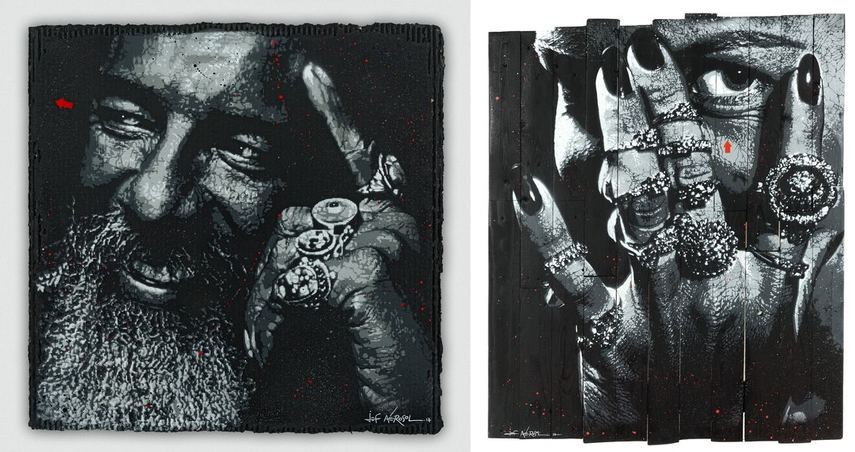 The Visual Identity
For over 30 years, Aerosol has cut and sprayed stunning portraits of cultural icons who he feels connect directly with the masses and shake public opinion, including Johnnie Cash, Sid Vicious, Jimi Hendrix, David Bowie, Brigitte Bardot, Kurt Cobain, John Lennon, and Mick Jagger. Yet, he has also created numerous self-portraits and portrayals of the anonymous people working and living in the street. Dominated by colors black, white, and gray, his works are usually accompanied by the red arrow - a powerful graphic element that has become the artist's trademark. The artist sometimes provides his own explanations for the arrow, but he prefers the people to come up with their own.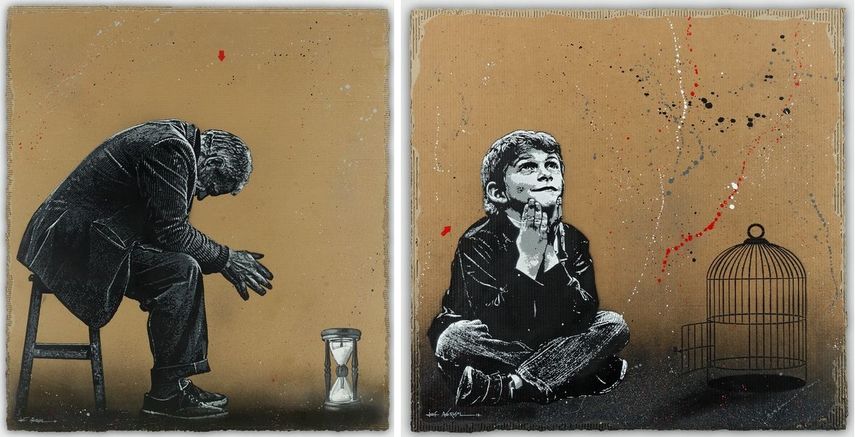 Jef Aerosol Art Exhibition at David Pluskwa
Located in Marseille, David Pluskwa Gallery is an exhibition space for Contemporary Art and Urban Art. Besides having a passion for light and composition works by Felix Ziem, David Pluskwa is also interested in the modern and contemporary creation and different movements such as Narrative Figuration, Free Figuration or Street Art. The exhibition People and Things will be on view at the gallery from March 10th until April 8th, 2017.
Featured image: Jef Aerosol - Rings (detail)