A French Urban art pioneer working since 1982, Jef Aérosol remains a reference and an influence among street artists of the younger generations. A master of the stencil, he is today best known for his compelling portraits created in his signature colors - black, white and gray, immortalizing both famous people and the ordinary ones. His art is enhanced with a small red arrow, which became the artist's trademark.
The latest body of work of this iconic artist will soon be on view at Galerie David Pluskwa. Titled Road Trip(s), the exhibition will bring together a selection of works inspired by the artist's travels.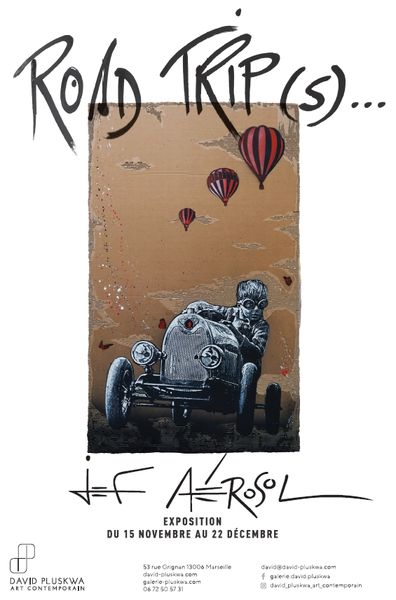 The Practice of Jef Aérosol
Throughout the years, Jef Aérosol managed to construct an authentic aesthetic that is easy to recognize. After creating his first stencil in Tours in 1982, he has been visiting countless cities around the world, pasting and spray-painting portraits of iconic figures or anonymous people of all backgrounds and ages.
This stencil master, as well as a master of portraiture, is known to capture truth in his portraits like the best photographers. Whether being cultural icons or totally anonymous, all of his characters are captured with genuine emotion, enhanced with textural effects, color juxtapositions and provocative words. Poetical rather than political, Jef Aérosol's work is a call for humanism, bringing both personal and universal dimensions.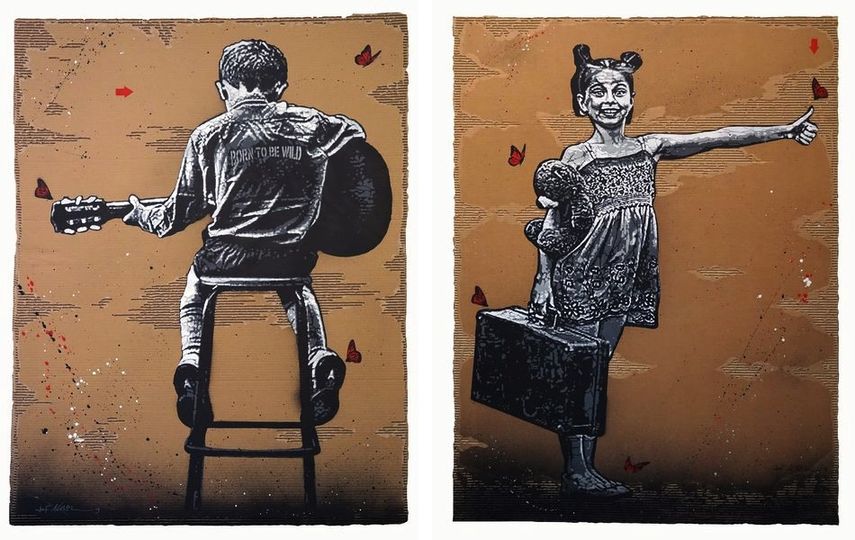 Road Trip(s)
As the artist explained, he did his first road trips in the street where he grew up, going up and down on a scooter, roller skates or a bike. His reading interests corresponded with this passion, from Tom Sawyer and The Famous Five to Jack London, Davy Crockett and Jules Vern.
After trading his bike for a moped, the perimeter of his trips extended from his small street to the city center and suburbs. The literature changed as well - Kerouac replaced St. Exupéry and Jules Vernes, and records like Route 66 and Born to be Wild piled up on his record player.
Whether alone or later with his family, he continued adding more miles to the counter, always eager to discover the surprises that awaited further down the road. Over the years, he has seen gypsies in trailers on small Irish roads, overloaded donkeys on the Atlas trails, rickshaws in China, clusters of bikers on Californian speedways, mods driving Lambrettas in Brighton...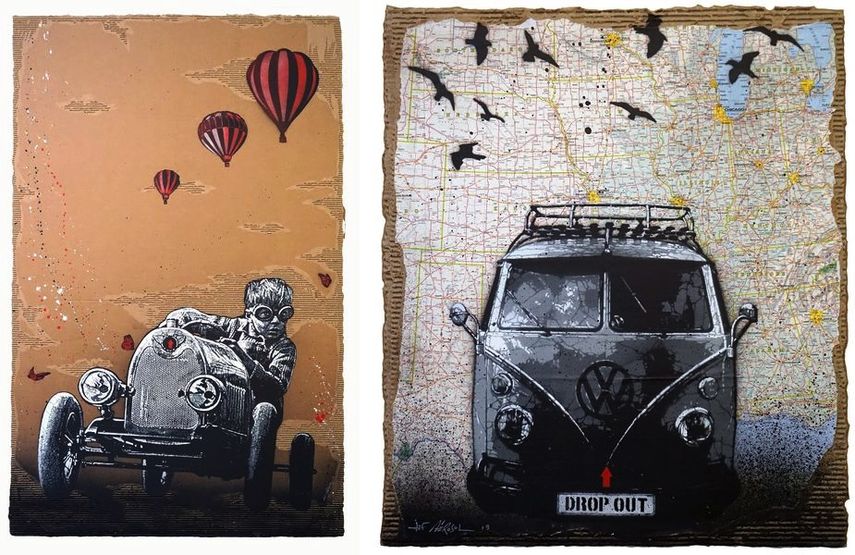 Jef Aérosol at David Pluskwa
Paving the way for street art as we know it now, Jef Aérosol continues to work in both the streets and in the studio and show across the globe, always pushing his art further.
The exhibition Road Trip(s) will be on view at Galerie David Pluskwa in Marseille from November 15 until December 21, 2019.
Featured image: Jef Aerosol - Road Trip(s) (detail), 2019. All images courtesy of Galerie David Pluskwa.