Jean-François Perroy, better known under the pseudonym Jef Aerosol, is one of the pioneers of French street art. He started his stencil art in Tours, France in the early 80s. The artist has left its traces on the walls of many cities around the globe. Jef Aerosol is represented in several galleries around the world including La Galerie 38 in Morocco. The gallery will host Jef's first exhibition in Morocco from March 20 until April 28, titled "Jef Aerosol share in Arrow".  Jef Aérosol's famous and somewhat mysterious red arrow appears on all his works and has become some sort of a trademark, or second signature.
Street Musicians
Well-known for his portraits of celebrities such as John Lennon, Dylan, Hendrix, Elvis Presley, Gandhi and others, Jef often paints the anonymous characters of the street. A very important part of his work is dedicated to baggers, street musicians, passers-by, elderly people and kids.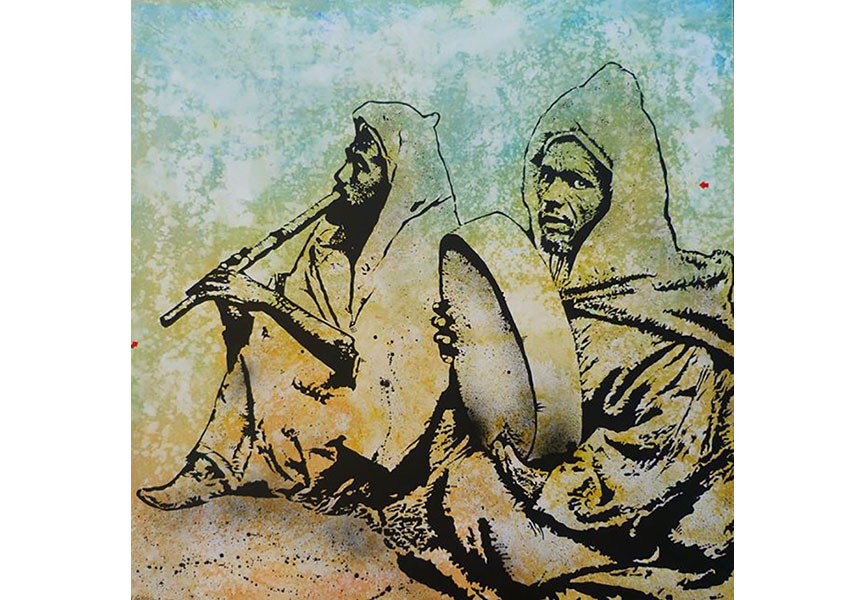 Basquiat and Gainsbourg
At Gallery 38, Jef Aerosol unveils his iconic images: Warhol, Gainsbourg, Basquiat or Mandela, his anonymous characters as essential Sitting Kid and those inspired by the Moroccan artist residency during which he revisited the legendary group Nass El Ghiwane, anonymous musicians or the headliners of the classic film Casablanca such as Humphrey Bogart and Ingrid Bergman.