Being at the forefront of urban art expansion, Jef Aérosol stands among the giants of the scene who helped shape it and contributed immensely to its popularity. Born in Nantes in 1957, Aérosol belongs to a group of early graffiti artists who defined public art, such as Blek Le Rat, Miss Tic, and Speedy Graphito. He is known for his figural style with oversized portraits and a well-known use of red arrow, and has been working continuously from the 1980s to the present day. By looking at his schedule, we can safely say that he is busy as ever. Giving a nod to Banksy and Obey who, in a way, revived the scene and pushed the older generation of artists to the front of events again, he is aware of the importance of his work for art in general, but as he states in this interview - art market is not something he is interested in. The most important things in life are far removed from it, Aerosol suggests, as he reflects on the past, and gives us a candid overview of his art and influences that shaped it.
Last year has been very busy for Jef, as he participated in over twenty solo and group shows and performances, from France, Belgium, UK, and USA, to China and Canada. Among the events that will mark 2017 in art world would be his solo exhibition People & Things at the Gallery David Pluskwa in Marseille. As urban art scene continues to grow, and today has more practitioners than any other art field, Jef Aérosol and the likes of him make a founding group that pioneered techniques and styles that are part of the history of this art genre. Stencils being Jef's staple, they nowadays represent a part of the worldwide subculture. While style in itself is important, Aérosol's choice of subjects from celebrities to anonymous persons and self-portraits is imbued with humor and provocation, but also with a search for a universal humanity lurking in each person. Constantly inspired by rock'n'roll, Aérosol continues his exploration of the popular culture and the world and persons that surround us, on the walls and in gallery spaces around the world. We were lucky enough to catch up with him and to converse a bit about the fascinating world of Jef Aérosol's art.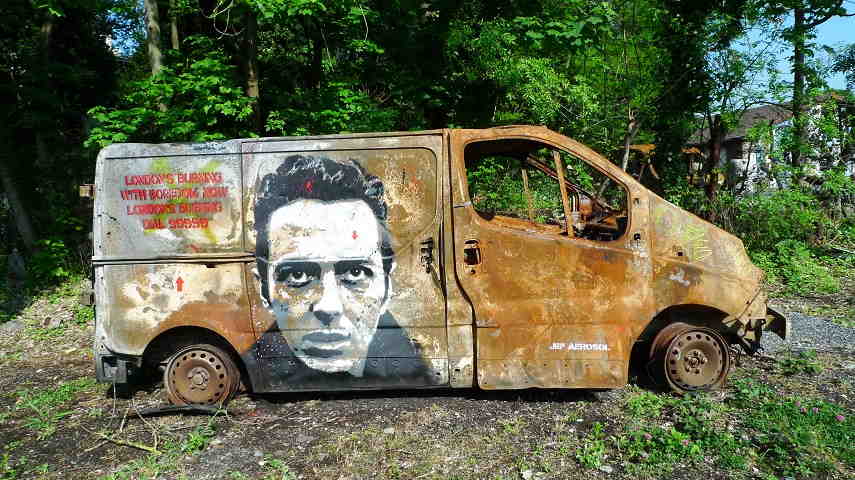 From Futura to Jef Aerosol's Universe
Widewalls: You are hailed as a pioneer of street art. Why you picked stencil as your graffiti style?
Jef Aérosol: It's hard to say… I saw words stenciled on the shirts and leather jackets of the Clash members, in 1977. There was also that post-punk band, Crass, who used a stenciled logo to promote their gigs and albums. And in September 1981, I saw the Clash in concert in Paris and there was that guy on stage with them, Futura 2000. While the band was playing, he spraypainted a huge canvas. I had never seen anybody using a spraycan for artistic purposes before. That was definitely a starting point for me. A year later or so, I started stenciling on the walls of Tours.
Widewalls: You mentioned previously that stencils and doing art in general gave you the freedom from social conventions; that you still feel like a kid when you are with your spray cans. Can you talk more about this?
JA: Well, stencils have always existed, ever since prehistoric men started using their hands as stencils on the walls of their caves. It's a simple tool, but the results can be quite realistic, even with a single layer stencil. I'm still impressed each time I remove a stencil after spraying it, when I discover the result. The magic still works! The spraycan is also a very "special" tool, it's highly addictive…
Widewalls: The influences – from seeing Futura and his tour with Clash, to Ernest Pignon-Ernest and Californian psychedelic art – can you comment more on them? How they influenced your aesthetic choices?
JA: Once again, it's pretty hard to analyze and comment on those influences. When I started painting in the street and using stencils, I was much more into action than reflection, there was something "wild" and based on instinct: I just "had to" do it. Music was extremely important and all the images linked to music, rock, pop, album covers, concert posters, fanzines, etc. Has a tremendous effect on my imagination. They helped me "travel away" and build fantasies, dreams, and hopes. The motto at the time was "drop out and tune in": pictures and music were y only way of escaping reality...
From Rick Griffin to Ernest and Futura, I wandered through different worlds and moods. Unconsciously, I was building my own "universe", I guess.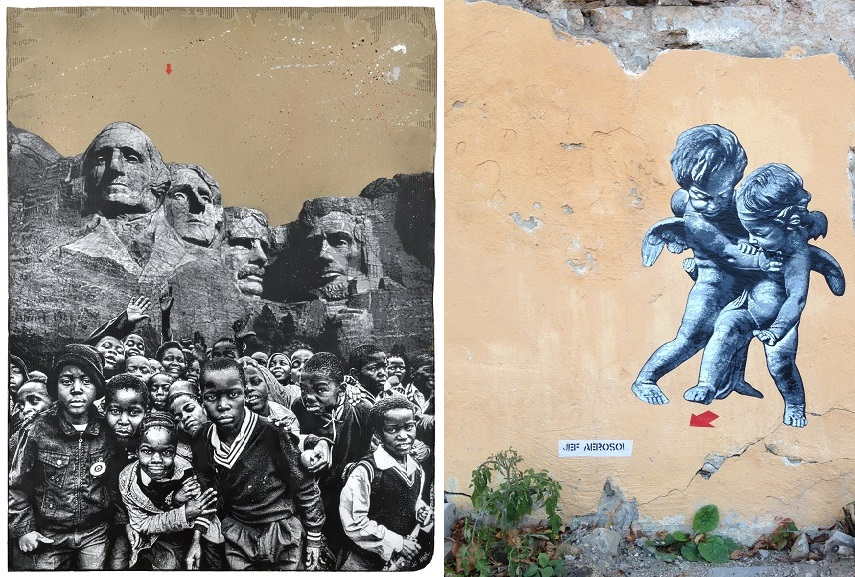 Portraits and Arrows
Widewalls: Your works are figurative in style. Can you tell us more about it - how you came to pick your motifs, and more importantly, to stick with them over the years?
JA: I don't know, that's just natural… I paint people; people are all I'm interested in!
The animals, landscapes or objects I sometimes paint are all and almost always connected to human beings in a way or another.
Widewalls: Celebrities and ordinary people done in black and white, and all marked with red arrows. When did you start using arrows? Were they present in your early works as well?
JA: Nope, when I started stenciling, in 1982, I didn't use the arrow in the first place, it came a bit later, in the mid-eighties, but not as a permanent "trademark". The arrow was only one of the many shapes I used to paint in order to "organize" space: dotted lines, stars, circles, triangles, flowers…
They helped me split the space and define a "format". I progressively ceased to use those shapes, but the arrow remained and now, I just can't get rid of it!
Widewalls: How you create your stencils - do you start with a photo or…? Can you tell us more about your creative process?
JA: Yes, I always start from photos.
Widewalls: Would you single out some of your favorite works or places you worked at?
JA: I refuse to do so; I don't want to give more importance to a place or an image. I don't have any "favorite" work or spot (except the next ones!!!)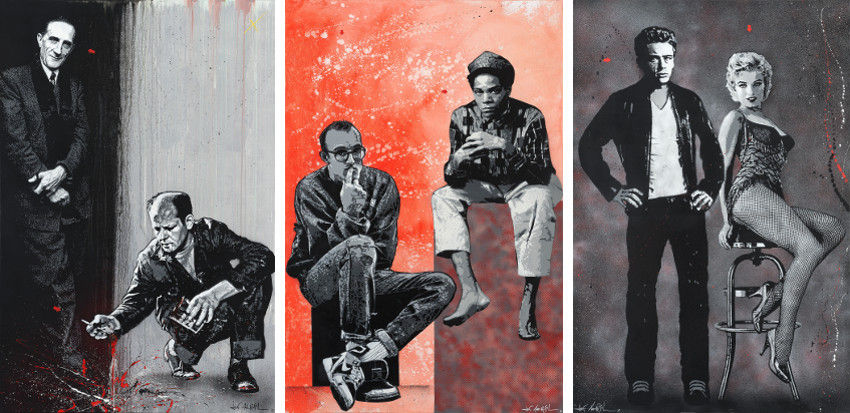 Music as Inspiration - GABBA GABBA HEY!!!
Widewalls: Graffiti are usually linked with hip-hop music/culture. What music inspired and still inspires you?
JA: All sorts of music and culture EXCEPT hip-hop! I've never been into hip hop, rap, classic graffiti writers, etc… I respect them and some of them are really interesting, but this not my culture at all. I was born in 1957 and my culture is much more deeply rooted in the fifties, the sixties and the seventies, from early rock'n'roll to psychedelic and garage rock and punk rock. But I've also always been into blues, folk, songwriting, soul, bluegrass, French singers, Irish traditional music, rhythm 'n' blues, cajun, jazz, etc,etc.
Widewalls: To quote you from another interview – "do you think that life would have been possible without the Ramones?"
JA: Nope! GABBA GABBA HEY!!!
Project 100 murs pour la Jeunesse
Art Market, Art Scene…Fashions and Hypes
Widewalls: You've been in "business" of street art, so to speak, for over 30 years now. Can you comment a bit about how the scene has changed over the years and what would you pin down as important on its trajectory - perhaps some events/artists that shaped it?
JA: Some things have changed, for sure, but some haven't…
The main change, or – should I say- revolution, is the internet: it has certainly opened new horizons and has shaped a new way of making, publicizing and selling art. It has obvious advantages but also some drawbacks, of course.
It's impossible not to mention Banksy and Obey as being the two main protagonists of that new "era": they definitely helped artists of the old generation, like me, to get back to the front. I feel very grateful to them.
Widewalls: Do you follow the art scene (the street art scene but also the scene in general)? What do you think about the direction art is taking in relation to market?
JA: Well, it's always the same old story: fashions and hypes come and go, then come back and go again… That's life. To be very honest, I don't really care about all that. Getting older is making me wiser… The most important things in life are far from the art market…
Widewalls: How about French art scene?
JA: It's quite lively, with so many different trends and styles. There are so many artists or so-called artists… Some I like, some I don't…
Widewalls: What is the status of street art today in your opinion? How do you see your position within it?
JA: I don't really like that term "street art"; it's a label that doesn't mean much. There are too many different styles, techniques, concepts, purposes, motivations and aims to reduce them to a single "term": street art, urban art, contextual art, insitu art… I don't like labels even though I understand that they can be useful sometimes, especially to galleries, journalists, art dealers or auctioneers…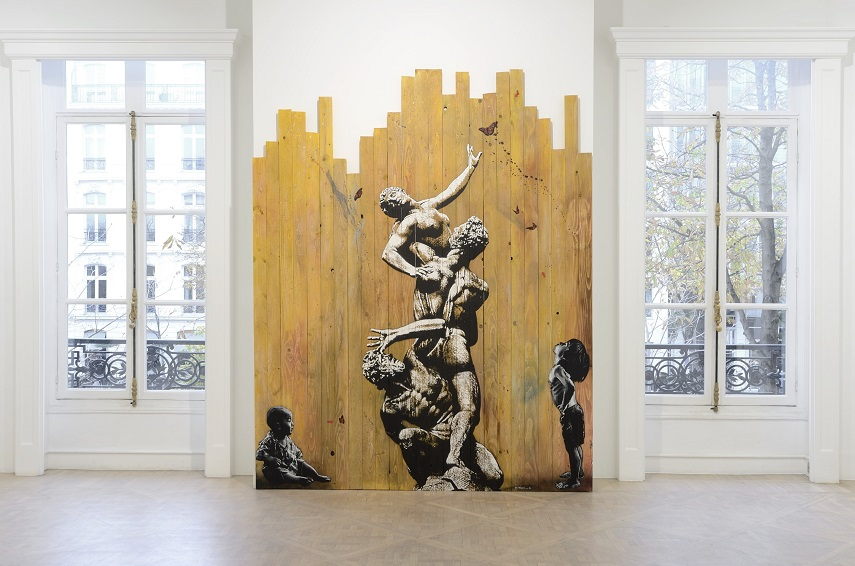 With Full Force Forward
Widewalls: Do you have any advice for young artists who are starting out on urban art scene?
JA: Be yourselves!
Widewalls: How was 2016 for you? Can you single out some events or exhibitions you participated in?
JA: Very busy (see my CV)
Widewalls: What is in the making for 2017? Can you share with us some of your plans, or projects you will be working on?
JA: Very busy (see my Schedule)
Featured images: Jef Aerosol - Nirvana, Marquette Lez Lille, 2016; Jef Aerosol Portrait. Photo Credits Stéphane Missier; Jef Aerosol's Arrow, close up; Jef Aerosol - Stan 2 Nancy, 2016. All images used for illustrative purposes only.