Sick and tired of pozers at your favorite gallery?! Then visit C.A.V.E gallery in Venice, California because a new exhibition is set up and pozers are definitely not allowed. A legendary surfboard designer Jeff Ho is presenting a series of canvas paintings at a solo show humorously titled No Pozer. This will be the first time the artist is exhibiting paintings on canvas having exhibited his famous embellished skateboards and surfboards in the past.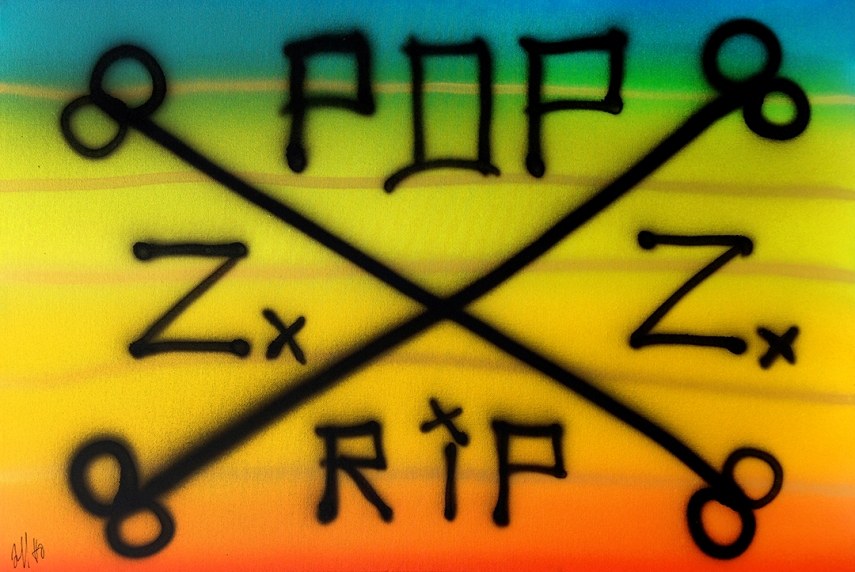 A Unique Perception of Art by Jeff Ho
Jeff Ho had produced and decorated the surfboards and skate-decks for decades and has since become an icon of surf and skate community. He has initially become known in the 70's when he opened a retail and manufacturing shop named Zephyr Productions. The Californian artist and entrepreneur was always interested in art but his conception of the artistic process is significantly more extensive then the usual definition. Jeff Ho considers surfing and skateboarding to be art forms in their own right, because these activities allow the individuals to fully express themselves.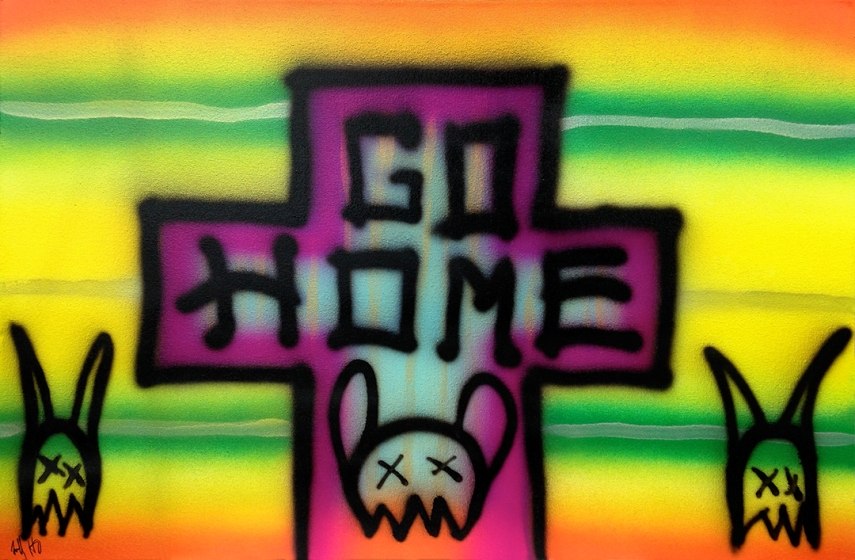 No Pozer in Venice, California
Jeff Ho's equipment is celebrated not only for his innovative design that made surfboards shorter and lighter but also for the unique painting style and graphic symbols he applied onto each one of his board. Now he has transferred his iconic imagery from products to canvases. Jeff Ho's love for his surrounding is conspicuous considering that every painting seems to be connected to Venice, California either through its form or its title. In his first solo exhibition Jeff Ho stays true to his style while using aerosol to embellishing the canvases with minimalist compositions and surfing iconography. Graffiti styles from the P.O.P. skate era and Zephyr rainbow artworks make the backbone of No Pozer solo exhibition. The artist employs vibrant colors and an array of dead animals to transpose his humorous messages while inviting the locals to stay and pozers to go home.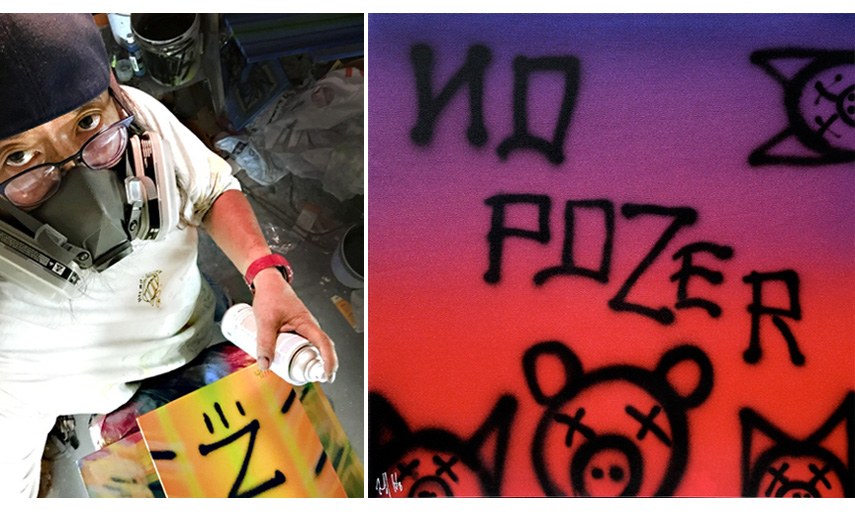 Canvases and Surfboards at C.A.V.E. gallery
Considering his involvement and influence on the surfboard culture it's foolish to think that any exhibition of Jeff Ho can go by without his trademark boards. Aldo primarily consisting of aerosol paintings a series of Jeff Ho's surfboards are also displayed at No Pozer exhibition at C.A.V.E. gallery. The artist has been decorating the surf equipment since late 60s but this will be the first time his works on canvas are being exhibited. As previously mentioned, No Pozers are allowed in the Californian gallery but everyone else is welcome to visit the show. No Pozer solo exhibition opened on July 11th and it will be on display till August 2nd, 2015.
Whether you're a Pozer or No Pozer sign up for My Widewalls for FREE, cause we appreciate you all
Featured image : Jeff Ho's No Poser Exhibition Poster and Jeff Ho Signing a Print
All images courtesy of C.A.V.E. gallery