One of the leading contemporary artists, Jeff Koons, has arrived to the beautiful city of Florence. Two sculptures by this famous American artist have been unveiled by the Biennale Internazionale di Antiquariato di Firenze (Florence's antiques biennial). As it was previously announced by the organizers of the Biennial, the artist's statue of Pluto and Proserpina is placed on Piazza della Signoria, next to marble copy of Michelangelo's David. Additionally, the second Koons' sculpture: Gazing Ball (Barberini Faun) has been placed at the Palazzo Vecchio. The whole project entitled Jeff Koons in Florence is a great idea to pair Michelangelo and Old Masters with pieces by one of the most important contemporary artists of our time.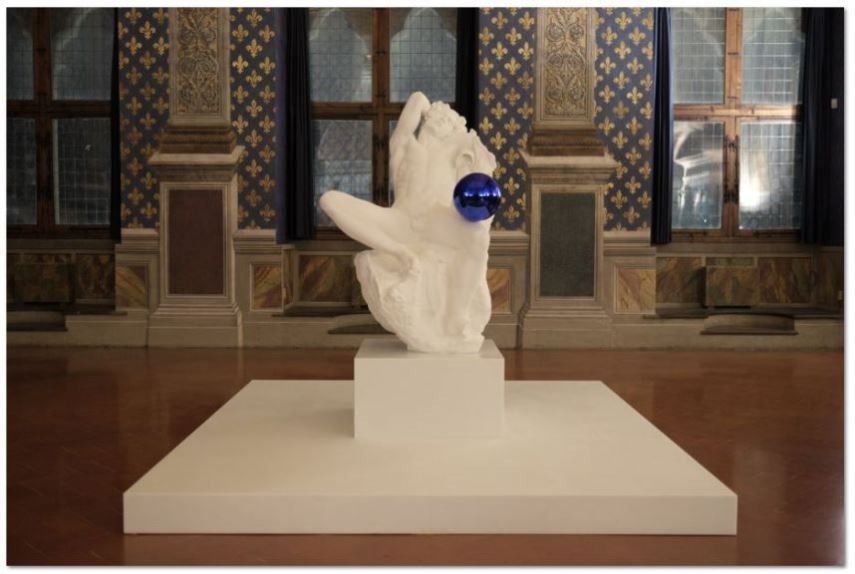 Jeff Koons in Florence : Pluto and Proserpina & Gazing Ball
Two sculptures by Jeff Koons are presented within the Biennale Internazionale di Antiquariato di Firenze. The first one is Pluto and Proserpina. This monumental work, more than three meters (11ft) high was made in gold-colored stainless steel, and it is placed next to Michelangelo's replica of David. According to the organizers: the two figures of Pluto and Proserpina, which cling to each other in a dramatic and sensual embrace, will shine in the daylight and, illuminated by night, are bound to create a jarring contrast with the pieces in marble and bronze in the square. The second Koons' sculpture that is unveiled at Antiques Biennial in Florence is Gazing Ball. The artist explains that his Gazing Ball series is based on the philosopher's gaze, starting with transcendence through the senses, but directing one's vision (the philosopher's gaze) towards the eternal through pure form and ideas. This sculpture has been placed in the Room of the Lilies at Palazzo Vecchio next to an original bronze sculpture by Donatello of Judith and Holofernes.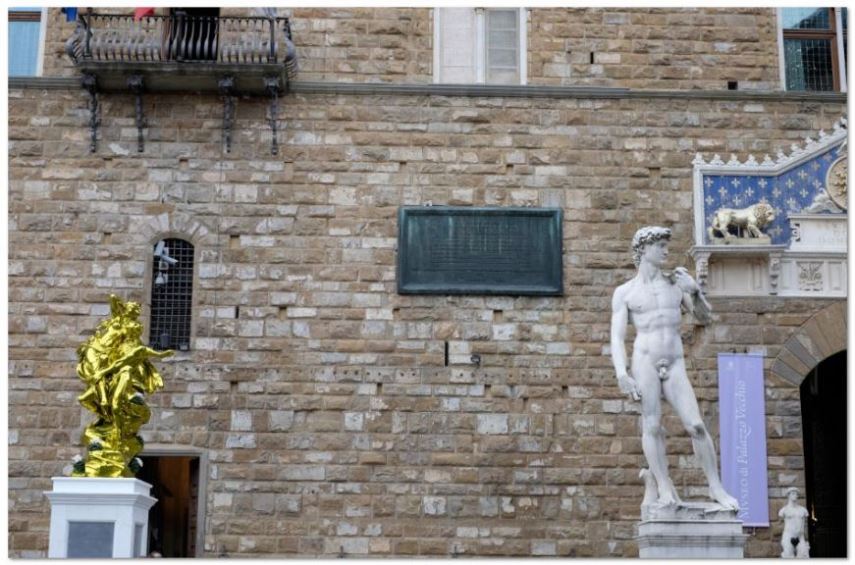 Daring Sculptural Intervention in Florence
The Biennial's organizers decision to place Koons' sculptures alongside famous pieces by Michelangelo, Donatello and other masters is certainly quite bold. We cannot often see pieces by contemporary artists and old Masters standing side by side. The whole project is initiated by Fabrizio Moretti, director of the Biennale and curated by art historian Sergio Risaliti. The project itself is promoted by the Comune di Firenze, and organized by Mus.e with the contribution of Camera di Commercio, Moretti Fine Art, and David Zwirner (of course, in collaboration with the Biennale Internazionale di Antiquariato di Firenze).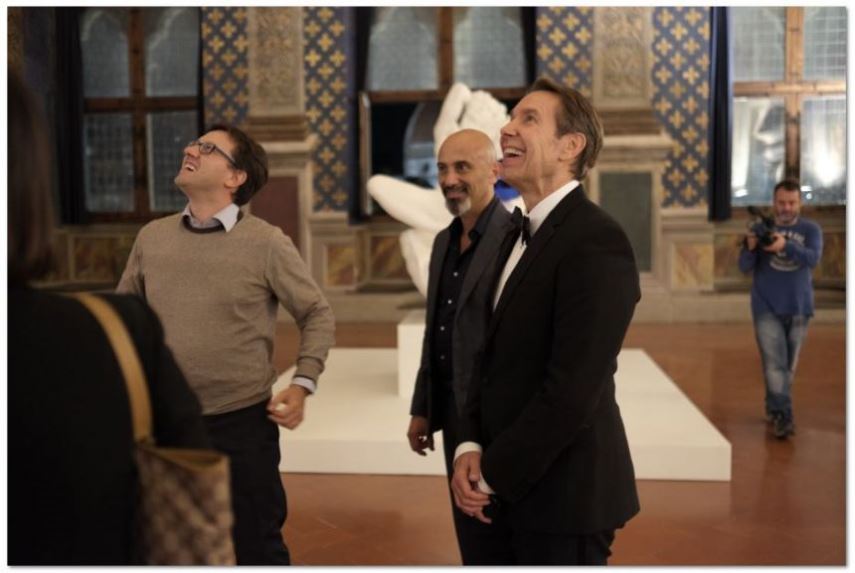 The Biennial in Florence : How to Revive Italy's Art Market?
Biennale Internazionale di Antiquariato di Firenze is the oldest event of its kind. With Jeff Koons' sculpture, it becomes even more prestigious. And, the Biennial in Florence is a perfect opportunity to pose a serious question: Why Italy's antiques dealers, as well as modern and contemporary gallerists, are finding themselves cut off from the international art market? Complication with bureaucracy and export license create a huge problem for Italian collectors and gallerists. According to the 2014 Tefaf report, Italian art market registered 0% growth and only 1% of global market share. Therefore, a roundtable discussion will take place at the biennial (on October 2) to present a list of proposed amendments that gallerists and auction houses hope will revive Italy's art market. Finally, let's not forget to mention: you can see Jeff Koons' sculptures in Florence until December 28, 2015.
Sign up for My Widewalls for free, and follow the news about developments in contemporary art!
Featured Images: Jeff Koons - Pluto and Proserpina (courtesy of enfr.blouinartinfo.com)
All images used for illustrative purposes only.