This year's summer in New York is a season marked by Jeff Koons' signature. The world's largest H&M store opens on Fifth Avenue and 48th Street on July 17th unveiling the collaboration between the Swedish retailer and Jeff Koons while in less than ten days the artist's retrospective at the Whitney Museum of American Art kicks off. This collaboration comes in dual celebration of H&M's new flagship store whose entire storefront is covered with the phrase "Fashion Loves Art" and picture of the artist's famed Balloon Dog sculpture, and Koons' first ever retrospective. Moreover, coinciding with the Whitney, Koons' Split Rocker, a monumental 37-foot-high flower sculpture in the spirit of the artist's iconic Puppy will adorn the Rockefeller Center during the summer months.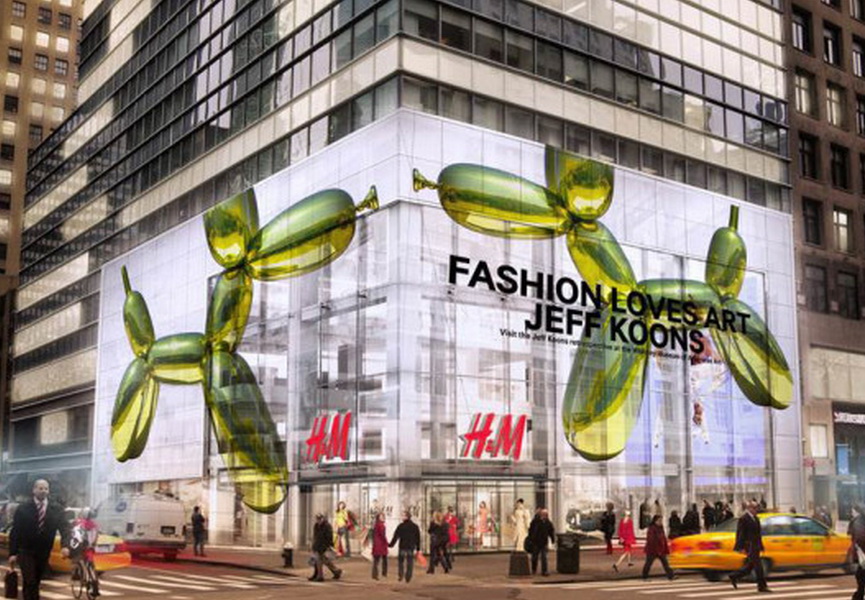 Trojan Balloon Dogs
Well, that's Koons, one of the most popular and controversial artists of the postwar era, always ambitious and like never before determined to hype his works even more. You may love him or hate him, but you can't ignore him, especially if you happen to be in New York this summer. What is it about Koons' works, especially sculptures that attract our attention so much? Surely, it is not originality. Any clown can make a balloon dog. It is their invention after all.  As nicely put by artist himself: It's a very optimistic piece, it's a balloon that a clown would maybe twist for you at a birthday party. But at the same time it's a Trojan horse.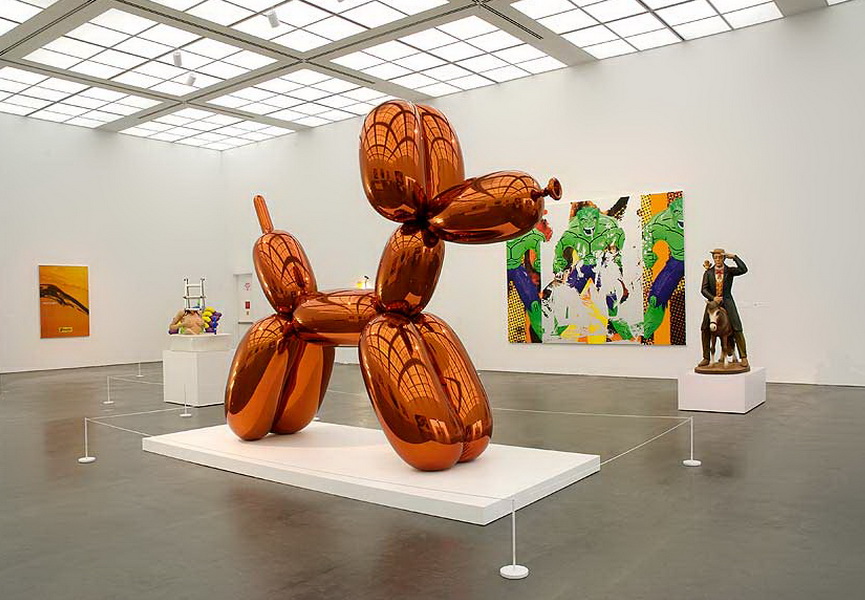 Kitsch to Art and Back
So, it's a trick behind all - from kitsch to art and back. Jeff Koons wisely recognized kitsch as our daily art and since the 1980s has been making his own art out of it. Everybody can relate to kitsch because it is part of our time and our environment. He focuses on some of the most unexpected objects as models for his work, whether it is a child's toy or a vacuum cleaner, questioning typical standards of "good taste" in art. Hence people do not feel intimidate by his work of art, except its price. Koons' art equally resonates with general public as with sophisticated collectors. While people with average incomes will have to be satisfied with a famed Balloon Dog cover on the H&M's limited-edition handbag which costs $49.95, a few others are more than willing to multiply this figure by million for the real thing. Koons' works are in constant demand in both Sotheby's and Christie's auctions. At Christie's auction last November, Koons' giant orange Balloon Dog, the most beloved of all sculptures that has graced New York's Metropolitan Museum of Art, Venice's Grand Canal, and Versailles Palace, achieved the $58.4 million price which made him the most expensive living artist at auction.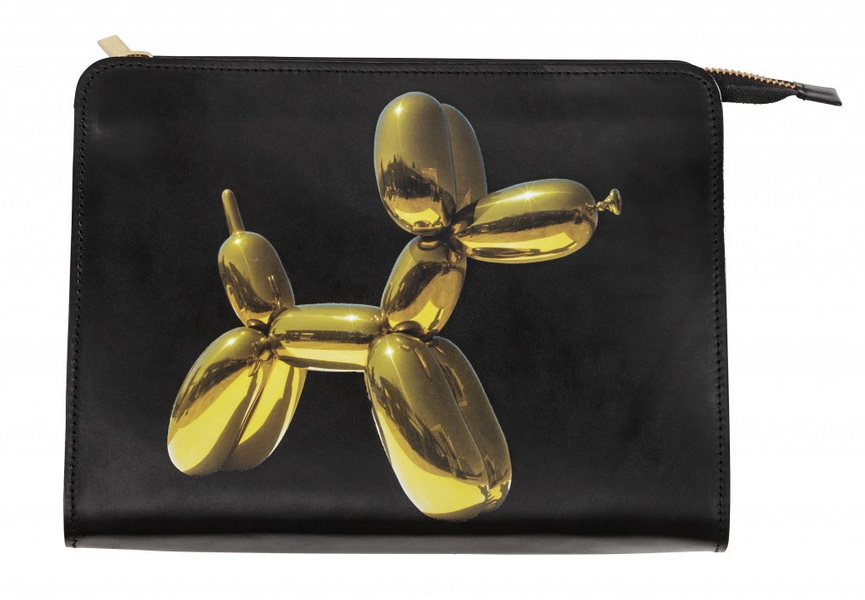 Sculptures vs. Paintings
According to artnet analytics, Koons' sculptures are much more dominant at auctions than his paintings. On average only 1 or 2 paintings come to auction each year, while for sculptures the number reached 73 in 2008 with total sales value of $88.8 million. However, the average prices per painting are likely to be higher when compared with the sculptures. Koons' sculptures tend to average in the mid-six figures, while the paintings more typically fall in the $1 million to $3 million range. This makes sense considering that many of the sculptures are executed in editions, while the paintings are rare in the work of Koons. As such, they serve as a more expensive complement to his sculptures.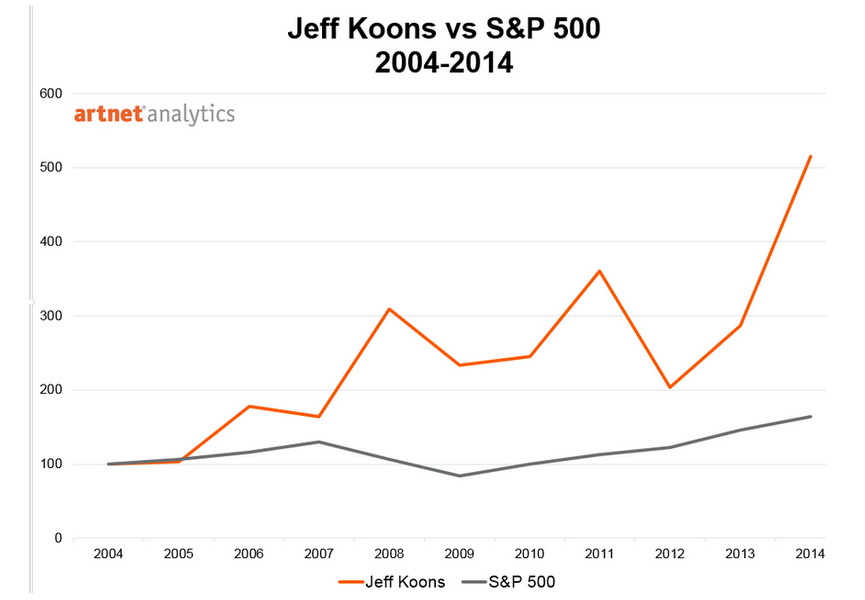 The Life of Koons
Although the Whitney Museum of American Art will be swamped by Koons' sculptures, comprising more than a hundred objects dating from 1978 to the present, there will also be a solid representation of his paintings including pieces from the "Made in Heaven" series, sexually explicit pictures of Koons with his former wife, Italian porn star La Cicciolina, or "Popeye" series paintings including Elvis, Olive Oyl, and Moustache Lobsters. Koons has never been the subject of a retrospective surveying the full scope of his career. Therefore, the exhibition at Whitney will be the most comprehensive ever devoted to the artist's groundbreaking oeuvre. By reconstituting all of his most iconic works and significant series in a chronological narrative, the retrospective will allow visitors to understand Koons's diverse output as a multifaceted whole. Jeff Koons: A Retrospective will be the artist's first major museum presentation in New York, and the first to fill nearly the entirety of the Whitney's Marcel Breuer building with a single artist's work. It is organized by Scott Rothkopf, Nancy and Steve Crown Family Curator and Associate Director of Programs. The show will also be the final exhibition to take place at Whitney's current address because the Museum opens its new building in the Meatpacking District in 2015. After the Whitney, Jeff Koons: A Retrospective travels to the Centre Pompidou, Musée national d'art moderne, Paris (November 26, 2014–April 27, 2015) and to the Guggenheim Bilbao (June 5–September 27, 2015).
If you happen to be in New York this summer, it's time to get your Balloon Dog purse and take an exhibition tour in style. As Milan Kundera once wrote, no matter how much we scorn it; kitsch is an integral part of the human condition.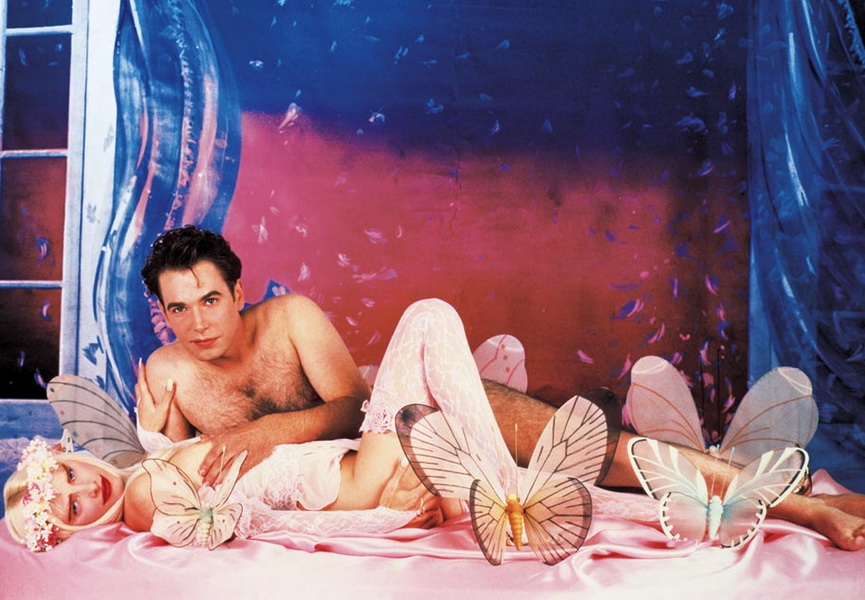 About the Whitney
As the preeminent institution devoted to the art of the United States, the Whitney Museum of American Art presents the full range of twentieth-century and contemporary American art, with a special focus on works by living artists. The Whitney is dedicated to collecting, preserving, interpreting, and exhibiting American art, and its collection — arguably the finest holding of twentieth-century American art in the world — is the Museum's key resource. The Museum's signature exhibition, the Biennial, is the country's leading survey of the most recent developments in American art.