When you think about it, it was only a matter of time when Jeff Koons and Louis Vuitton would "join forces" to create a fashion collection together. The Balloon Dog artist has previously indulged in such collaborations with H&M and Stella McCartney, while the French brand worked with other big names from the world of the arts such as Yayoi Kusama, Richard Prince, Sylvie Fleury, Takashi Murakami, Stephen Sprouse. Yet, after the official announcement and the presentation of the fruits of their affair, we are once again surprised, shocked, eager to see what a Jeff Koons-inspired Louis Vuitton bag looks like. If we are to look back at the 2015 Gazing Ball series of paintings by Mr. Koons (which featured reproductions of various masterpieces and blue reflective spheres a la Lady Gaga album cover), then we might know what to expect from this new project - after all, it included phrases like "inspired by" and "most famous artworks in history". But Jeff Koons did not build his career by staying within the boundaries of our, or anyone else's expectations.
Louis Vuitton - Masters, a collaboration with Jeff Koons
Jeff Koons and Louis Vuitton - A Match Made in Reality
Handbags, key chains, scarves, small leather goods, wallets and laptop sleeves - there are all included in the 51 Louis Vuitton pieces designed by Jeff Koons and available from April 28th at selected stores (and definitely not online). The Masters collection comprises five very famous paintings from the history of art - the Mona Lisa, Van Gogh's Wheat Field With Cypresses, Rubens's The Tiger Hunt, Fragonard's Girl with a Dog and Mars, Venus and Cupid by Titian. In case you're not sure which artwork you're looking at, a big spelling in gold and silver letters spreading across the bags will reveal it for you. The bottom left and right corners are reserved for similar-looking logos of Jeff Koons and Louis Vuitton, while a colorful leather loop hanging from the handle resembles the artist's trademark balloon bunny. Furthermore, inside each bag, there is a brief description of the artist, in case you want to… find out more. The items within the collection range from $585 for a key chain to $4,000 for the large carryall, while all those who couldn't afford the brand can always admire it from the other side of their shop window, like they would an artwork behind glass.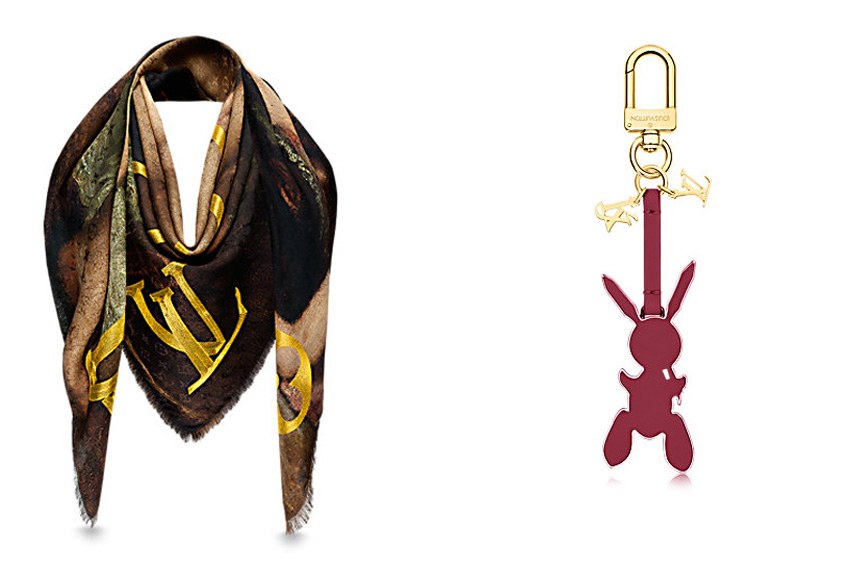 "A Ménage à Trois!"
Jeff Koons is someone you either love or hate; many times, there are no shades of gray. However, when it comes to him, more often that debating on that, I find myself asking simply: Why?
Of course, that same concern was already directed at the people from Louis Vuitton, the artist himself, and even The Louvre as the home to the masterpieces whose reproductions will now hang from handbags - expensive and recognized ones, if that'll make us feel better. They all expect pushback because they're aware of doing "politically incorrect things" from time to time, according to statements given to The New York Times.
This is nothing more of what we would have expected anyway; what provokes even more is Jeff Koons's own intention. "I hope people understand my ideas," he said, "I hope they embrace them as a continuation of my effort to erase the hierarchy attached to fine art and old masters." According to someone who holds the record for price at auction for an artwork by a living artist, there is no distinction between the bags and his art, because his definition of art is something that "connects in a profound way to the universal, and when it is about focusing on interests or information, it automatically achieves that." What is "his" art anyway? Appropriation has long been existing in art, from Warhol's popped-up Renaissance art to the latest Hirst exhibition to an extent, but putting images of centuries-old paintings (even if in high-resolution) on handbags (even if of a high-fashion brand) is to say at least tacky, in every sense of the word, and even done before by many street souvenir makers. Their intention to "spread the word" on already quite famous artworks is usually not appreciated, but Jeff Koons's may be. Furthermore, at a time nobody goes to museums to see art anymore, perhaps shop windows showing some disposable examples will see some better attendance.
All images via louisvuitton.com online store