It's quite rare to see Jeff Koons and a word "mural" in one sentence (or a headline), isn't it? When it comes to the news about Jeff Koons, we are probably always expecting to read about a new fancy project, a brilliant sale on the art market, or simply an interesting trivia from the artist's celebrity life. But, this time, it's a bit different, because Koons will join local teenagers in creating a large mural on one hotel in Soho. This luxury hotel, at Howard and Lafayette streets, is still under construction, but is expected to open in March. But, the interesting thing in this news is the fact that Jeff Koons mural project in Soho will include a number of young teens from the neighborhood, with famous artist being a mentor (be sure to check out our article about top 10 art hotels in New York).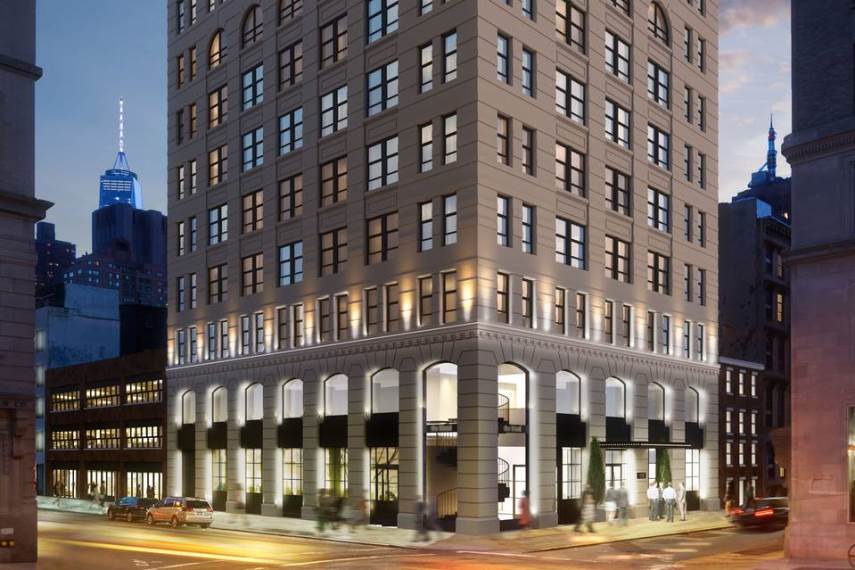 Jeff Koons Mural Project in SoHo
The new SoHo hotel is being built by real estate impresario Aby Rosen and costs around $180 million. Rosen already said that the swank spot will donate an undisclosed percentage of its room revenue to the Global Poverty Project, a non-profit organization working to alleviate extreme poverty, and in addition, he managed to persuade Koons to be a part of an interesting art endeavor. The local teens Koons is working with are with an organization called Groundswell, a non-profit that focuses on giving disadvantaged youth opportunities to create community-based art projects around the city. The famous artist is currently working with a group of students on the mural's design and implementation. In an interview with The Wall Street Journal, Rosen described the design of the mural as the artists' interpretation of the evolution of SoHo through symbolism and imagery. According to Groundswell, the actual contents of the mural himself will be designed by the young artists, while Koons will be a mentor. And when it comes to the content, Groundswell interim director Rob Krulak unveiled some details: There's pasta in it, there's an industrial worker, there's tenements. There's a little Basquiat crown. It has the visual texture and variety of Soho. At first, it was supposed that the mural would be black and white, but Koons insisted that there needed to be pops of color.
The Location of the New SoHo Hotel where the Mural will be created
Groundswell Previous Work
The Groundswell organization, whose teens are working with Koons, is known for different projects conducted all over the city. Groundswell has previously done murals inspired by a location's history in Clinton Hill and the Brooklyn Navy Yard, but they are probably best known for creating social-engaged murals in neighborhoods like Bed-Stuy and Brownsville. But, when it comes to the SoHo hotel mural, Groundswell was very clear: We've done extensive research into Soho and all the things that have gone on there and from there developed a visual language from which to tell the story. The local teens are having a high level of autonomy in the process of creating the mural, while Koons "only" gives advises. This group of young students even had an opportunity to spend an afternoon in the famous artist's studio.
We would like to hear your opinion! Please comment on our Facebook Page!
Featured Image: Jeff Koons (courtesy of whitney.org). All Images used for illustrative purposes only.