His balloon dog sold for $58.4 million last November, surpassing its pricy estimate of $55 million. The most recently uncovered Koons' piece with a costly estimate, although not reaching the said record, is Popeye, the contemporary artist's rendering of an all-American pop culture icon, valued at $25 million. Such a high estimate stirred up the spirits in the art world, raising questions of who is the owner of the other two statues from the series of three, and above all questions the mysterious appearance of the work at the Sotheby's auction. According to Art Market Monitor, the proud keepers of the remaining two pieces are Larry Gagosian, who is the key representative of Jeff Koons, and Steve
Cohen, an American hedge fund billionaire and an acclaimed art collector.
The auction is scheduled for May 14, Popeye makes the lot number 34.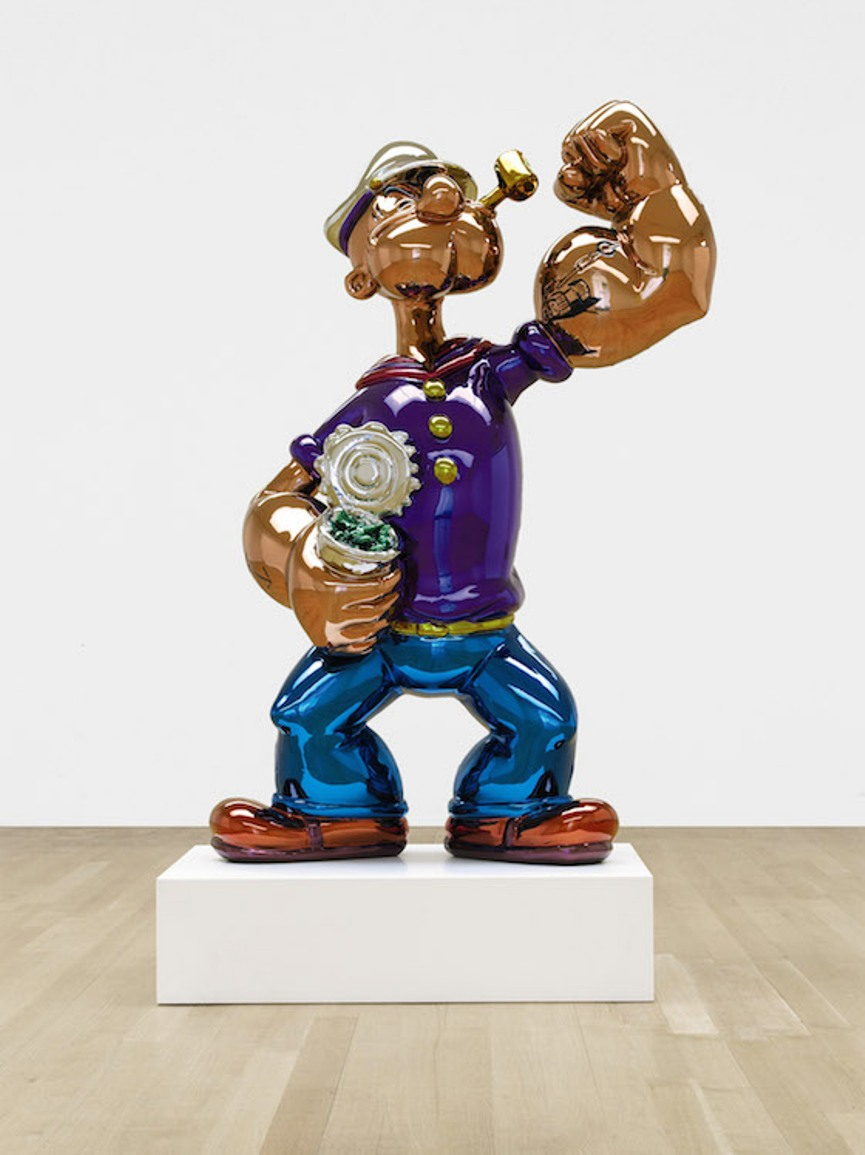 Popeye by Koons
Popeye, the statue, is made of mirror polished stainless steel with transparent color coating. It's dated 2009-2011, signed and numbered 3/3 on the underside of Popeye's right foot. The work is about seven feet tall. The previous two examples of this work are unknown to the public, so the Sotheby's auction will also be the premiere of Koons' Popeye vision. The preview of Popeye will be possible in Sotheby's York Avenue galleries on May 2, 2014, while the selling price remains to be witnessed.
Popeye is definitely one of the most beloved subjects in the history of pop art. He was depicted by both luminaries of the movement, Lichtenstein and Andy Warhol, while the Jeff Koons' rendering of the imaginary hero takes his might a step further, providing his proverbial glory with a tangible, third dimension and godlike, flawless features achieved by perfectly polished material.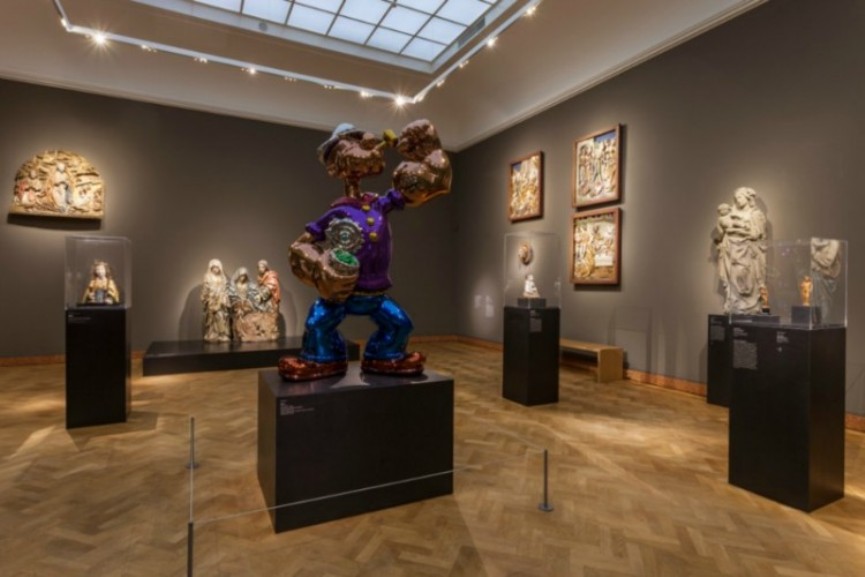 The hero of the Crisis
Popeye was born in 1929 in a newspaper comic strip, while he rapidly grew into the adored character of the Great Depression era. He stood as the personification of the all-American hero, the epitome of the dream everyone was chasing, as he fought all the possible and the impossible troubles with the help of his favorite fuel - spinach. Popeye's fame does not seem to fade, although the character is today over 80 years old.
Jeff Koons started using Popeye as the subject in the early 2000s, but as the global crisis struck the world in 2009, he decided to give the once Great Depression hero a new shape, sculpting him into a three-dimensional, contemporary icon, paralleling the critical situation of the previous century. Koons' Popeye is monumental, eternal, the embodiment of strength and power, while he remains the symbol of a man's fight against the troubles of his time.
To go back to the issue of the unexpected appearance of the Popeye statue - it remains unknown how it happened. We hope the issue will be resolved, while we anticipate the outcome of the forthcoming auction at Sotheby's.