Jeff Wall's current exhibition at White Cube, encompassing new and old work, laminates his range of subject matter from suburbia, domestic adore to socio-economic musing, to blunt depictions of politized poverty – Daybreak (on an olive farm/ Hebev Desert/ Israel), 2011. The solo favours Wall's curiosity in the tautness in social hierarchies.
The lack of continuity and focus within the show aids to heighten Wall's subjects. Ground floor, three colossal inkjet prints, one gelatin silver print; serve more as portals. Left side of the room, Weightlifter, 2015, a demi-large muscular man dominates the first third of the photo, hoisting a barbel, chin, and torso high in the corner of a dilapidated abandoned gym. Wall's subject expresses a dramatized moment of overcoming, self-improvement, contradictory to the greyscale lightly saturated tonal palette.
Opposite the room, diptych, Pair of interiors, 2018. Left photo, a couple per frame sit elaborately, the first, man in navy blue, lady in pink, man leaning into lady, lady vertical, poised, hesitant, two chairs on opposite sides of a table, large double door in the background and a fuzzy yellow Lynch filtering the scene – elaborate. Right photo, man on easychair staring at the hotel floor sideways, lady contrapposto facing away, lamp in the middle of the room, large brown wardrobe takes the position of the double doors; extra material? The pair in the second diptych seem like the same couple, further inspection; different; uncanny. The diagonal and panoramic framing of Pair of interiors evokes something of the Edward Hopper's realism and disparate depictions of jaded-romance.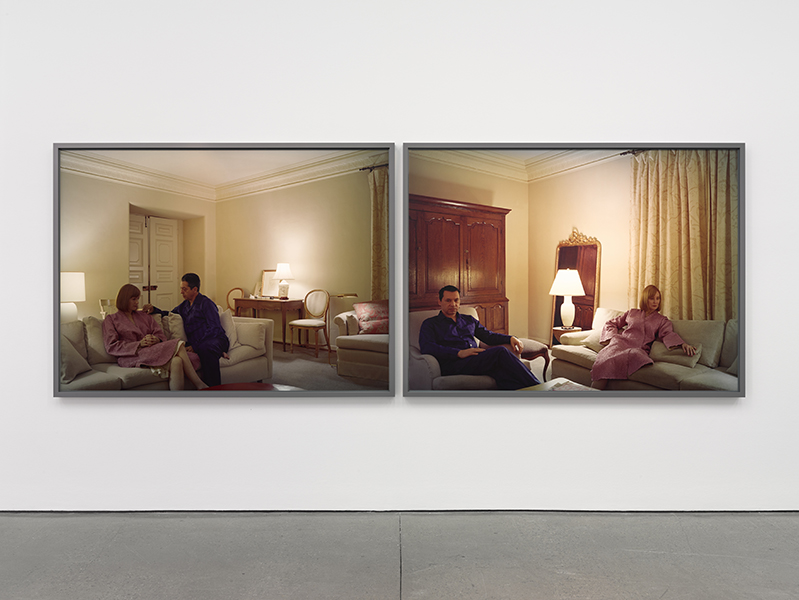 Show Highlights - Property Line and Daybreak
Lower ground floor displays some of Jeff Wall's expansive, landscape focused photography, the compositions are reminiscent on Agnes Martin's contemplative minimalist line paintings through an understanding of establishing lines within a horizon and outlining their essence. Wall executes this distinction of lines by strong contrast of colours and division of subjects in the areas of partition, though not deployed enough, it reveals a brief glimpse of Wall's intent of control.
Property line, 2015 and Daybreak (on an olive farm/Negev Desert/ Israel) 2011 are nomadic naturalistic works of chance and social scrutiny, both works drone a dark backstory in relation to the society depicted within them.
Property line, 2015, made in California City, a city speculated to house 14,000 people, never materialized, project liquidated. Wall engineers an optimistic tone of a high saturated light blue skyline and surveyors working on the left forefront of a vanishing desert road; excavating a historical project of modernization and the American dream through at passivity.
Daybreak (on an olive farm/Negev Desert/ Israel) 2011, less historical investigation, albeit chance-driven of Wall's flâneuring in Israel crossing a group of olive harvest workers who routinely sleep in the open. Peeping as a slit, a large prison complex shrouded in waning light blue. Both photographs exhibit Wall's vision for capturing multiplexes weaving in time, architecture, and the social fabric of a place. Wall subordinates minimal staging for an organic landscape, without creating tedious landscape photography.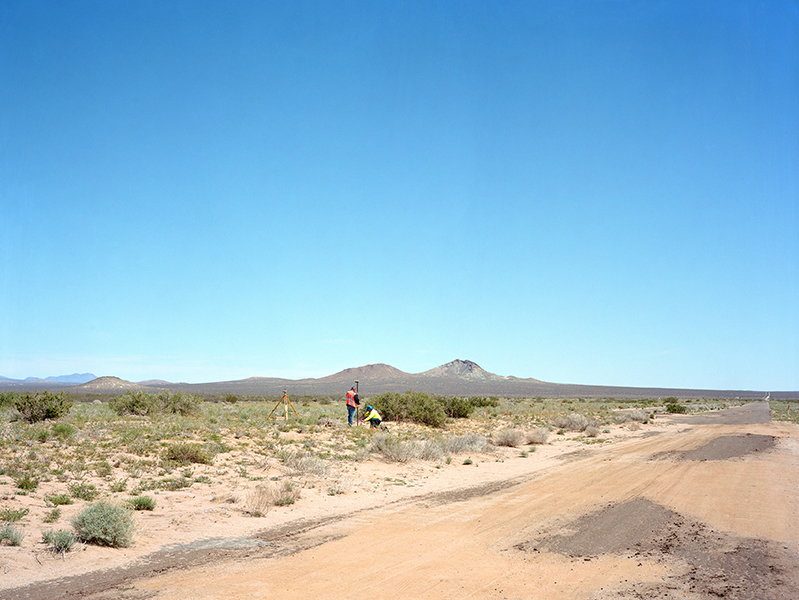 The Gardens
The Gardens, 2017, an inkjet triptych brokenly narrates something of a European social drama between two middle-aged males and females. The two males consistently wear passive suburban uniforms of beiges; a dominant representation of suburban veneer – Get Out, Edward Scissorhands, Funny Games (1998).
The Gardens sustains and differentiates itself from Wall's oeuvre and his contemporaries, Tillmans, Gursky, Ruff, by engaging with the language of nature in an epic impressionistic format plugged into an elusive vague suburban context, it seems.
Right photograph, male reads sheet of paper facing east, woman behind, paper titled, two paragraphs, subjects just off centre of frame. The blocking is poignant but uneven compromising on Wall's perfectionism, but then the essence of nature has no idea of perfection. The purpose of the man reading is unclear, without basic information he could be revising an unfinished shopping list, unclear, without abstract merit; drama without why.
Middle photograph emphasizes more on power structures of Wall's subjects. Two men stand far left near the edge of the frame, two women stand far right under an oak tree, shrouded in a fuzzy Lynch light again, donning navy blue dresses; somewhat nursing attire.
Left photograph, one of the men in an emerald green shirt, one of the women in blue, Wall distributes equal power to his subjects with low-temperamental colours for both genders.
The Gardens, 2017, arches a tone of hierarchy within professions in an aloof scope, as though the subjects are being watched in their elaborate plotting. Wall utilizes the grandiose, naturalistic Germanic setting with low exposure in order to capture an earnest texture of the green gardens that his subjects busy themselves with. Half dimensional as the narrative is, there is some kind of droning pervasive structure of a suburban homo-erotic-boredom to the triptych.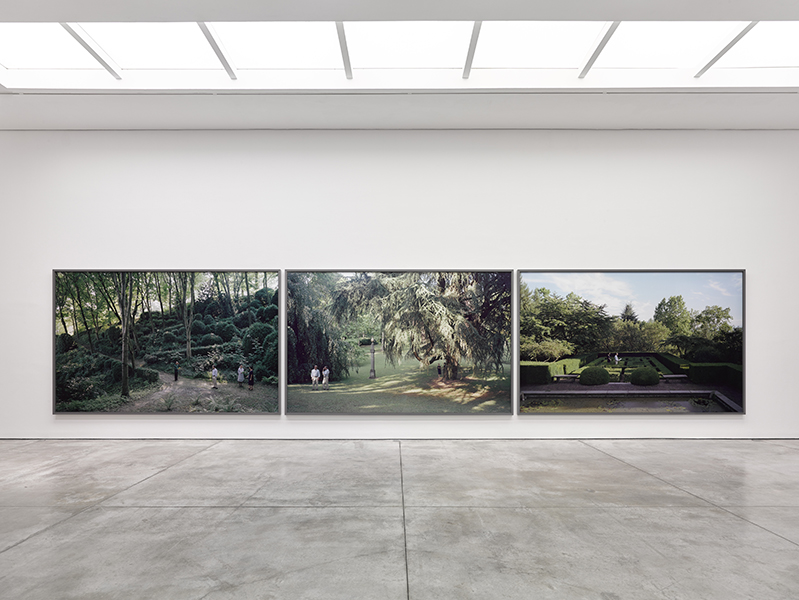 Jeff Wall at White Cube London
Wall's solo is photographically sensational by its portal-like prints, shiny gleams, mindfully exposed and sharp contours, but for lack of concentration on subjects, the exhibition serves directionless, but more as a profile album of Michael Hanke style blocking, superfluous class-suburban aimless inarticulations, with littered passive depictions of modernization, and a very colourful and very unique inkjet print – Recovery, 2017 –18.
Hope it has.
Jeff Wall is on view at White Cube in Mason's Yard, London until 7 September, 2019.
Written by Keanu Arcadio.
Featured images: Installation Views, Jeff Wall White Cube Masons Yard London. © Jeff Wall. Photo © White Cube (Theo Christelis).