Both artists who are to be presented at this two-person show are based in the San Francisco Bay Area, and they both examine questions of personal identity. The subject of their work is basically the same and it concerns figuration, but their techniques and motives of their interpretation are slightly different. The show will include Jeffrey Cheung's acrylic paintings and ink drawings, whereas Anna Valdez works with oil paintings and digital renderings. The combination of the two seems to bring back classic Post-Impressionism into a contemporary context, and to introduce a lively new experience.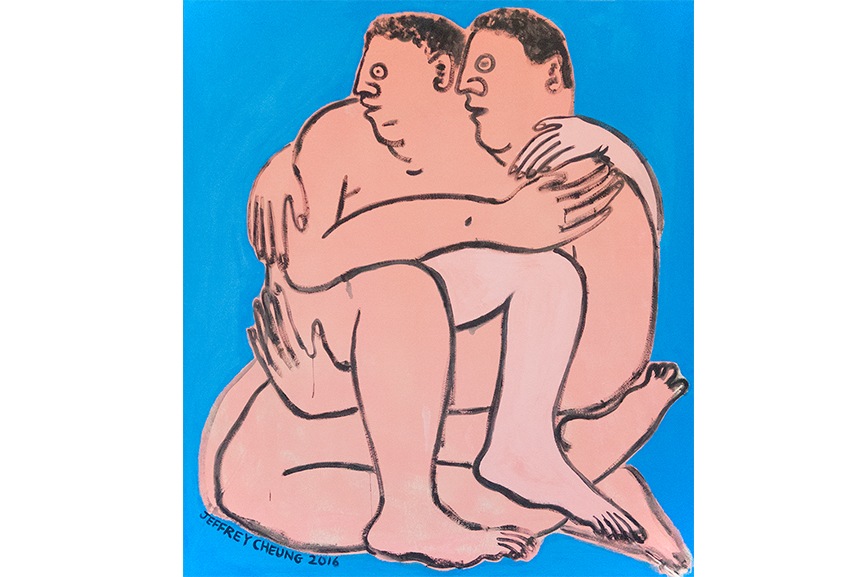 Cheung's Nude Beach
Jeffrey Cheung communicates with the audience in a playful, humorous manner. His works include those on canvas, the ones drawn on paper and also large-scale visualizations that appear on buildings, as murals. His focus is mostly paced on a very specific depiction of nude male figures, drawn in a characteristic manner that now gradually becomes part of his professional identity. Apart from humor, which apparently translates well across his various paintings, collages, drawings, Cheung often brings up the subject of eroticism, but also does it in an unconventional, simplified way, through nude portraits that are overwhelmingly naive and harmless.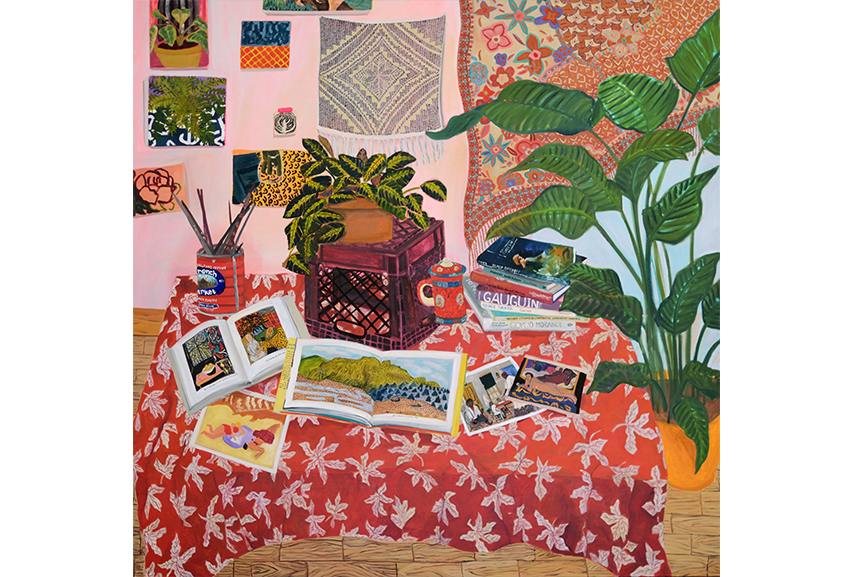 Valdez's Colorful Interiors
Anna Valdez is an artist raised in Sacramento, California, and she received her MFA degree in painting just recently, in 2013. She often refers to the space of her Oakland studio, and her works usually include patterns and repetitions, thorough and rich in detail. Although the paintings usually depict this actual space, and are far from generic, the items that she represents somehow create an ambience that reminds us of something familiar, something we have seen and experienced before in our lives. That feeling might be explained by the purpose of those items, which is domestic and household. We can see blankets, potted plants, books and carpets, illustrated in such a vibrant manner - it gives these items a special value and maybe even makes them seem like they are ours, like what we're looking at is as cozy as our own home.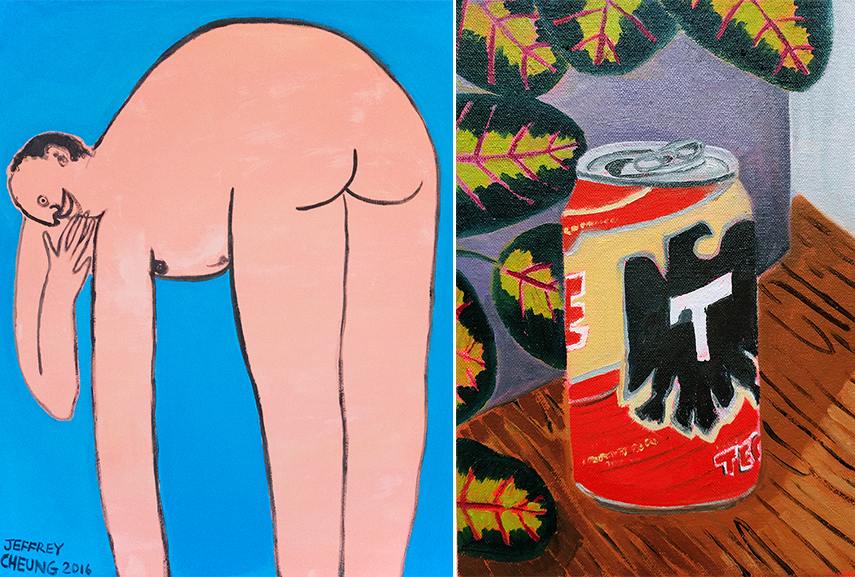 Meat and Potatoes at Hashimoto Contemporary
Although Cheung's paintings and drawings are appealing in their simplicity, Anna Valdez's contribution to the show is essential. She manages to make a perfect balance with Cheung's work (it is probably a kind of balance similar to the one given in the title: the perfect, simple taste of meat and potatoes together). The contrast between their styles is not that apparent, but it does exist, and the viewer has a chance to easily contemplate two kinds of very vivid, forthright paintings, Cheung's and Valdez's, that respectively display people and objects as their protagonists. The exhibition runs from February 4th, through February 27th, at Hashimoto Contemporary in San Francisco. The opening reception is on Thursday, February 4th, from 6p-10pm. The artists will be in attendance.
Featured images: Meat and Potatoes at Hashimoto Contemporary, flyer; Jeffrey Cheung - Untitled 3, detail; Anna Valdez - References, detail. All images courtesy of the gallery and the artists.