For the beginning of the year, Hashimoto Contemporary presents the exhibition Closer of Jeffery Cheung art. Closer will feature Cheung's paintings as well as his pieces on paper. This is the debut solo venture at the gallery for the artist who is based in Oakland. Presented pieces playfully explore figural forms in a simplified, linear manner, which is enlivened with bold colors. The artist's overtly naïve visual expression is a canvas for a thought-out investment in identity issues and recent observations and experiences. Cheung uses acrylic, paper, but also ink and collage as his techniques, and this show will feature four fragmented collages alongside a group of small ink drawings and Risograph prints.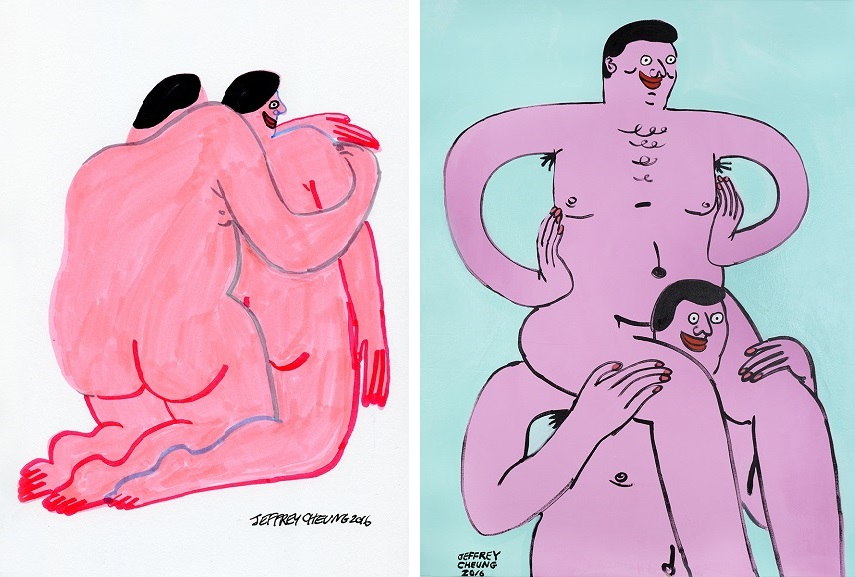 Intimating Desire - Jeffrey Cheung Art
Jeffry Cheung's pieces explore intimate relations between men, outside of and in contrast to heteronormative erotic art that still dominates the art world. His paintings examine gender norms and instead of succumbing to dominant matrixes, they celebrate the diversity of human connections. Empowering through art seems to guide Cheung in his simplistic but powerful explorations of human forms, and on a more intimate level, these explorations also encompass more delicate spheres of human desire. Physical interactions and affections between men are the main topic at Closer, and Cheung visualizes them in acrylic paintings that resemble both abstract portraiture and intimate representations. Figures on these artworks show exuberant movement. They embrace each other with meandering arms and often resemble in appearance. Energetic color palette adds dynamism to erotic mix of bodies, which in their exaggerated and playfully-contorted positions often verge on abstraction. In addition to acrylic, paper also adds life to Cheung's compositions done in similar simplistic fashion.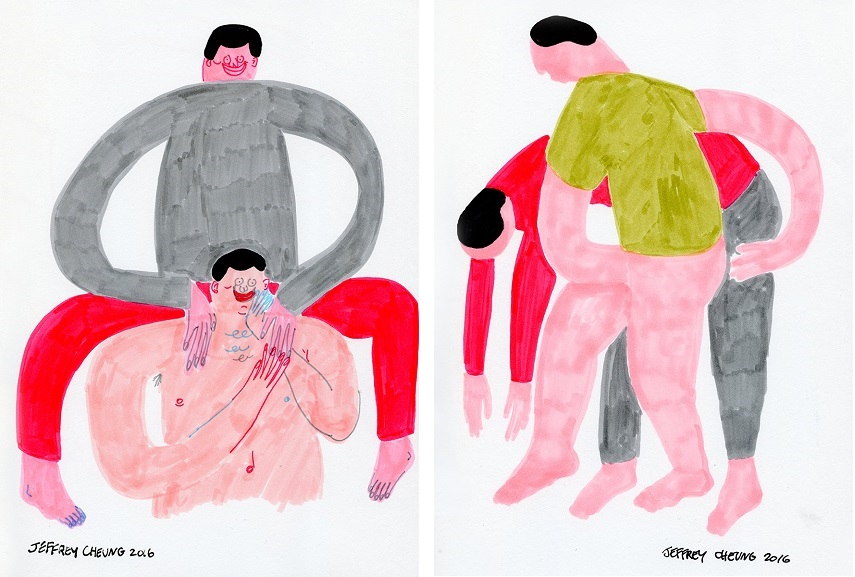 Bay Area Art Maker of Male Nudes
Coming to the Bay Area scene after graduating from the University of California Santa Cruz, Jeffrey Cheung brought his playfulness and low-brow style in paintings, prints, collages, drawings and murals, which quickly gained traction within the ever-changing art scene. Male nude figures dominate his work that has been shown in a variety of exhibitions throughout Bay Area as well as in Paris, at City Bird Gallery. His compositions include one or several figures of men who differ from ideal male proportions. Possessing long noses, bald heads or rolls of fat, these subjects are as far removed from idealized male figures from art history as they can be. However, this does not stop them from enjoying themselves, often with contorted and entwined limbs, and large smiles. Besides being a visual creative, Cheung also plays music in two local punk bands – Meat Market and Unity.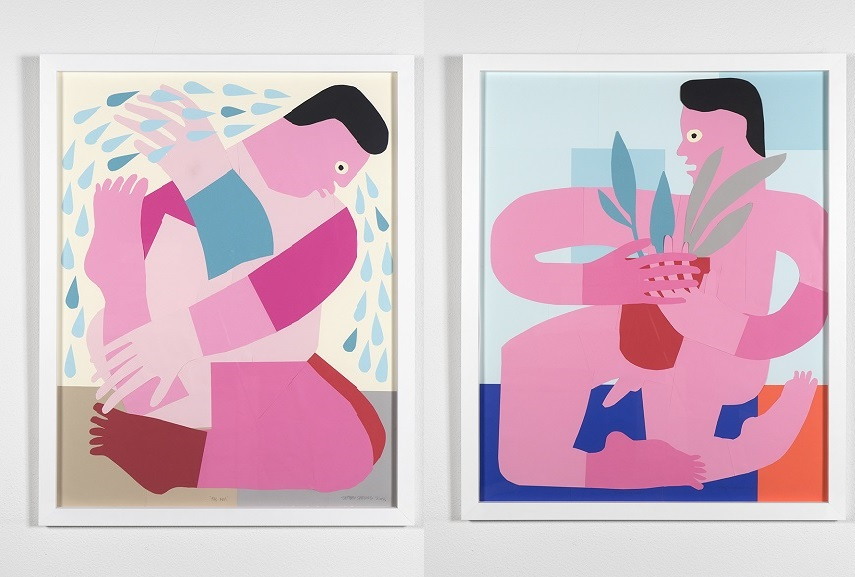 Closer at Hashimoto Contemporary
Hashimoto Contemporary is located in San Francisco, California, and its roster consists of an eclectic blend of new artists. The gallery organizes monthly rotating exhibitions, and its program focuses on a range of painting, sculpture and installation-based pieces. It is also present at a variety of international art fairs in Miami, New York, San Francisco and Los Angeles. Closer opens on Saturday, January 7, at Hashimoto Contemporary, 804 Sutter Street, San Francisco, with an evening reception from 6pm-9pm with Cheung in attendance. This exhibition will be on view through Saturday, January 28, 2017.
Featured images by Jeffrey Cheung: Closer, Mirror, and Overlap II. All images courtesy of Hashimoto Contemporary.