The art of Jeffrey Gibson carries an autobiographical cultural inflection. Part Choctaw and part Cherokee, he describes his practice as a nostalgic and romantic vision of pre-colonized Native American life. Intermingling elements of traditional Native American art with contemporary artistic references, Gibson creates pieces that include objects or texts of which he cherishes a personal connection to and translates them into elaborate beadwork and embroidery. His latest body of work will soon be on view at Roberts & Tilton. Titled In Such Times, this comprehensive exhibition will present works that speak to the experience of an individual subjectivity within the larger narrative of globalization. The title of the exhibition references the words of American writer Nelson Algren, "In such times, clowns become witnesses", as quoted in Sister Corita Kent's 1968 serigraph Damn Everything But The Circus.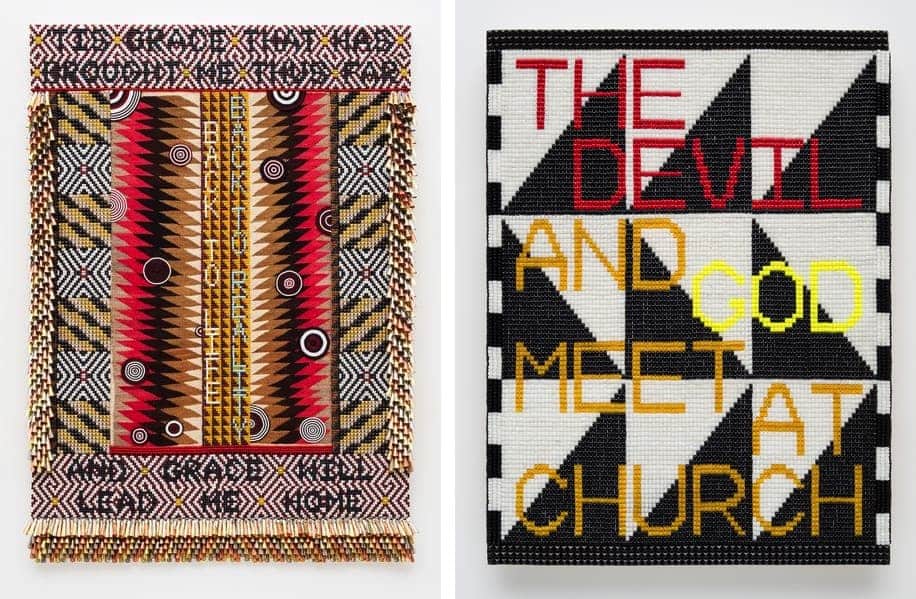 Cultural and Visual Imperialism
Drawing influences from popular music, fashion, literature, theory, and his own Native American heritage, Jeffrey Gibson recontextualizes the familiar to offer a concise commentary on cultural hybridity and the assimilation of modernist artistic strategies in contemporary art. Created in one of the most politically tumultuous times in recent history, the latest body of work explores the constructions of human life and its intersectional connections through exquisite simplicities, concise statements, and commanding clarity. Playing with words and form, his works suggest a larger network of cultural and visual Imperialism. The landscape, patterns, and religious iconography as the most primary elements are suggested in the forms of his beaded panels and tapestries. Serving as highly politicized interpretations and appropriations, these works, at the same time, reference the revisionist history of Modernism.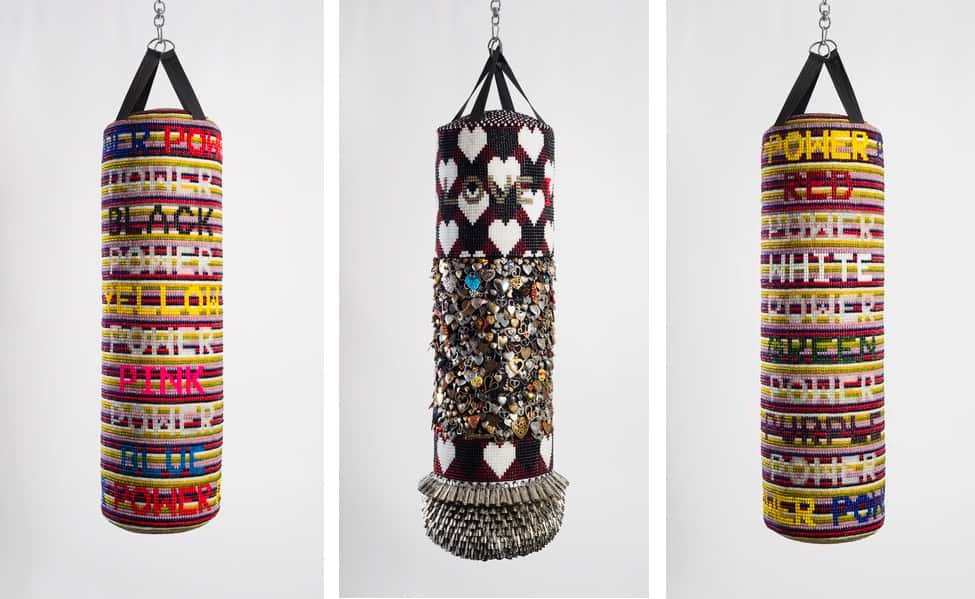 Exhibition Highlights
Comprised of wall works and tapestries, Gibson's ongoing series deconstruct both image and language. For instance, the punching bag is treated as both object and metaphor. Adorned with metal jingles, steel studs, fringe, and beads, these bags challenge their original function in an effort to push back against sustained abuse. Two tapestries in the show, Power Power Power and Love Is the Drug, address how constructions of colors and symbols, such as the LGBTQ Rainbow flag, have inherent meanings beyond their formal qualities. Quotes from Nelson Algren, Raymond Carver, and Reverend Emmett Dickinson and lyrics from the hymn Amazing Grace, Back to Life by Soul II Soul, and I've Got To Use My Imagination by Gladys Knight and The Pips are appropriated and recontextualized, suggesting charged political and social issues.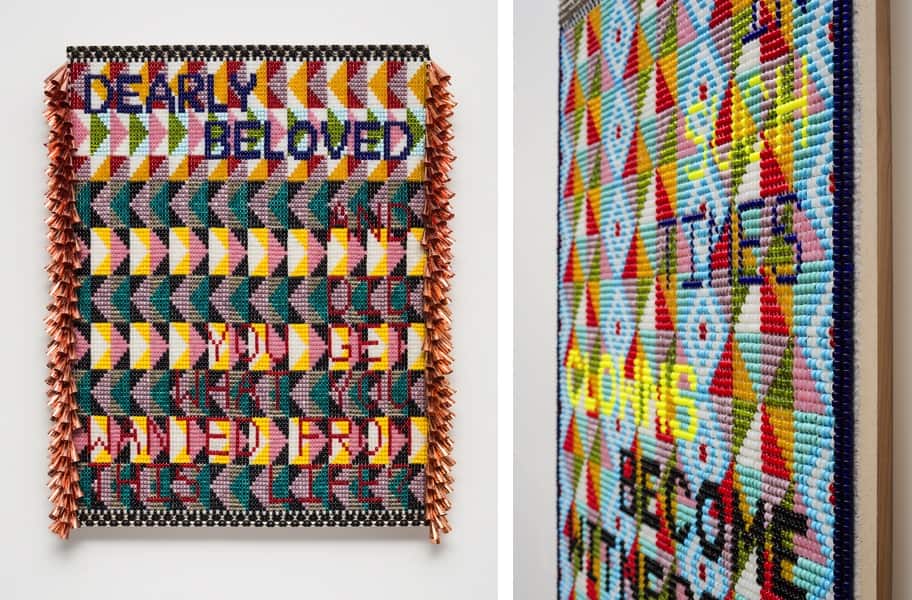 Jeffrey Gibson Art Exhibition at Roberts and Tilton
The tension between dominant culture and the natural world is the key to Jeffrey Gibson's work. A spectacular affirmation of the struggle past language, personal and cultural differences, this latest body of work seamlessly interweaves traditional Native American craftsmanship with contemporary culture. The exhibition In Such Times will be on view at Roberts & Tilton in Culver City, California from September 9th until October 21st, 2017. The opening reception will be held on Saturday, September 9th, from 6 to 9 p.m.
Featured images: Jeffrey Gibson - In Such Times Clowns Become Witnesses (detail), 2017. Glass beads, artificial sinew, metal studs, acrylic felt, over wood panel 40 x 30 in (101.6 x 76.2 cm); Jeffrey Gibson - To My Nation, 2017. Glass beads, artificial sinew, trading post weaving, metal studs, copper and tin jingles, nylon fringe, acrylic felt, canvas, wood; Jeffrey Gibson - Like a Whisper, 2017. Glass beads, artificial sinew, copper and tin jingles, nylon fringe, acrylic felt, over wood panel, 30.5 x 46 in (77.5 cm x 116.8 cm). Courtesy of the artist and Roberts & Tilton, Los Angeles, CA; Photo Peter Mauney. All images courtesy of Roberts & Tilton.