We all need to feel that our roots are strong and that we are not restless in our search for home. That the move is pleasant and that we are always in tune with our most inner desires and in control of our fears. Jennie Jieun Lee moved to New York from her hometown Seoul, Korea at a young age. Her new exhibition Immigrant's Ear at Levy.Delval gallery investigates a journey and pays homage to different emotions associated with the move and the need to develop a stronger sense of intuition, a tool that helps one assimilate in a new country.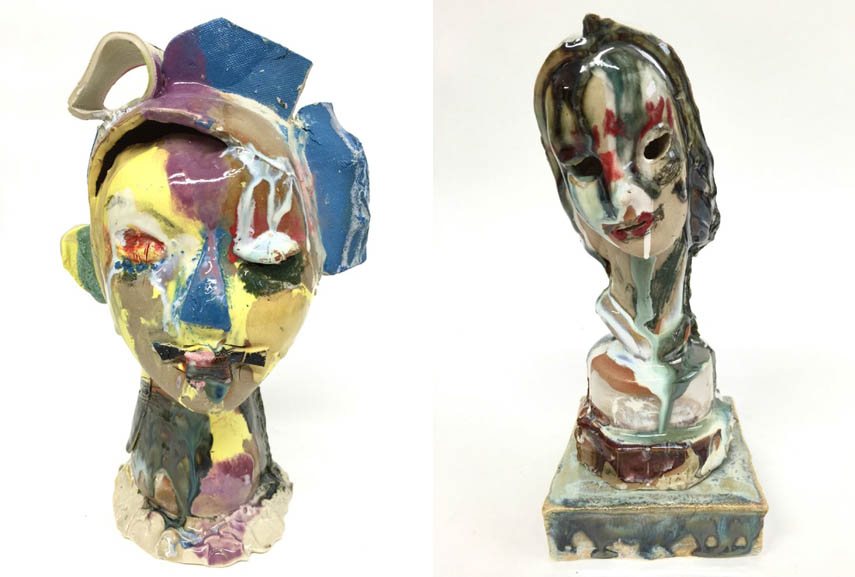 The First Mask
Upon arriving in New York, the artist's mother took young Jennie Jieun Lee to a ceramic class. Jennie Jieun Lee still remembers how much fun that experience was to her and acknowledges the first mask that she made in the class. For her, the mask represented a way of trying to understand her new environment and how to fit in. The frequent creation of the mask is a therapeutic experience that allows for a certain catharsis as well as a method to investigate the journey of life. The title of her new exhibition Immigrant's Ear originates from a quote from the late film director Mike Nichols. He used it to describe his experience of immigration and the need to develop a keener sense of the inner self and belief to fully assimilate in a new country. The mask, a symbol that is always associated with identity search is used here as well to help the artist deal with her fear of crowds and this could be the reason why in most cases the masks are colorful yet often related to 'twisted monsters' due to the deformity of the shapes.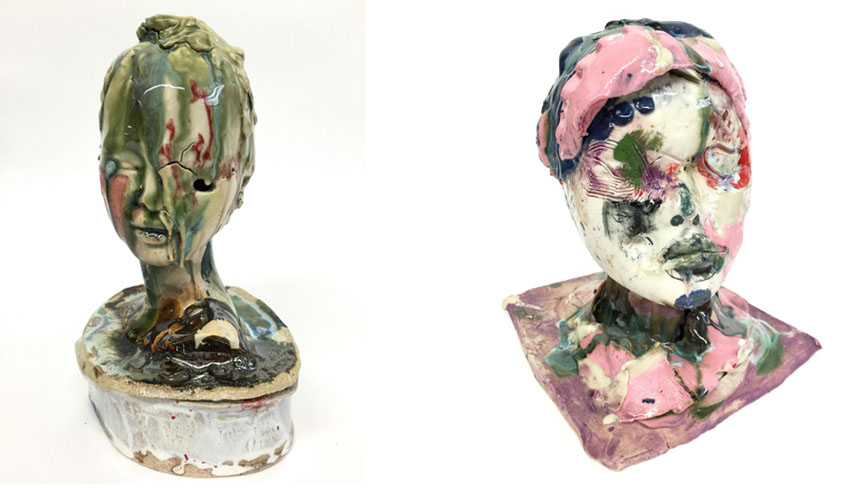 The Visual Language
Jennie Jieun Lee prefers creativity and experimentation to precision. Her work, experimenting with color and thoughts, conveys moodiness and urgency. The artist allows for the ceramics to break and the paint to drip, as she believes that the ceramics will be here far longer than we will. Maybe, few of her broken pieces one day will be found in a riverbank or something like that, like ancient pottery and the Mudlarks that search and collect the shards. Since ceramics are not biodegradable, the artist believes that if her pieces are found in the future, people will relate to the faces of her masks, since, like agony and beauty they also convey emotions that are timeless. Apart from creating masks by morphing and masks with multipart features, Jennie Jieun Lee creates an array of objects - wheel-thrown, hand-altered vessels, collections of vibrant mugs, plates, platters, and trays. She refers to all of them as "glaze moods". These colorful surfaces articulate and mimic artist's emotional, psychological and physical spaces and help to transcend the beauty and agony of different moments.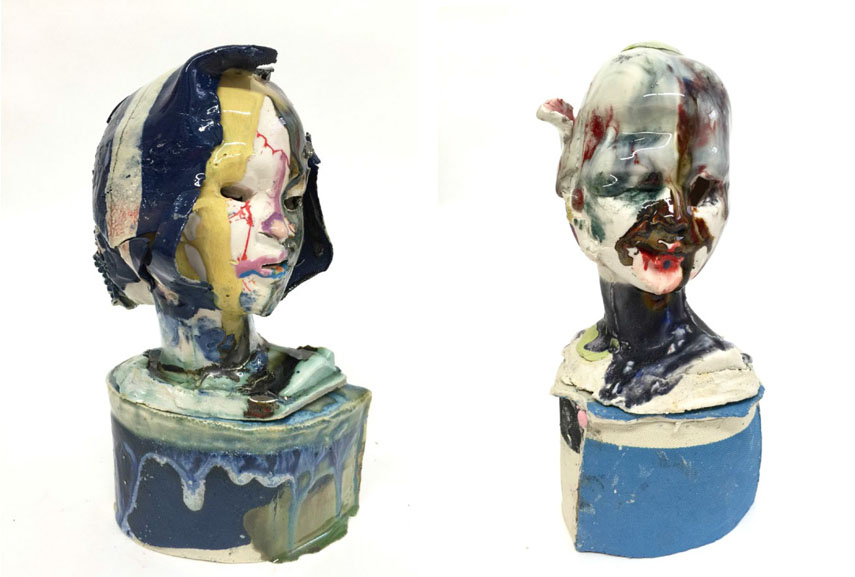 Jennie Jieun Lee exhibition at Levy.Delval gallery
Experiencing the move and the feeling that defines the look as  forever looking at something as someone who just arrived, the array of objects that Jeenie Jieun Lee makes are all extensions of her life experiences. Similar to the way that the pencil marks dissolve into glazes of porcelain and stoneware, the artist with her work investigates the journey of stepping into a completely fresh moment in time, and also relates back her work to the experience of stepping into an unfamiliar space. All her work is a psychological landscape of the artist's life and help to convey emotions and experiences of death, birth and moments of fear.
The exhibition Immigrant's Ear is the first solo exhibition of Jennie Jieun Lee in Brussels. For the occasion of the exhibition at the Levy.Delval gallery, lasting from March 17th to April 16th, 2016, Jieun Lee created a new series of her slip cast busts and abstract masks.
All images courtesy of Levy.Delval gallery. Featured images in slider: Jennie Jieun Lee - #67, glazed stoneware, underglaze pencil; Jennie Jieun Lee - # 13, glazed stoneware, underglaze pencil; Jennie Jieun Lee - #14, glazed stoneware, underglaze pencil.