American artist Jennifer Rubell is perhaps best known for her large-scale performance and installation projects, sometimes involving food like the one at the 2014 Performa Gala or nudity, like the Brad Jones painting series. That being said, Jennifer Rubell nude and serving peculiar dinner isn't really news, and she will do it again for her latest exhibition Not Alone coming up at Stephen Friedman Gallery in London. The artist's most comprehensive show to date represents a collection of works celebrating feminism, creation and motherhood, and the visitors are more than welcome to interact with the artworks on display - in fact, to touch the art in this exhibition is almost mandatory.
A video trailer of Jennifer Rubell - Not Alone Exhibition at Stephen Friedman Gallery London
Jennifer Rubell is Nude and You Can Be Too
Artists getting naked for the sake of their own art is really nothing new. As part of Not Alone, Jennifer Rubell is the star of her film installation, titled Posing, in which she is sitting naked on a horse named Tonka. But what if it were the visitors of exhibitions who got naked to become a part of the artwork? In a separate, private anteroom of Stephen Friedman Gallery, the exhibition attendants are invited to undress and stand in close proximity to the film one at a time for as long as they want, with the aim of creating a double self-portrait in which the artist and the viewer are equal subjects of the artwork. Without, of course, being filmed themselves.
The viewers can also engage in other sections of the exhibition. In Gallery One, they can interact with a hand-blown glass sculpture of a newborn baby, entitled Us, and pass it between them, creating a physical and emotional attachment with the work. In Them, you can help yourself to hard-boiled eggs with salt and pepper pairings in shapes of a mouse and cheese, or a bride and groom, taken from Jennifer Rubell's personal collection of shakers.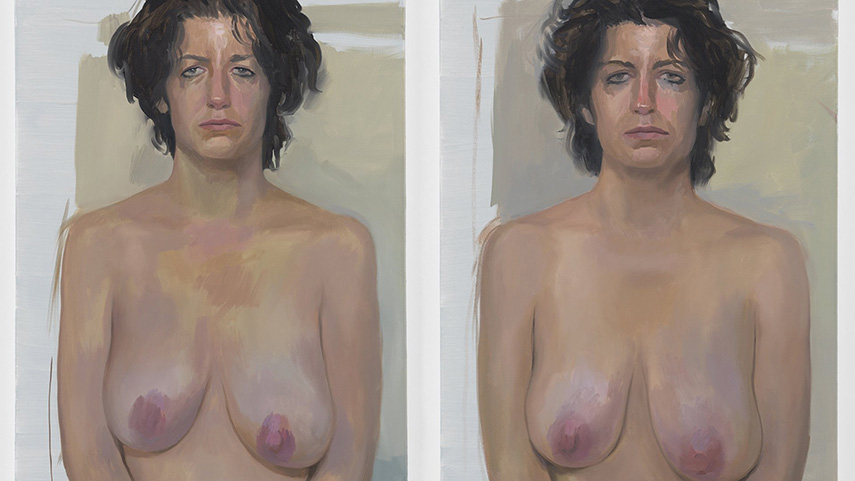 The Brad Jones Painting Series by Rubell and Twilley
Also a part of the Not Alone show at Stephen Friedman is the famous Brad Jones series of paintings, an ongoing collaboration project between Rubell and fellow American artist Brandi Twilley. The many diptychs of naked Jennifer Rubell attributed to a fictional painter named Brad Jones, but actually painted by Twilley, came to be over the course of two and a half years of posing. Painting two canvases at the same time, Twilley was in charge of all the decisions concerning the paintings, questioning authorship and subjectiveness in figurative painting. These works represent the only ones that don't require viewer interaction, as the show is described as "the completion of the works themselves" and the completion of the artist's search for her other half.
Rubell's Not Alone exhibition will open on September 4th and will stay on view until October 2nd, 2015.
Would you get naked for the Rubell art show? Join the discussion over on our Facebook page!
Never miss a piece of news - subscribe for My Widewalls today!
Featured images: A still from Jennifer Rubell's new film Posing, 2015. Courtesy the artist and Stephen Friedman Gallery, London.
All images used for illustrative purposes only.