Present professionally in the world of art for only a few years, Jens-Peter Brask has already achieved more than most people. A Danish collector and curator, he has a background in graffiti and street-art and a 25 year-experience in collecting, focusing both on Scandinavian and international artists, primarily emerging. What began as a passion for the graffiti scene of the 1980s has over the years grown into an incredible collection of artworks that reflects his love for the underground scenes.
Deciding to make his passion a profession, Brask has built a name for himself as an internationally acknowledged author and curator with several museum shows behind him. Believing that art is for everyone, he has started a book series Brask Studio Visits, inviting the reader into the most sacred and unknown territory for many; the artist' studio. The seventh book in the series is expected to be published in October 2021.
In an exclusive Widewalls interview, Brask talks about his impressive art collection, his background in graffiti, making art his career, artist studio visits, and much more.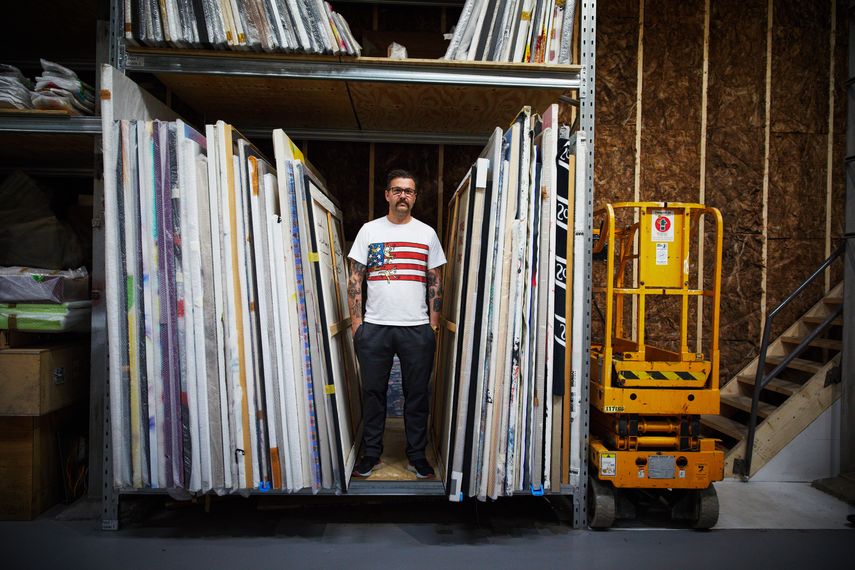 Collecting Contemporary Art
Widewalls: You have been an energetic and passionate collector of contemporary art for the past 25 years. How did you first get into art collecting and how has your collection been developing over time?
Jens-Peter Brask: It all started in 1993 when I purchased my first artwork by the Danish artist Michael Kvium. My interest emerged from my background in graffiti, so it was a natural transition for me.
I had a good understanding because I had been exposed to so many great artists through the graffiti environment, and I slowly started to find interest in the artists who included elements from the urban surroundings in their work and I was especially fond of artists like Jean-Michel Basquiat, Banksy, and Keith Haring.
For the first seven years, the collection primarily consisted of Danish art and I was collecting a combination between established artists and at the time new talented emerging artists. After a while, my good friend and gallerist Nils Stærk advised me on the importance of international art, which changed my perception and the collection that today is focused on being international orientated.
I still make sure to follow the Scandinavian art scene closely and support new emerging talents, but the collection as a whole is internationally orientated.
Widewalls: What is the focus of the collection? Are there some highlights you would like to mention?
J-PB: The focus of the collection has always been to acquire works from the heart. I have tried to avoid the market speculations and intel as much as I could, and only acquired works that I found interesting. I believe it is important as a collector not to give in to the pressure and acquire works under stress, but to listen to your own intuition.
Some of the highlights in my collection is that the collection contains works by some of the most established international artists such as Julian Schnabel, Eddie Martinez, Banksy, John Copeland, Rashid Johnson, and Wes Lang among others.
Most of these works were acquired when the artists were still emerging, and I have always been interested in finding new young talent and support them. This is in line with the perception of one of the leading art collectors in the world Hubert Neumann, who stresses the importance of building art collections that are based upon new talents. It is so much more fun to be able to support the artists at the beginning of their careers and see how their talent unfolds over the years.
Widewalls: You have an extensive background in graffiti. Can you tell us something about your career as a graffiti artist? What was the Danish scene like back then?
J-PB: I was an active graffiti painter from 1986 to 1994, which is a very important starting point for me and where I am today. When I began to collect art in 1993, it emerged from my background in graffiti, and art slowly overlapped and started to become my main focus.
I began making graffiti in a time period that today is known as the first generation of graffiti painters. The wave that took place in Denmark was highly influenced by what was happening in New York, and I was completely drawn to the 80's aesthetic. This specific aesthetic is what I grew up in, and still, today is my favorite movement.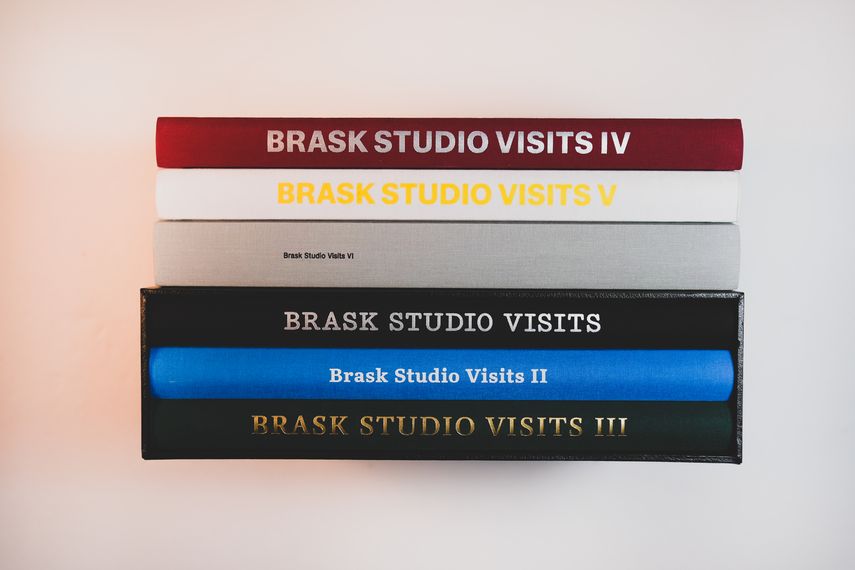 Turning Art Into A Profession
Widewalls: Although you've been collecting art for over two decades, it has been only a few years that you began working with it professionally, curating art for museums, public projects, and a growing range of private collectors who needs their insights to build a collection. How did you decide to turn this passion into a profession and how did this transition look like? What are the projects you are today most proud of?
J-PB: I was working as a restaurateur for many years, but I felt more and more drawn to art and quickly discovered that this interest exceeded beyond a hobby level.
The transition was easy and felt so natural for me, and it gave me another perspective on my working life. I wanted to work with art but not as a gallerist, I found it more interesting to work as an independent curator. My business model is structured by an ability to move freely between various projects, and I am very grateful each day I get to work with art.
In my work over the last few years, I have been lucky to work with a long list of talented artists, and I'm most proud of these unique collaborations that have taken form in so many different projects.
My work includes public murals, design collaborations, publishing art books, different forms of charity, and much more. For me, it is rewarding to be able to share art with so many different people, and over the last few years, I have made a great effort to create art in the public sphere.
For me, this is a way of including art in the daily life of a large number of people, and not limited art-related experiences to only museums and galleries.
Widewalls: You are now a trusted advisor for many. How do you keep up with the often overwhelming world of contemporary art?
J-PB: I believe that social media is a great tool for maintaining an overview. This has become very clear in relation to the current pandemic, where everyone has been unable to travel. Especially Instagram has provided me with a platform where I am still able to see what was taking place all over the world, and I am therefore still being introduced to new artists, but in a different way.
I am so grateful that so many emerging artists are contacting me on a daily basis and introducing me to them and their work. This gives me a unique insight into some of the new players, and so many museums and galleries have also managed to use the different online platforms to present new work.
I also make sure to spar with my network of artists, and I love being introduced to new talents by mutual connections.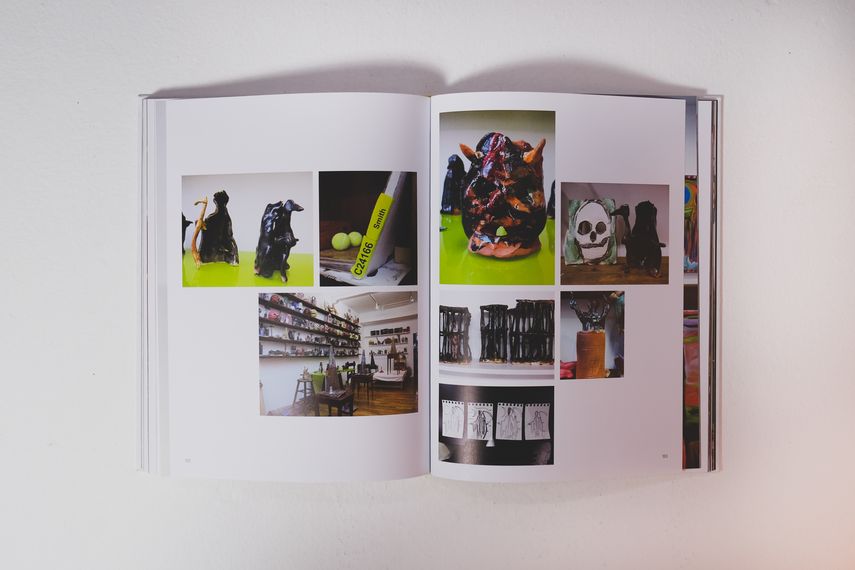 Brask Studio Visits
Widewalls: You are also renowned for your sequential book series Brask Studio Visits in which you visit emerging and established artists in their studios. Can you tell us something about this experience and the relationships you forge with artists?
J-PB: The books are my way of transferring the unique magic that appears when you are in an artist's studio. From the moment you enter the door you sense that something unique is taking place, and it is easy to absorb into the room. The books are a way of highlighting the process behind the artworks and give the reader a unique insight into the different artists and who they are.
I have always been fond of the studio visits, and I love being in that special place where art is created. I am so lucky that I have been able to visit as many artists as I have, and I am so grateful for the many recommendations and connections I have received throughout the years.
Widewalls: The seventh book in the series will be published in October 2021 at your own publishing house, Brask Publications. What can the public expect from this new edition?
J-PB: The forthcoming book will be different from the others, as it will be the first time there is a focus on solely Scandinavian art. This is an effect of the current travel restrictions due to the pandemic, but it will be so interesting to present an edition that unveils and goes into depth with various Scandinavian artists.
Although the book takes a different starting point, it has by no means declined in quality, and the result will hopefully inspire both the local and international audience.
Widewalls: What would be your advice for emerging collectors out there, in terms of how to get started and how to build their collection?
J-PB: I would say that the most important is to buy from the heart and do it at a slow pace where you get a good understanding of the market and explore the different artists.
We live in a digital age where you are able to be exposed to so much information from home, so I would suggest all emerging collectors use time and energy to get to know the market. It is not always so important to buy the most hyped or speculated artists, but the ones that you really find interesting.
Another important aspect is to be tactical in relation to the size of the works, it is not necessarily an advantage to have small works by 10 different artists, often it is better to have medium or large works by 5 artists, and I think that it is important to buy quality instead of quantity.
Widewalls: What are your future plans and projects?
J-PB: I am grateful that this coming year is packed with different projects and plans with everything from large mural projects, new publications, curated exhibitions, and much more.
My work can be followed via my Instagram.
The different projects still haven't been announced, but will be continuously revealed on my webpage and newsletter and via social media, and I hope all interested readers will visit my website to learn more.
Featured image: Jens-Peter Brask captured with parts of his incredible art collection. Photo Oliver Knauer.