Two decades have passed since Jeremy Fish came to the Bay Area. This year marks the 20th anniversary for the renowned illustrator, and he will present his oeuvre appropriately, displaying about 100 selected drawings spanning over his San Francisco period. Going back to his yester imagery and conjuring up what might characterize his future drawings, the show hosted by FFDG is entitled Yesterdays and Tomorrows, spinning off the known and the surprising in the artist's plentiful body of work. The show will be enlivened by animations of Fish's drawings, created in a project sponsored by Adobe and Juxtapoz Mag, while the location is also symbolic, emphasizing the friendship Jeremy Fish and Fecal Face have been sharing for the greater part of his San Francisco adventure.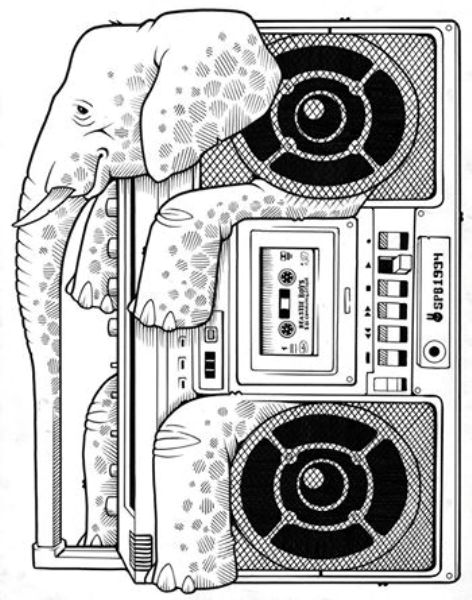 Jeremy Fish
Originally from Albany in New York, Jeremy Fish relocated to San Francisco in 1994 to study. And studying he did attaining a BFA four years down the road. He's been building his recognizable linear, graphic style ever since, incorporating symbolism of animal imagery and iconography of local area into his work. His emblematic pieces were accepted widely, and exhibited in Mexico, New York, SF and LA, Milan, Munich, and Tokyo among other places, realizing at least two great shows this year already, a solo and a group exhibit. Fish also self-produced a series of international Mobile Art Tours, and his work protruded into broader pop culture via fruitful collaborations with Aesop Rock. Artwork of Jeremy Fish makes part of the permanent collection of Laguna Art Museum in California.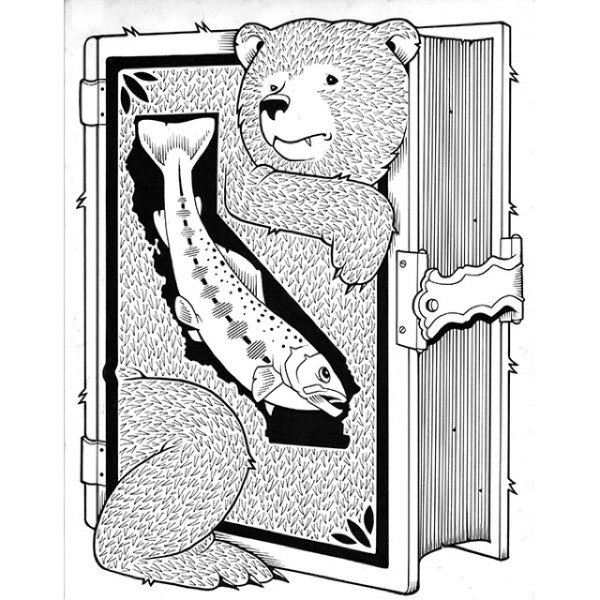 Past and Future Revisited
The nostalgic creative journey started from the fact that a great part of the work Fish created was done in SF, in the form of pen and ink drawing on Bristol board. Combining the fact he friended the director of FFDG, John Trippe, when the super-production of these drawings began, it was a logical choice to mark the 20 years anniversary at his gallery. Observing early and recent work, changes in how the animal imagery is employed can be seen, as well as some shifts in style and thematics, although the core iconography is largely similar.
The bear, a Californian offspring, traumatized by technology, is an allusion to the artist's persona, whereas we can read the maturation in topical rendering overall. Jeremy Fish continues creating personified, organic VS tech organisms, depicting the reality and social situation he dwells in, and when perceived in historical context, his work can be seen as act of a witty chronicler of cultural evolution. The retrospective Yesterdays and Tomorrows is a must for all urban art and illustration lovers, as well as San Franciscans who enjoy viewing the city history from a different angle.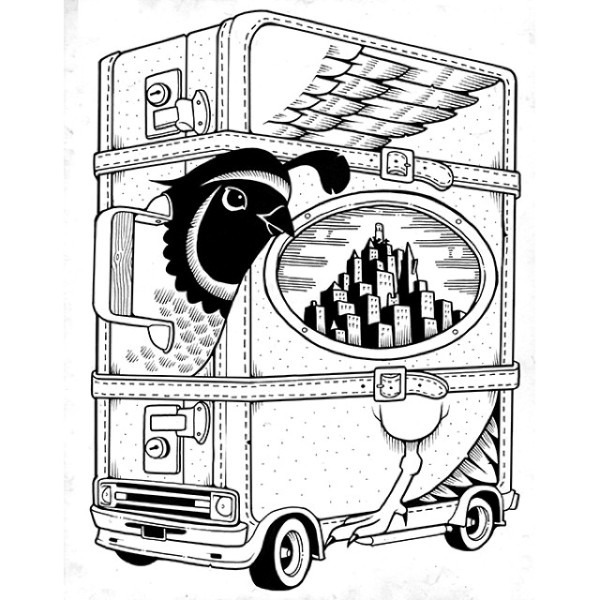 The Show at FFDG
Yesterdays and Tomorrows is opening on August 15, 2014 at FFDG San Francisco, with the artist in attendance. Over 100 black and white drawings will narrate of Jeremy Fish's artistic development, as well as the personal stories related to the Bay Area life. Thirty recent works from the exhibited collection will be for sale.