A fixture in the San Francisco skate and art scene for many years, Jeremy Fish is best known for his incredible, bold works combining charming visuals, diverse characters and engaging symbols. Always telling a story, the artist found a perfect balance between all things cute and creepy.
The artist has been living in San Francisco for the past 25 years. He once said: "I feel a lot of loyalty to San Francisco — I'm just genuinely grateful that this city has allowed me to have the career that I do." On the occasion of this unique milestone of living in the city, the artist decided to create a new body of work which will be on view at Hashimoto Contemporary. Titled The Fog Lovers Club, the exhibition celebrates and embraces the history and constant change embedded in San Francisco.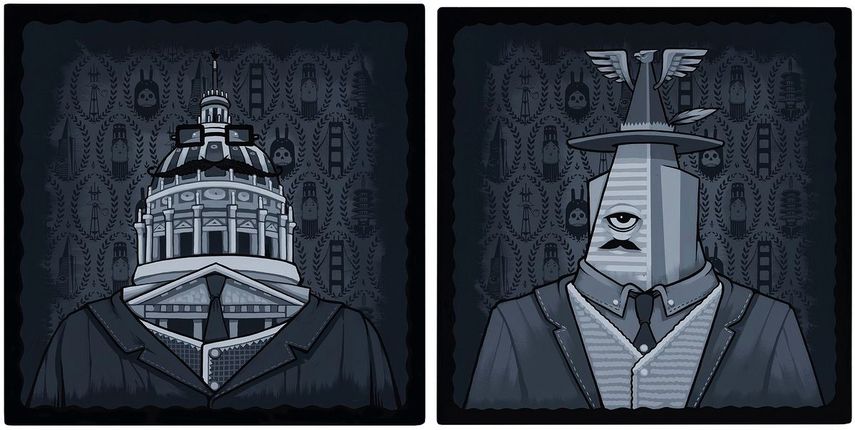 Jeremy Fish and San Francisco
Through his refined illustrative sensibility and a vast library of unique characters, Jeremy Fish tells wondrous stories. Influenced by children's books and cartoons from the 70s and skateboard graphics from the 80s and 90s, he creates surreal environments that blur the line between whimsical and sinister.
Every five years or so, the artist does a solo show inspired directly by his beloved city. As he explained, he constantly sees people complaining all around and he is tired of listening to this negativity about what he describes as the most beautiful city on earth as it goes through some very painful transitions.
His latest body of work is dedicated to his fellow San Franciscans and the rest of the world watching this incredible city continue to evolve and innovate.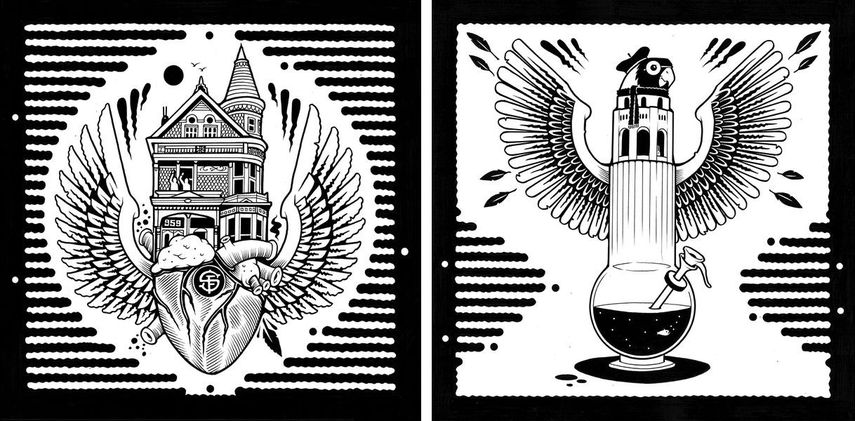 The Fog Lovers Club
Comprised of new paintings, drawings and customized skateboard decks, the new body of work paints an honest portrait of the city by the Bay through the artist's adoring yet pragmatic eyes. Square compositions all done in foggy inspired greyscale, these works are meant to send positive vibrations and tell stories of the San Francisco hills, weather, history, ups and downs and the residents' ongoing love affair with the fog.
Each piece incorporates iconic architecture and characters throughout the city's history, from historical figures like Lillie Coit and Emperor Norton to the more contemporary Jake Phelps and the artist himself - the eccentric cast that has loved the city and contributed to its beauty.
All these works reflect Fish's deep love and appreciation for the city, the communities that have helped build it and the history and possibility around each corner.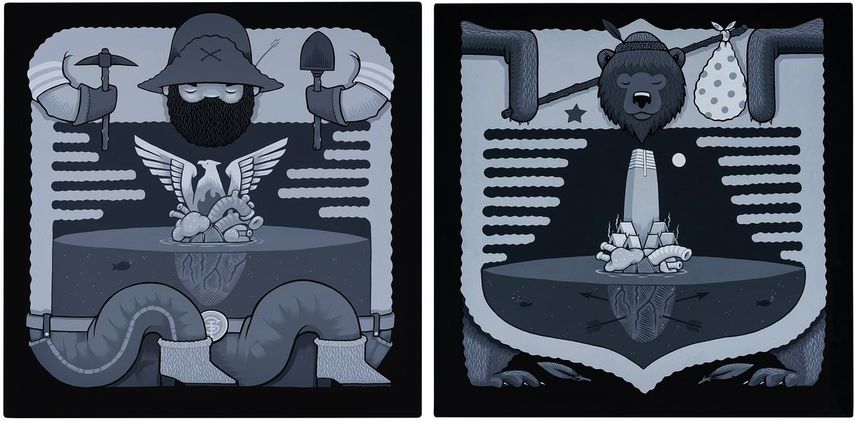 Jeremy Fish at Hashimoto Contemporary
The exhibition The Fog Lovers Club will be on view at Hashimoto Contemporary in San Francisco from December 14th, 2019 until January 4th, 2020. The opening reception will be held on December 14th, from 6 to 9 p.m. The artist will be present.
A new limited edition print will also be released at the opening.
Featured image: Jeremy Fish - SalesForce (detail). All images courtesy of Hashimoto Contemporary.