New and exciting exhibition opened at the end of November in Rabbit Eye Movement Art Space. You may have heard of this gallery, as we wrote about several exhibitions in the past months that took place there. One of them, that brought a lot of attention, happened in September and it promoted Bristol's street art culture. Street art is once again the focus of this new exhibition but this time it is solo show with Jerro as the main role. It is said that he is already a new German graffiti legend with distinguished artistic style. Titled New Frontiers, name of the exhibition is strongly linked to Jeroo's artistic development and his approach when creating art.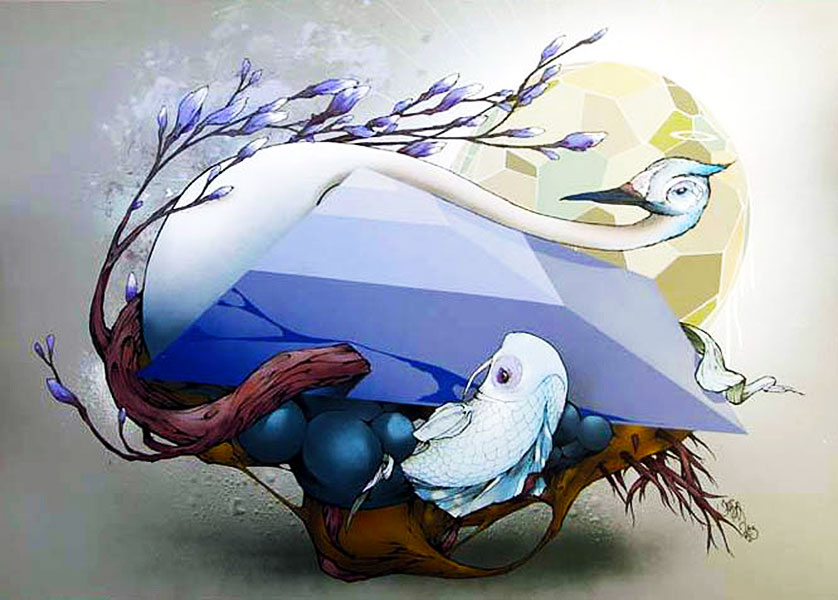 About Jeroo
Jeroo is a well known Stuttgart-based artist. His career began in 1993 when he started writing graffiti and after ten years of doing that, Jeroo produced his first canvas-based work. For a certain period of time he was part of the german graffiti crew called JDI Crew. He was only twelve first time he got involved in graffiti and as he didn't had anyone to teach him the craft, so the artist learned everything he could about spray-painting by himself. Being a self-taught artist had its advantages, as he developed recognizing authentic style that he goes by. This style is characterized by combining Graffiti aesthetic, with influences like Art Nouveau.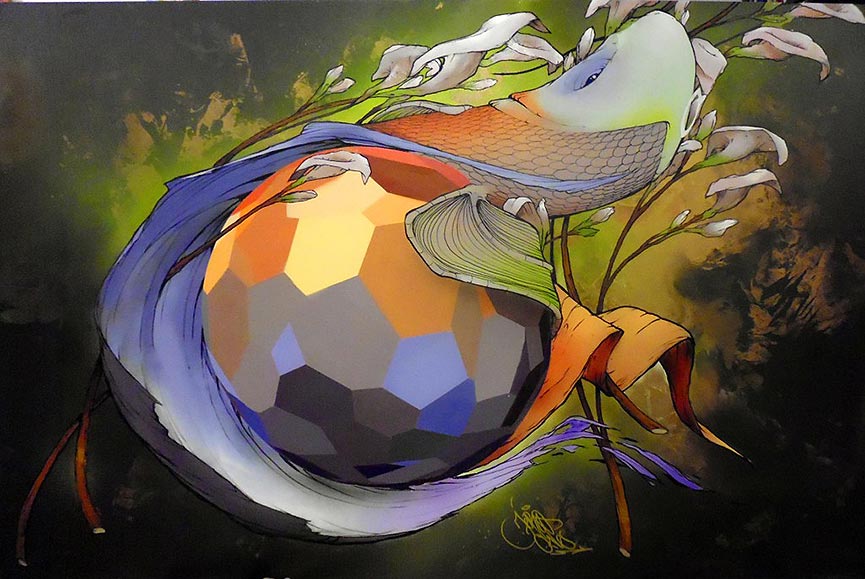 Jeroo's mixture
After fifteen years of writing graffiti, Jeroo felt the need for a slightly different approach and a different medium. Thus, he began creating characters on canvas. His artwork started to grow in shape, size and style as he gradually incorporated concrete contours into his work by using tape to perfect the structure of the work. The resulting product can be seen in his recent works. These works represent a very vivid and colorful mesmerizing hybrid vision, where fantastic creatures emerge from a world of letters. His artworks contains a lot of animal motifs, which is a major theme in works of number of other artist.
New Frontiers
New Frontiers is a collection that summarizes Jeroo's dedication to his self-taught craft as it displays clear and singular sense of personal aesthetic as it is depicted through his one-of-a-kind perspective. By combining his graffiti background with newfound explorations in style and medium, Jeroo truly is scaling new frontiers in this exhibition. Exhibition will run through 19th of December.
 About Rabbit Eye Movement Art space
Rabbit Eye Movement originally started as a street art concept, created by the urban/graffiti artist and illustrator Nychos in 2005 (most recent artist of the week here at Widewalls). It fueled and defined the artwork Nychos spread on the streets for the next seven years, and in 2012 he acquired a home for REM to live. Located in the heart of Vienna, the Rabbit Eye Movement Art Space is now a full time gallery and agency dedicated to pushing the same movement that created it.
If you are a fan on graffiti and street art sign up for My Widewalls today and never miss updates from the world of street art!