Ever since 1917, the Pulitzer Prize has been honoring excellence in journalism and arts. Established in 1970, the Pulitzer Prize for Criticism has been presented annually to a newspaper writer who has demonstrated "distinguished criticism". This year, this honor went to Jerry Saltz, New York Magazine's senior art critic.
As the committee explained, the renowned art critic won the prize "for a robust body of work that conveyed a canny and often daring perspective on visual art in America, encompassing the personal, the political, the pure and the profane." A unique and brilliant writer who was already nominated twice - in 2001 and 2006 - he beat out his fellow finalists Carlos Lozada of the Washington Post and Manohla Dargis of The New York Times. This has been the first time a writer from New York Magazine has received the award.
The winning essay My Life As a Failed Artist that Saltz published in April 2017 tackles his pan and regret over a failed attempt at succeeding as an artist. Decades after giving up the dream for good, he returned to the work he'd devoted his life to, then abandoned — but never really forgot.
Becoming an Art Critic
Born in Chicago in 1951, Jerry Saltz attended art school for a few years before dropping out. He exhibited in numerous galleries and even founded an artist-run gallery while living in a run-down apartment near Wrigley Field, before moving to New York at the age of 26.
Saltz didn't start writing until he was over 40 years old. Today, he thinks of himself as incredibly lucky "that a voice like mine is in the art world."
Before becoming a senior art critic and columnist for New York magazine in 2007, where he maintains a regular column on its entertainment division, Vulture.com and appears often in its prints magazine, he worked as the senior critic for The Village Voice for nearly a decade. He also contributed to Art in America, Flash Art International, Frieze, Modern Painters, among various other art publications. He won the National Magazine Award in 2015 and the Frank Jewett Mather Award from the College Art Association in 2007.
Jerry Saltz's Favorite Paintings
Writing in a Language People Understand
Jerry Saltz is known for his humor, irreverence, self-deprecation and volubility, for what he was often described as the Rodney Dangerfield of the art world. Despite expressing doubt about art critics' influence as purveyors of taste, ArtReview called him the 73rd most powerful person in the art world in the 2009 Power 100 list.
With his signature accessible and punchy writing style, he aims to decode the complexities of contemporary art for a wide audience. He has often tackled art world controversies, from this year's contentious Whitney Biennial and auctioning of a painting purportedly by Leonardo da Vinci at Christie's to addressing the Balthus painting that thousands petitioned to have removed from the Metropolitan Museum of Art in New York.
In his recent interview with Sotheby's, Jerry Saltz argued that art critics are a dying breed. He explained that too many critics have written in a language that no one understands except them, "writing on a very narrow, pre-defined, government approved kind of taste, usually based in the art they were taught about from the '60s and the '70s Post-Minimalism." Instead, he explained, he wants to write in a language that people will understand so that he can encourage conversations. However, he argued the criticism is awaking again, as more and more people take matters into their own hands and share their opinions online.
Jerry Saltz at 2017 NCECA Conference
Jerry Saltz and Social Media
Besides describing him as a "leading voice in the art world at large," the Pulitzer committee also described Saltz as an "innovative user of social media." Indeed, the critic is known for his notoriously brash online persona and the energetic process of "performing criticism in public," as he likes to call it. In 2010, his very first Facebook post has caused a digital storm. He wrote:
[T]he recent show of Marlene Dumas at David Zwirner really looks like remaking her old work and settling into photo realism.
After receiving hundreds of comments within minutes criticizing the remark, Saltz explained it was this moment when he decided to galvanize his decision to de-stabilize the art criticism pyramid, not climb to the top of it.
I thought, instead of the one speaking to the many, this is the way for the many to speak to one another. That there's a way to reverse this model, go horizontal and speak back with every commenter.
Dedicated to demystifying the art critic to artists and a general art audience, he uses social media more actively than many art critics, posting daily questions and diatribes to his audiences. Expressing himself in a manner less polished and restrained than his writing, his posts have caused much controversy, once even resulting in Facebook banning him from the network. However, Saltz considers these stunts to be strategic, believing his often crude provocations have the potential to change culture or at least open up new ways of talking about it.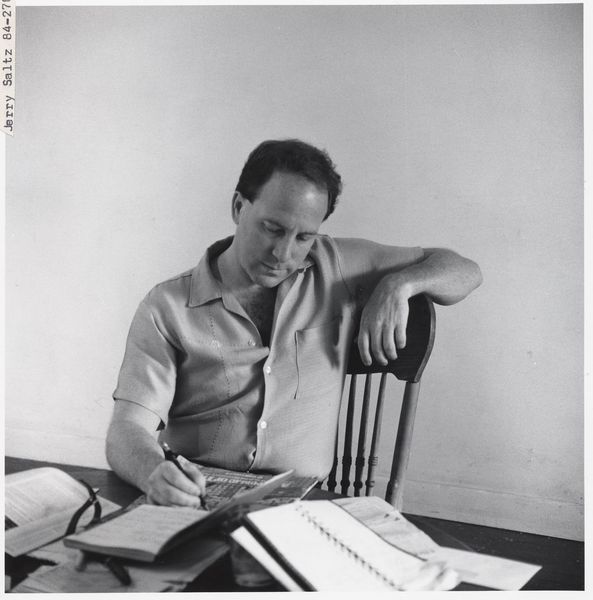 The Winning Essay
In a personal essay My Life As a Failed Artist, Jerry Saltz set aside his accomplishments as a famous art critic and discussed his studies at SAIC and his unsuccessful career as an artist, opening with a line "It pains me to say it, but I am a failed artist."
The essay is imbued with themes of failure and regret, but also nostalgia as he reminisces about his short-lived art career. He also praised Chicago's outsider art scene and the Chicago Imagists artist group who inspired and motivated him to keep making art. However, he realized that all his time spent in the art world was leading him to a different path, to become an art critic.
After the news was announced, Saltz immediately took to Twitter, thanking his wife and fellow critic Roberta Smith "for helping me find my life and calling," as well as New York Magazine's editors.
  Editors' Tip: Seeing Out Loud: The Voice Art Columns Fall 1998 - Winter 2003 by Jerry Saltz
In Seeing Out Loud, Saltz critically engages with notable works of art by over 100 notable artists ranging from Picasso, Matisse, and Warhol to Matthew Barney, Gerhard Richter, and Chris Ofili. These reviews appeared in the Village Voice between November 1998 and winter 2003. Francesco Bonami, the curator of 2003 Venice Biennale wrote about him: "Jerry Saltz looks at art from the perspective of the viewer, the ignorant, the lover, and the enemy. His writing is overwhelmingly passionate, yet without sentimentality. His words pierce the content and beauty of each work of art to test its endurance in time and memory."
Featured image: Jerry Saltz, via vulture.com. All images used for illustrative purposes only.