A photorealistic landscape painter, Jessica Hess is known for her naturalistically painted urban scenes. Particularly drawn to the rundown and overlooked places that mark every city, she meticulously captures graffiti's vibrant interruption amongst urban life, both celebrating and validating it through a fine art lens of oil paintings on canvas and gouache on paper. Her latest body of work will soon be on view at Hashimoto Contemporary. Titled Less Is More, the exhibition introduces a new series of hyperrealistic oil paintings that explore the architectural ephemerality. Expanding her ongoing survey of derelict spaces void of human presence, these vivid paintings transport the viewer to locations around the United States, such as the Heidelberg project in Detroit or the rural backroads of New England.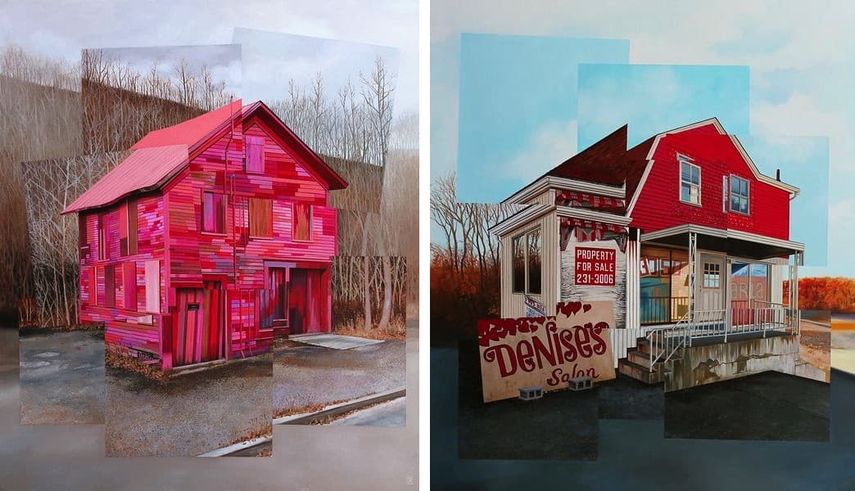 The Practice of Jessica Hess
Using traditional and formal techniques such as oil, acrylic, and gouache, Jessica Hess creates hyper realistic paintings of industrial wasteland covered with graffiti and street art. Developing her work from an accumulation of images and impressions of abandoned architecture, she recreates contemporary subject matter in a very precise detail. Using photographs as a starting point for her work, she immortalizes buildings forgotten by all but the underground artists using them as their canvas. Removing trash, cars, and people from her works, she creates landscapes that are more perfect versions of the actual city. Composing a multiple abstract layers of meaning, she merges her imagination with realism of her actual scenery.
Less Is More
By detailing the continuous change in these vacated structures, Hess' latest body of work develops the narrative set forth by her previous series More Is More. Depicting graffiti saturated buildings that have been buffed over and abandoned homes that are boarded and repainted, her works provoke contemplation of the cyclical nature of our built environments. As in her previous work, she continues to skillfully manipulate the reality of her subjects through interventions of painterly abstraction. Showing an abandoned home in vibrant color, the painting North Adams is rendered to resemble a physical photo collage, showing an intermediary process between the original source and its final painted form.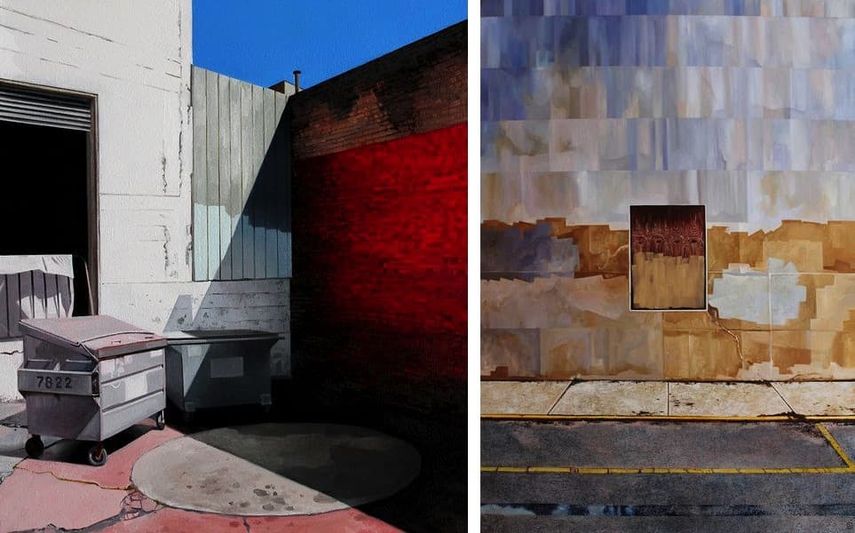 Jessica Hess at Hashimoto Contemporary
Focusing on the structure, decay and subtle details of each location, Jessica Hess manages to encapsulate and preserve the often fleeting an ever-changing urban landscape, immortalizing each mark long after the walls have worn. The exhibition Less Is More will be on view at Hashimoto Contemporary in San Francisco from August 31st until September 23rd, 2017. The opening reception will be held on Thursday, August 31st from 6 to 9 p.m.
Featured images: Jessica Hess - T.L. Corner (detail); Jessica Hess - PDX Trains. All images courtesy of Hashimoto Contemporary.