Through her practice, Oakland-based artist Jessica Hess explores urban landscapes, taking on architectural subjects that have been abstracted through decay, demolition, and neglect. Executed in a hyperrealist style, her depictions of the urban environment both celebrate and validate the art of graffiti through a fine art lens of oil paintings on canvas and gouache on paper.
The latest body of work by Hess will soon go on view at Hashimoto Contemporary. Titled The Chaos Aesthetic, the exhibition is a continuation of her exploration of structure, simplicity, and decay, meticulously capturing graffiti's vibrant interruption amongst urban life.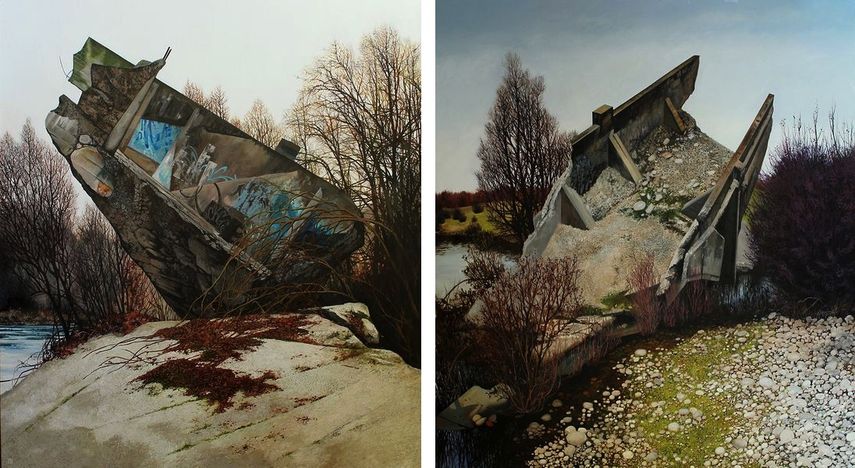 The Practice of Jessica Hess
Old and abandoned buildings forgotten by all serve as a canvas for the work of Jessica Hess. She uses photographs as both a reference and a starting point, developing her work from an accumulation of images and impressions of urban, industrial, and abandoned architecture. Combining traditional and formal technique with a contemporary subject matter, her focus lies within the structure, decay and subtle details of each location.
The artist removes trash, cars, and people from her works, adding and subtracting textures, plant life and objects to create hyperreal scenes of dilapidated yet beautiful locales. Through these painterly interventions, these landscapes become a more perfect version of an actual city.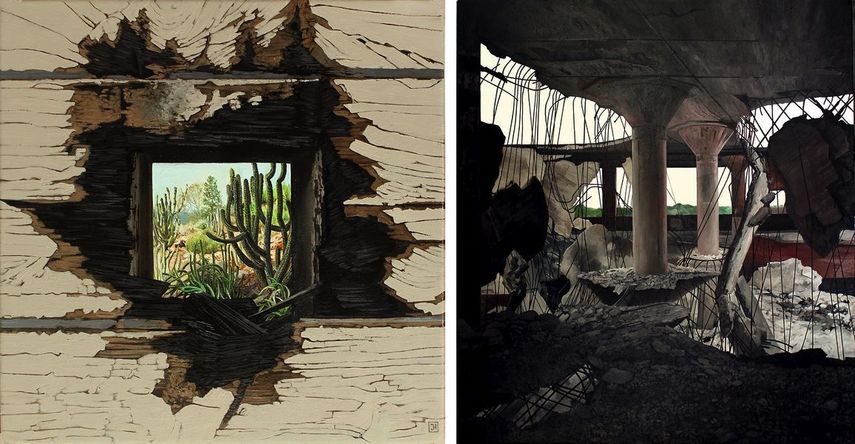 The Chaos Aesthetic
Through her hyperreal scenes, Jessica Hess takes the viewer on a journey to remote and often inaccessible, crumbling spaces in flux. Highlighting the ephemerality of each of these locations, she presents graffiti laced landscapes as "unconventional museums showcasing dense collections of street art and graffiti." The artist explains:
All street art evidences creative traffic and the time invested by others on my otherwise lonely subjects, adding color and excitement to otherwise dull locations. In reworking and transforming these locations my paintings further this collaboration of time, structure, and surface.
In the artist's work, the delineation between indoor and outdoor spaces become ambiguous and disorienting, interrupted by decaying structures, colorful graffiti and natural interjection.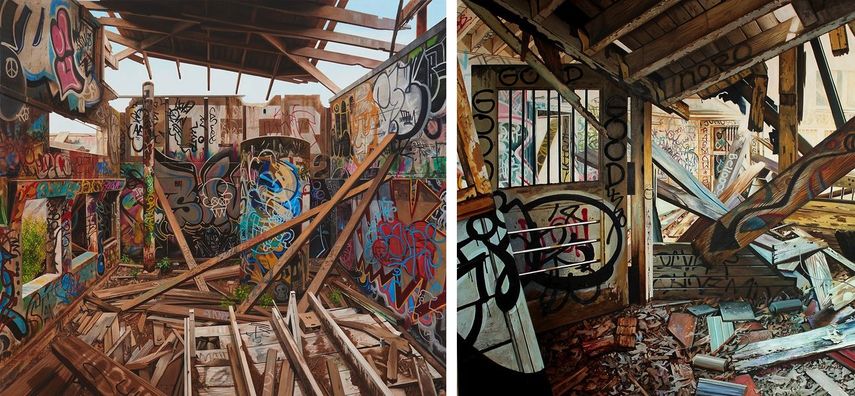 Jessica Hess Exhibition at Hashimoto Contemporary
Encapsulating and preserving the often fleeting and ever-changing urban landscape, Jessica Hess immortalizes each mark long after the walls have worn. In this way, she both preserves and reverses the chaotic.
The exhibition The Chaos Aesthetic will be on view at Hashimoto Contemporary in San Francisco from May 4th until May 25th, 2019. The opening reception will take place on May 4th, from 6 to 9 p.m.
Featured image: Jessica Hess - Break Free (detail), 2019. All images courtesy of Hashimoto Contemporary.