The previous year was big when it comes to virtual reality, and the technology has managed to infiltrate the art world in a variety of ways. In their first virtual exhibition, IdeelArt is presenting Jessica Snow art. Titled Let it Flow, the solo show of this acclaimed American artist is hosted in a stunning venue in Le Havre in France, Les Bains des Docks. A swimming pool designed by the internationally acclaimed architect Jean Nouvel, the venue is hosting an art exhibition for the first time. Yet, no need to go to Le Havre, since the exhibition will actually be available in virtual reality only. The venue was shot to create an environment where artworks could be inserted digitally. Each piece featured in the show will be commented by the artist, interviewed by Richard van der Aa, the artist, founder of ParisConcret, and a member of the selection committee of the Réalités Nouvelles.

Feeling More at Home
San Francisco-based artist, Jessica Snow creates abstract paintings and drawings distinguished by bright and vivid linear forms. Her pieces are filled with metaphorical light, air, color, uplift and freedom, believing that the colors and shapes in her work should make a person feel more at home in this world. As a multidisciplinary artist, Snow is experimenting with a variety of media, from acrylic works on paper, panels or walls, to a black fine-point pen works on a lightweight aluminum. After making an extensive study, she creates a piece that looks instinctive and effortless. Using layers of paint as thin as possible, she makes them become imperceptible. Structure, form, colors and shapes have always been fundamental in Snow's work.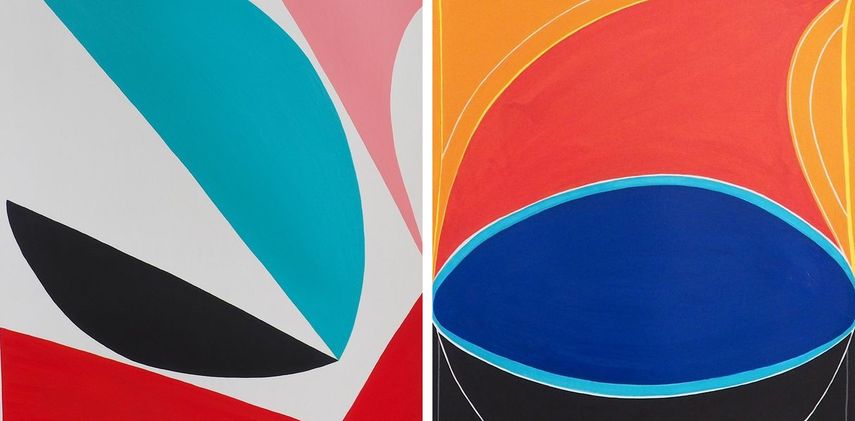 Exploring the Opposites
Believing that painting could be conceived as a structural diagram of the human psyche, Snow finds inspiration in the randomness of the stream of consciousness. Exploring that gray area between a variety of opposites, she makes paintings that are "human" in their lack of perfection. "I see my art as being continually at play between order and chaos or between systems that work and those that breakdown. That seems to be how my mind works…between order and chaos, between logic and emotion", the artist explains. When talking about her art favorites, Snow always mentions Sophie Taeuber-Arp and especially Matisse, Sol LeWitt's and Ellsworth Kelly's work.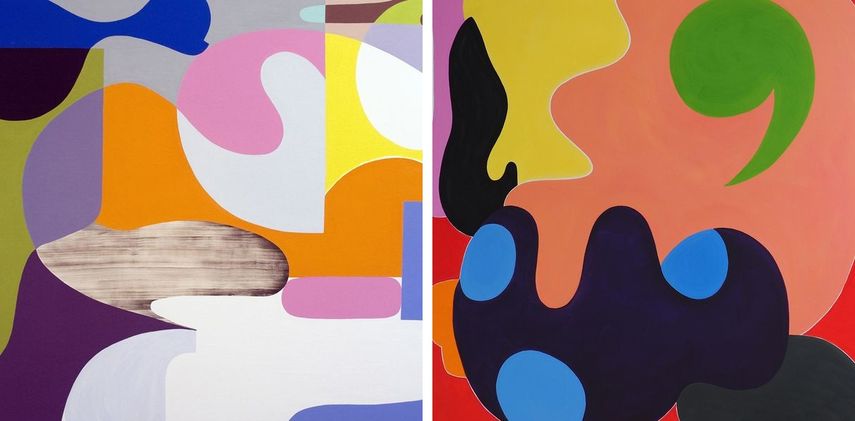 Jessica Snow Art in Virtual Reality
Using the latest virtual reality technology developed by the French start-up Diakse, IdeelArt is hosting exhibitions that are immersive, innovative and unique. Art lovers can now discover and buy pieces of IdeelArt's artists in exclusive and original 3D environments. The exhibition Let it Flow by Jessica Snow can be experienced in 3D and you can buy abstract art here. The virtual reality headset would enhance the experience even further, but the show can be discovered and enjoyed on any device.
Featured images: Jessica Snow - Green Comma (detail), 2014; Jessica Snow Exhibition; Jessica Snow - Worlds Rush In, 2014; Jessica Snow - Intersecting Rays, 2016; Jessica Snow - A Longer Future than History, 2012. All images courtesy of IdeelArt.