'Shrooms of doom, but somehow friendly calmly takeover the visual world of Jesus Benitez. The Mexican muralist who goes under the moniker of Dhear is having his first North American exhibition at the Fifty24SF gallery this July, presenting a novel series of original paintings. This intriguing show is coming up right after the artist has completed one of his biggest mural commissions to date, the wall painting for the Hospital Homeopatico in Mexico City. Entitled Thésis, Dhear show will open on July 11, 2014.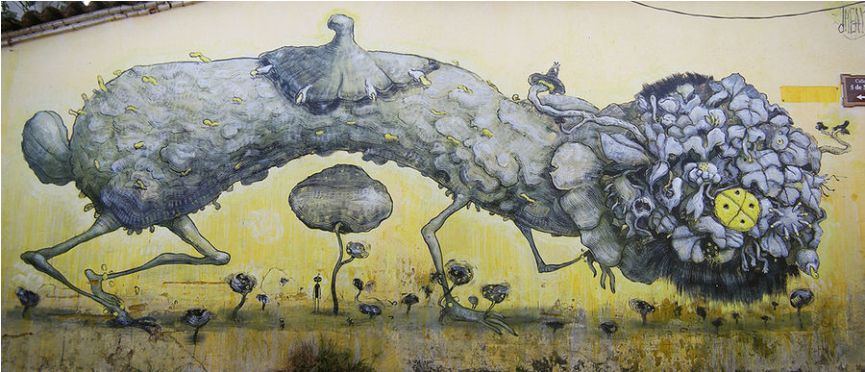 Thesis of Tomorrow
Gazing upon Dhear's murals is similar to watching the most beautiful animated film. His wonderfully delicate visual poetics allures the observer into its world immediately, and one cannot leave without feeling enchanted by this new, unexpected and often puzzling realm. His palette is subtle, filled with gentle nuances and shades, while his characters are the ones that ignite the interest of the passers-by. They are oddly looking creatures, as if made of the most weird combinations of antropo-, zoomorphic shapes, combined with floral and botanical elements. What are these creatures? Who are they, what do they want or seek? The answer lies in the environmentally conscious message Benitez conveys - they are our future, the future of the planet, the way in which our world is moving. His vision is everything but threatening at the first sight, but when scratched beneath the surface it unveils a rather unpleasant future of humankind. Our civilization is crashing and so is the humankind, while the only way to survive will be to merge with other lifeforms, breathing in who-knows-which gas, eating who-knows-which new, not yet emerged plants. Can we call it post-apocalyptic? Maybe not, because the work usually implies the dominance of technology. We can rather perceive this post-post-apocalyptic idea of the artist as the far future in which it will be possible to live in some way.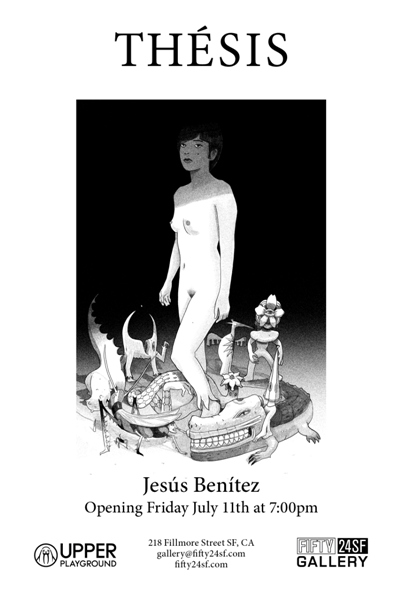 Style of Dhear
Stylistically, the work of Jesus Benitez can be classified as surrealism. Not wanting to delve into the descriptive world of figuration, he conjured up his own visual language, consisting of organic forms and hints of recognizable. His characters are friendly, although not easily defined, while the landscapes he depicts resemble Wonderland or its neighboring country. The artist overtly names his inspirations, but it was his own mind that brought all of the enticing elements into one, coherent and fantastic expression.
Jesus Benitez
Jesus Benitez a.k.a. Dhear is a Mexican illustrator and muralist is known for his versatility in creative media, as his murals, sculptures and paintings are dispersed around the globe. His complex surrealism is deeply influenced by the artist's profound passion for literature, cinema, Sci-Fi genre, nature, while his artistic role models are Moebius and Roger Dean. His imagery is completely imagined revealing the richness of the artist's imagination, while the subjects he depicts are premonitions of the downfall of human world and technology we know today. Deconstructing the contemporary civilization, Benitez allows newly formed organisms to merge with various kinds of bacteria, fungi, or odd-looking parasites, shaping novel, trippy, colorful beings.
Benitez was born in Mexico City in 1985. He participated in many national and international exhibition in Germany, Morocco and Spain. Besides his illustrative and design work, he is mostly concentrated on painting large scale murals.