Drawing from memories and experiences, the Los Angeles-based artist Jillian Evelyn paints female bodies naked, tangled and bent, as if pushed down by an invisible force. Characterized by a distinctive palette of both soft and contrasting hues, and a focus on simple shape and form, her paintings and illustrations tell a range of stories, from bending to expectations to the pressures of society and being cramped into physical and metaphorical space.
Her latest bodies of work will soon go on view at Line Dot in Chicago, hosted by Vertical Gallery. Titled It's About Time, the exhibition explores temporal experience from a female perspective, delving into the near-obsessive nature of women's relationship with time. Extending beyond the current moment, these works stem from her own experiences.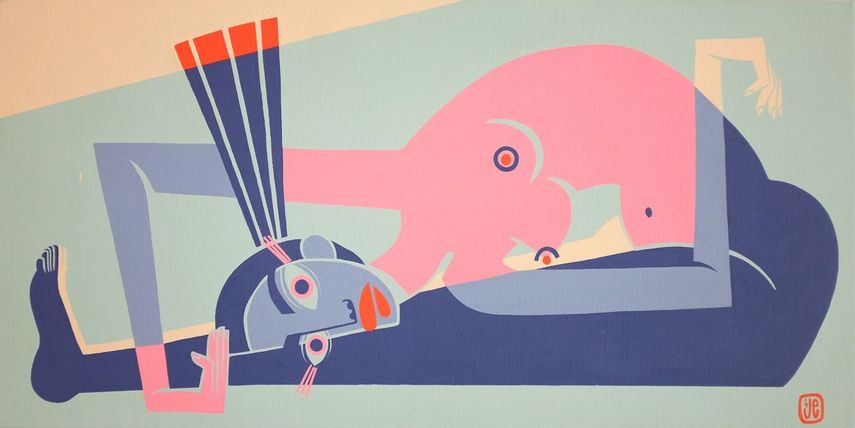 Women and Time
Through a brightly-colored pop aesthetic, Jillian Evelyn challenges conceptual themes that tackle the darker sides of modern life. With the latest body of work, the artist confronts her personal and cultural observations of women's relationship with time. The complexity of this relationship is traced from childhood to womanhood and the cyclical rhythm that develops over time.
With aging and childbearing, there is a new set of challenges that women face, such as unrealistic expectations of physical appearance and motherhood which leaves them feeling that their worth diminishes as they age.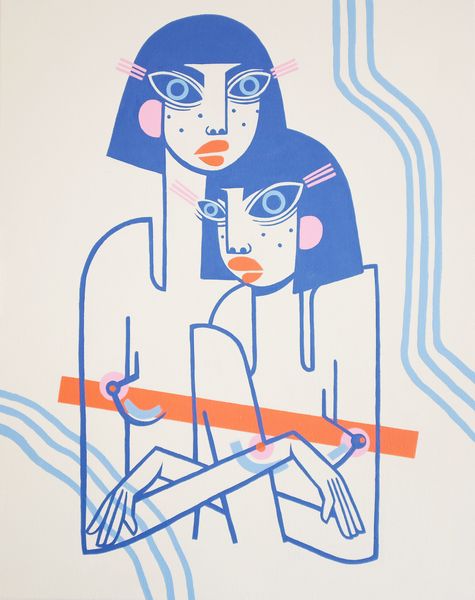 Embracing the Female Experience in Its Entirety
Reflecting this uneasy experience of time and its passing, which has been forced upon them, women in this new body of work are often contorted in the shape of an hourglass. Confronting the dominant cultural narratives, this work embraces female experience in all its messy complexity. Powerful and emotional, these works evoke a visual diary entry of sorts.
Jillian Evelyn experiments with texture and linework, further developing her signature style. As she explains, this creative process "felt suitable to utilize this time to grow as an artist rather than fear change and the idea that my time as an artist will come to an end."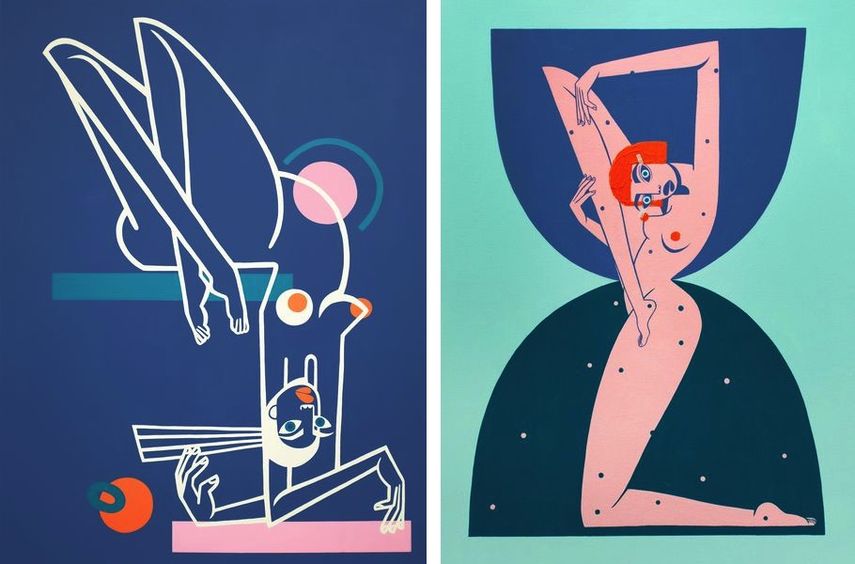 Jillian Evelyn Exhibition at Line Dot
Creating a visual conversation with art history, design and the personal feminine spirit, Jillian Evelyn has forged a unique and fantastic artistic voice. Breaking down the body into shapes which combine curves and sharp edges, the artist expresses a myriad of aspects of what being a woman feels for her. Retaining a clean, colorful aesthetic, she reflects personal conflicts while allowing for the viewer's personal interpretations.
Hosted by Vertical Gallery, the exhibition It's About Time will be on view at Line Dot in Chicago from March 23rd until April 20th, 2019. The opening reception will take place on Saturday, March 23rd from 6 to 9 p.m.
Featured image: Jillian Evelyn - The things I wish I could tell my younger self (detail), 2019. All images courtesy of Line Dot and Vertical Gallery.