A cartoon poet, speed painter, performer, designer and musician, Jim Avignon describes himself as a modern storyteller. A representative of the Cheap Art Movement, he is celebrated for a unique body of work which expresses the complex relationships of our times by the simplest of means.
The latest pieces by this multifaceted artist will soon be on view at Urban Spree, two years after his earlier solo show with the gallery which was called Permanent Jetlag. Here Comes the Bad News, on the other hand, features thought-provoking works in which the artist comments on the hubris of the world and Berlin in particular with his usual dark-humored wit.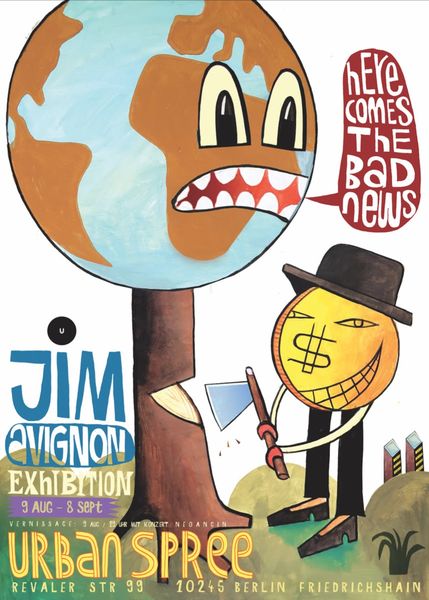 The Practice of Jim Avignon
Crafting a visual critique of society, Jim Avignon exposes everyday absurdities from business to love with an apt, sympathetic bite. Obtaining his essential artistic concepts from the wide fields of art, music, media, and market and their tensions, he creates work characterized by bright colors, tart humor, unpretentious material and a dizzying output.
According to the legend, the artist became stranded in the Provence city of Avignon at some point in the '80s when his car unexpectedly broke down. To raise money for repairing his car, he resorted to painting Dalí images onto pavements. This is where his moniker comes from.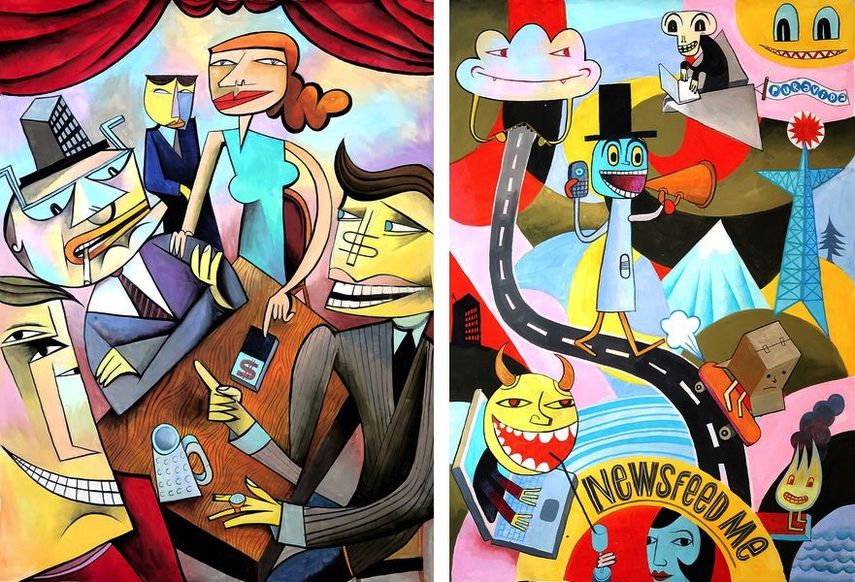 The Representative of the Cheap Art Movement
One of the leading representatives of the Cheap Art Movement, Avignon produces a lot in order to keep the price low. Having a very clear idea about art, Avignon explains: "I'd rather sell a thousand images for one dollar, than one image for a thousand dollars."
By creating a colorful flood of affordable, rapidly-produced works, the artist seeks to disrupt the well-oiled art market and pervade it with black humor and self-irony. His work caricatures the ways of the art market, speaking to people who are bored or deterred by the gold-framed aura of so-called high art.
Issues ranging from politics and society, art and pop culture are mixed with images from the world of fairy tales and fables in Avignon's narrative structures, creating a stage for very different protagonists of figuration, cartoons, anime and fantasy world.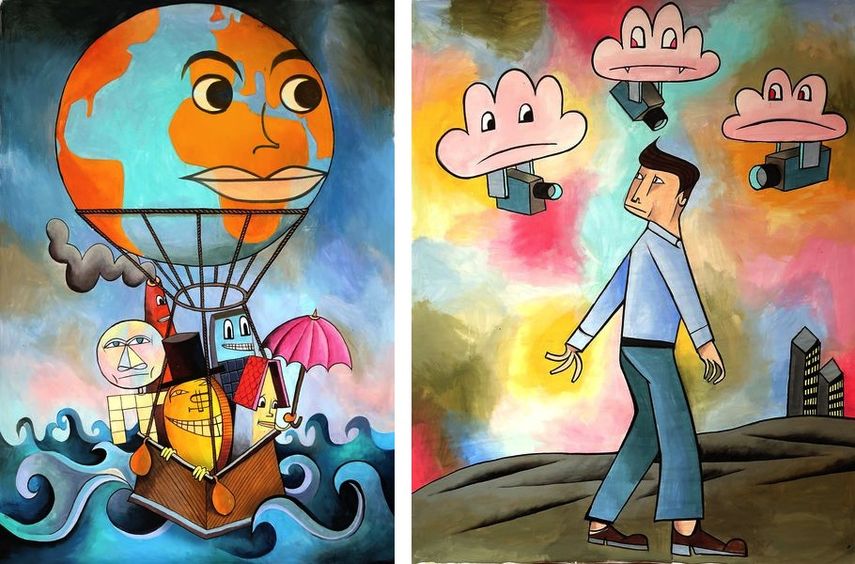 Jim Avignon at Urban Spree
For Urban Spree, the artist has prepared a mash-up of cartoony figuration, expressionistic composition with a minimum of lines, dealing with subjects ranging from gentrification and global warming to surveillance, capitalism and the rise of Alt-Right.
The exhibition Here Comes the Bad News will be on view at Urban Spree in Berlin from August 9th until September 8th, 2019. The opening reception will be held on Friday, August 9th, 2019.
Featured image: Jim Avignon at Urban Spree. All images courtesy of Urban Spree.