The contemporary moment is marked by an increasing rise of the right-wing discourse which does much harm to any society since it brings into action hate speech and violence. Across the globe, the governments are led by people of suspicious ideological background, and their doings are often criticized, yet the condemnation of the current American administration is the harshest.
Various public personas have raised their voice against the problematic functioning of the political system in The United States, and among the loudest is actor Jim Carrey. LA's Maccarone Gallery decided to present an exhibition of suggestive title IndigNation: Political Cartoons by Jim Carrey, 2016-2018 which will feature original cartoon drawings of this prolific actor/artist made over the past two years.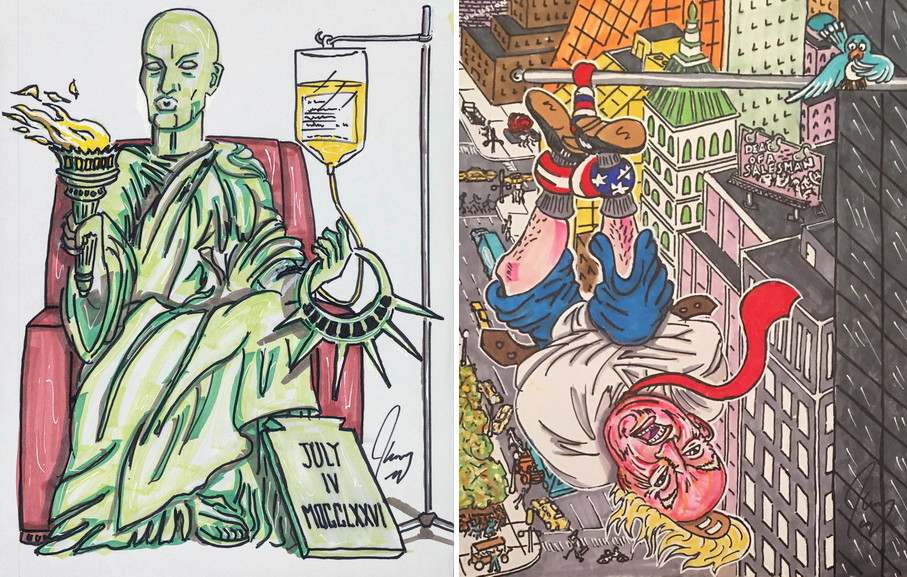 Jim Carrey – The Artist
Jim Carrey is a well-known and award-winning actor recognized for both his dramatic and comedic work. At the moment, he is the star and producer of the critically acclaimed series Kidding. Aside from the movie industry, Carrey is active as an artist. Over the years, he has had several exhibitions and in 2017 he spoke about the art-making process in a short documentary titled Jim Carrey: I Needed Color.
The actor/artist explored various phenomena, yet recently, Carrey started producing politically-charged drawings formatted between caricature and cartoon. Such a decision came as an effect of articulation of our current political climate and is based on a fundamental belief in the freedom of speech.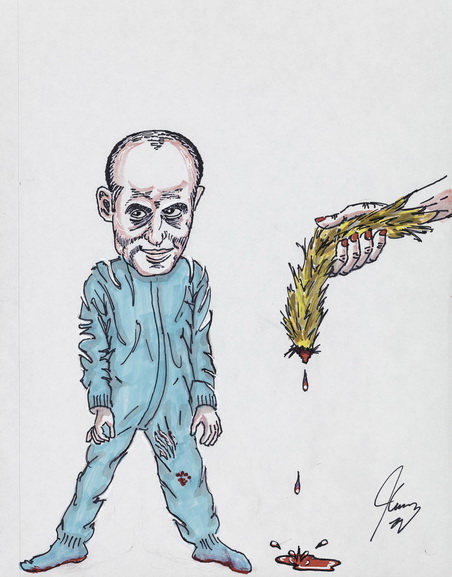 Few Words About The Context
The images Jim Carrey devotedly produces are a manifestation of his disappointment and frustration and in the U.S. constituency, a critical response of the election of a highly controversial figure. The actor/artist aims to question the corruption and dishonest manner typical for the current administration, so his political cartoons are fulfilled with tragic humor.
In order to share his opinions publicly, Carrey decided to start using Twitter, a social network used by his opponents. By sharing his drawings followed by witty, impassioned, introspective or heart-wrenching messages, he draws attention to the important issues of The White House's problematic policies and a surreal government whose doings seem to disrupt the very foundation of democracy.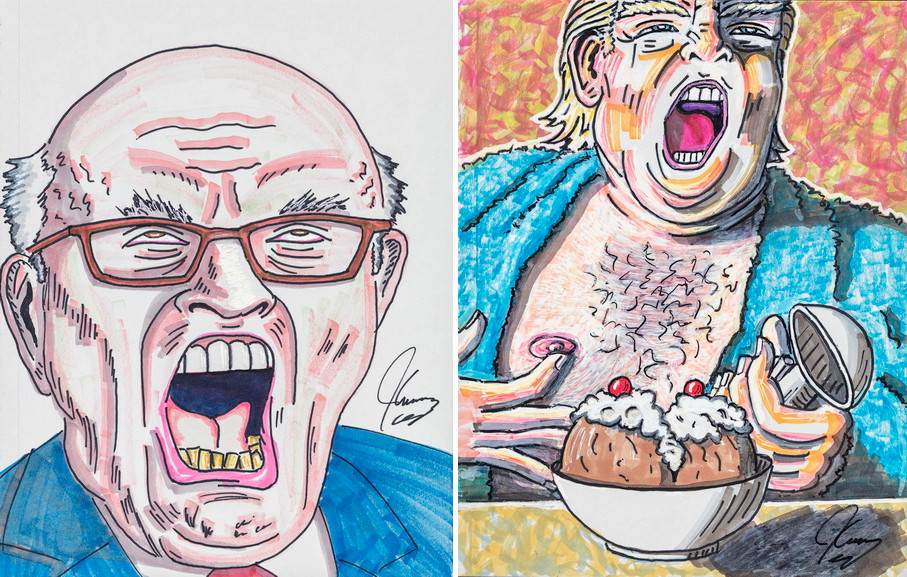 Jim Carrey at Maccarone Gallery
Although Carrey's drawings function differently in the digital era, they belong to a long tradition of political cartooning in which artists criticize politicians in order to urge for new changes and solutions. Interestingly so, this politically explicit exhibition will coincide with the 2018 midterm elections across The States.
The founder of Maccarone Gallery, Michele Maccarone, stated that this exhibition is indeed a part of a larger project undertaken by her gallery in last two decades aimed at connecting fine art practice with popular culture and entertainment.
IndigNation: Political Cartoons by Jim Carrey, 2016-2018 at Maccarone Gallery in Los Angeles will be on view from 13 October until 10 November 2018.
Featured image: Jim Carrey - Father's Day, 2018. Acrylic and water-based paint marker on paper, 12 x 9.5 inches. Images courtesy Jim Carrey and Maccarone.