After his sojourns in Europe, artist Jisan Ahn, originally from Busan, South Korea returned to his homeland to live and work in the country's capital, Seoul. According to Ahn, the time was well spent studying and working in Amsterdam, however the memory and trauma of Korean society remained. In the following, Daniel Lippitsch questions Ahn about his relationship to Europe, to Korea, and how he translates his personal confrontation with history, society and cultural transformation in his diverse oeuvre.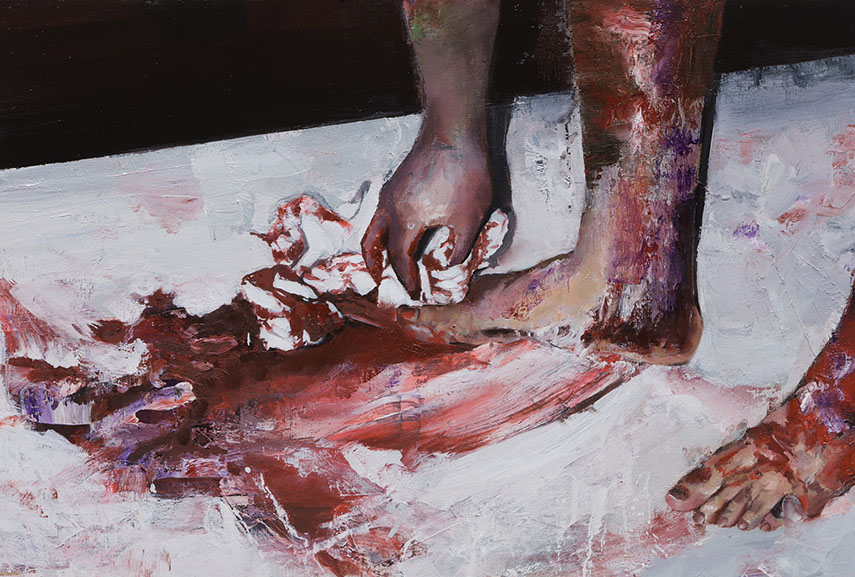 South Korea Art on the Rise
Daniel Lippitsch: Despite being a figurative painter, your work evokes a distinctively ominous feeling of isolation and dystopian ideals that are expressed via an abstract depiction of violence that holds consistently in your oeuvre. What builds the stylistic foundation for you form vocabulary?
Jisan Ahn: There are many reasons, but the most important reason for the style seems to be the childhood experience and social atmosphere. The unreasonable and violent tolerance of educational environment experiences that I had suffered during my childhood influenced my work like a trauma. Despite being out of the dictatorship of military society, unfortunately it still remained in Korean society, and the incomprehensible violence and oppression still remained in memory. The painful memories made me go find the clue which creates my art world.
Daniel Lippitsch: Can you explain in more depth your view on the relationships between art, society and history, more precisely how this influences your subject?
Jisan Ahn: After the Korean War, Korea's time was going very fast. Since many things have been destroyed and vanished, new and varied things have been created. The field of culture and art has also changed and developed rapidly. Before the new artistic discourse was properly debated, another discourse arose and disappeared. So, it seems more important to me to look back at those disappearances. More precisely, I am interested in the singularity created by the partial interpretation combined with past art. You see, society and history is where my work is located.
Daniel Lippitsch: You once stated "The night can clarify everything I think and feel. My senses sharply respond to what I see and feel when all 'disturbing' elements have disappeared. In the dark of the night, I try to see time coexist with death and life. I want to show their cohesion." What motivated your change to a primarily dark colour palette in your later works?
Jisan Ahn: At that time, I was thinking that too many elements were described in the paintings. And I also had a lot of worries about what I should do in the near future and wanted to find new things. So, first of all, I wanted to get out of the enclosed space that was the background of the past work. By the way, when I looked outside in the daytime, too many elements spread out in front of me and it was rather confusing and disturbing to the picture. On the other hand, when I looked around in the dark hours, more interesting objects inspired me. When a person is in a dark room, it is not visible at first, but the eye gradually adapts and the surroundings become visible.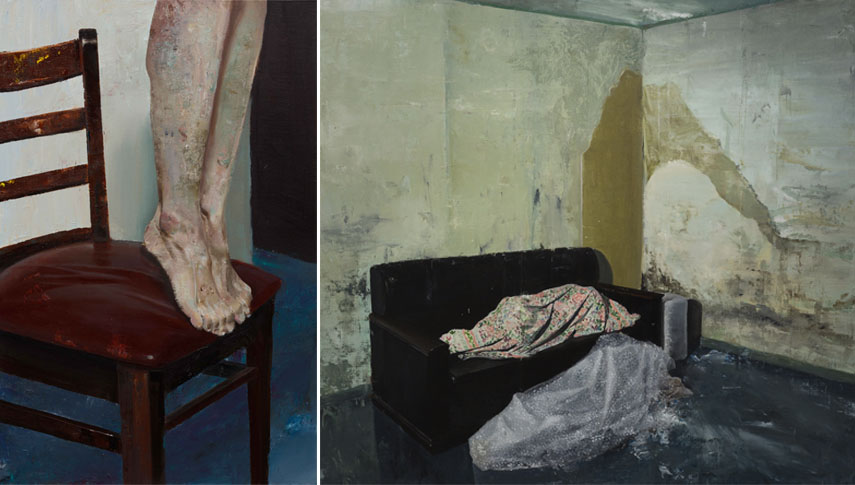 The Work of Jisan Ahn
Daniel Lippitsch: In your more recent works such as Broken Fall or Primary Time, you seem to directly reference artistic role models by integrating paintings, frames and collages. You seem to create a work within a work by executing paintings that belong in the paintings. Can you please elaborate the use of these stylistic elements?
Jisan Ahn: The basis of these works is that I become a model and act myself. At the time of these works, I thought there was a limit to describing objects by oil painting. So, I wanted to put the various feelings of the situation on my canvas. As a performer, sometimes I played to paint my body or jumped from a high place. After that, I did preliminary work, such as drawing or collage, before painting, for the purpose of achieving the completeness of painting. This process was quite long and tough, but it was a fun process.
Daniel Lippitsch: You studied and exhibited in the Netherlands but are currently living in Korea. Did you experience a differentiated reaction on your exhibited works between Europe and Asia?
Jisan Ahn: Of course I experienced differences. When I was in the Netherlands in early 2009, I painted Korean social problems, but viewers and I had difficulty communicating through the works. I came back to Korea in 2015, and someone mentioned that my work or subjects are too Western in their aesthetic. However, both sides understood my artistic perception of the world after some time.
Daniel Lippitsch: Korean art received a heightened attention over the last decade through the prominence of the early Dansaekhwa artist. Do think this will create positive support for the young Korean art scene?
Jisan Ahn: In fact, young Korean artists or my colleagues are not very interested in the scene and feel rather uncomfortable with it. They are much more interested in issues of reality. Personally, 'Dansaekhwa' seems to play a bigger role in the art market than in exhibitions.
Daniel Lippitsch: What are you working on at the moment? Is there something in particular that you are developing or do you see your practice shifting slightly?
Jisan Ahn: A recent work focus lies on painting human faces. At this moment, I am not sure how to develop that because the idea is not concrete yet. What I can only say is that I am looking for objects which are transformed by misunderstandings and misinterpretations.
Featured image: Jisan Ahn - A life on the Ocean Wave, 2016. Oil on canvas, 200 x 290 cm. © The Artist.