One of the most prolific Portuguese contemporary artists of feminist prominence in recent years is, without doubt, Joana Vasconcelos. Mostly expressed through the media of installation and sculpture, her practice revolves around the constant reexaminations of patriarchy, colonialism and in general power structures.
For more than twenty years, this authentic art figure has been producing peculiar works interwoven with socially charged narratives. By appropriating everyday objects in order to construct large-scale installations, Vasconcelos explores multiple dimensions of our world. Her agenda is based on the constant articulation of the common signifiers of socially acceptable roles and behavior.
The current exhibition at the Guggenheim Museum in Bilbao titled I'm Your Mirror can be perceived as a form of retrospective since it encompasses thirty works produced since the late 1990s until the present day. The audience can plunge into the artist's universe and discover dazzling, colorful, humorous, yet direct artistic practice which is deeply embedded in our everyday lives.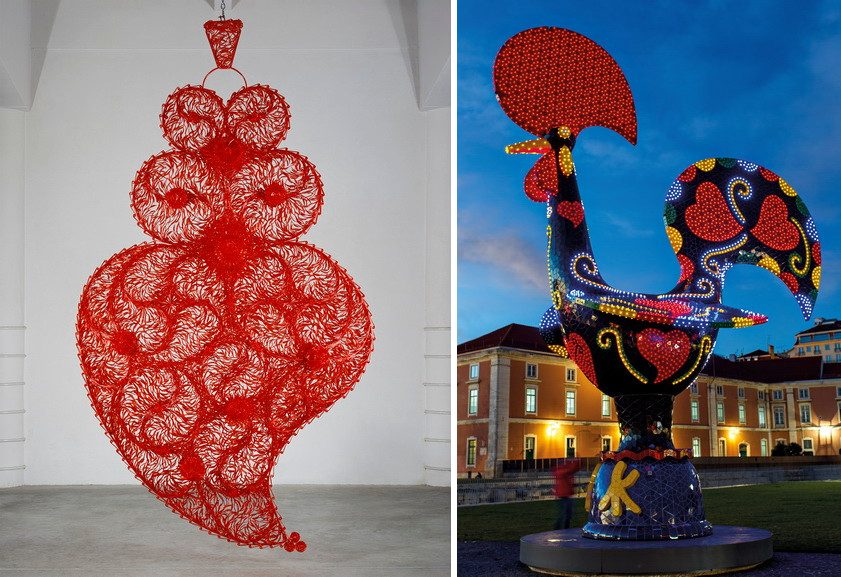 The Domains of Joana Vasconcelos' Art
Joana Vasconcelos has a long and continuous practice which has been developing since the mid-1990s, but the international recognition came in 2005 when she exhibited at the 51st Venice Biennale. A large number of her works belong to public and private collections, and Vasconcelos was the first woman and the youngest contemporary artist to exhibit in Versailles in 2012.
It is important to underline the hard working process through which the artist has to pass with the assistance of a team of more than fifty permanent collaborators in order to produce an artwork. The use of different materials, from fabrics and pottery to household objects, tell much about the craftsmanship required and of the collective labor.
Vasconcelos' oeuvre is suffocated in references from the goldsmiths and fashion designers, to Louise Bourgeois and popular culture. She often works with humor so her pieces suggest an array of meanings and require the viewer to participate actively, and are therefore reminiscent of artistic practices described with the term relational aesthetics that emerged in the late 1990s.
Vasconcelos' agenda is based on exploration of identity in all of its dimensions, starting from her own position as a woman and a Portuguese and European artist.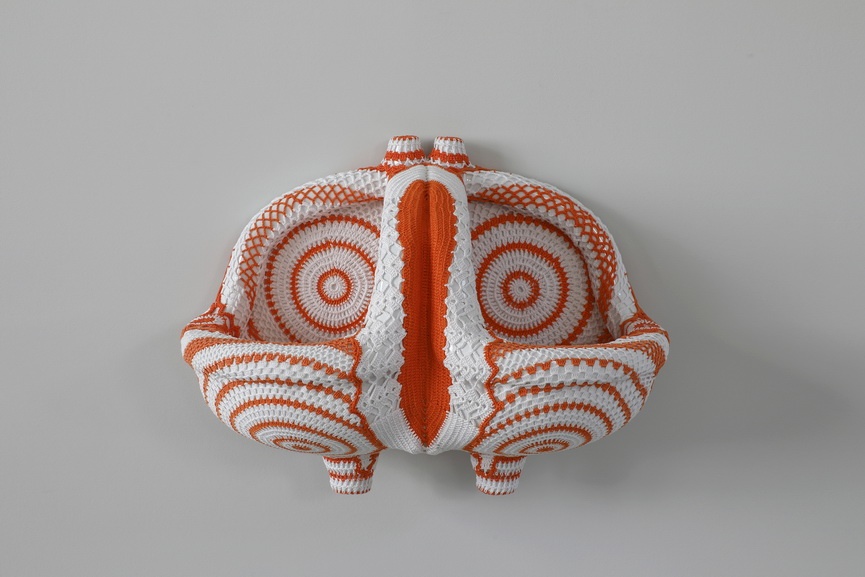 The Installment
The selection of works is displayed in chronological order, so it starts with Vasconcelos' early works such as Valium Bed (Cama Valium, 1999), Burka (2002) and The Bride (A Noiva, 2001-2005). All of these pieces are emblematic since they embody the best of the artist's initial focus on the matters of female identity.
A further exploration of the very notion of femininity is cynically expressed in the works centered around the use of kitchen appliances and fashion objects such as Marilyn (AP) (2011), Lilicoptère (2012), Full Steam Ahead (A Todo o Vapor, 2012) and Call Center (2014-16).
Aside from the mentioned ones, three new works are displayed especially for this occasion - a huge Venetian mask made of mirrors framed in bronze titled I'll Be Your Mirror borrowed from the song of the same name written by Lou Reed and performed by The Velvet Underground and Nico. The next object, Solitaire, is an actual oversize engagement ring made from the wheel rims of luxury cars and glass whiskey tumblers (this piece, as well as Pop Rooster, will be installed outside the Museum building). Finally, there is Egeria, a spatial installation which spreads through the Atrium of the Museum in a form of a plant produced of different textiles and fabrics.
All of the works critically articulate the stereotypes related to the role of woman in society and some of them were never seen previously.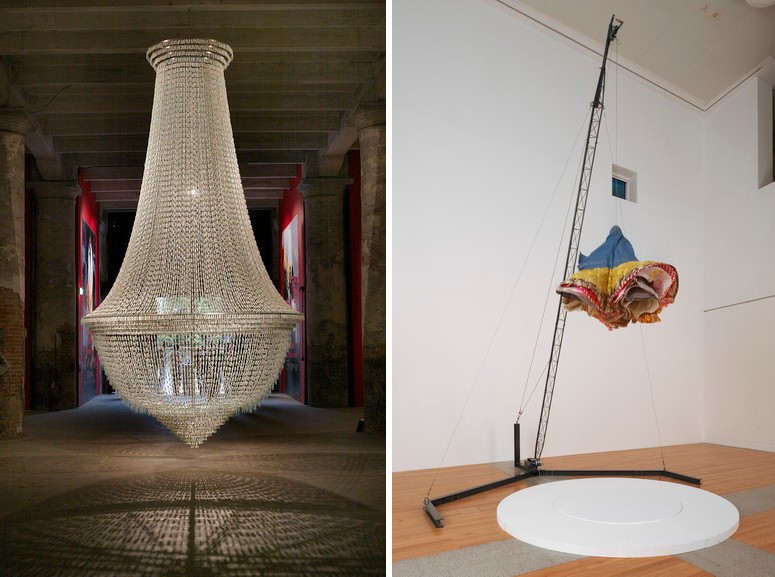 Joana Vasconcelos at Guggenheim Bilbao
The retrospective offers tremendous insight in Joana Vasconcelos' multilayered socially charged practice which is accentuated the best with the section on the exhibition's web page titled Did you know that..?. Here, the public can learn about the social causes, from children's rights and universal education to gender issues, supported by the artist through her Foundation.
I'll be your Mirror is followed by an extensive catalog filled with images of the making of the new works, as well as with texts written by acknowledged experts. It is important to add that the show will be on display at The Guggenheim Museum in Bilbao until 11 November 2018, and afterwards it will go on an international tour to the Serralves Foundation in early 2019 and the Kunsthal Rotterdam in summer 2019.
Featured images: Joana Vasconcelos - I'll Be Your Mirror, 2018. Bronze, mirrors. Edition of 7 + 1 AP. 356 x 682 x 537 cm. Collection of the artist © Joana Vasconcelos, VEGAP, Bilbao, 2018; Call Center , 2014-2016. Analogue telephones, metallized and thermo-lacquered mild steel, sound system, oscillators driven by microcontroller. Music: Call Center: Electroacustic Symphony for 168 Telephones, composed by Jonas Runa, 20'. 210 x 80 x 299 cm. Tia Collection © Joana Vasconcelos, VEGAP, Bilbao, 2018; Lilicoptère, 2012. Bell 47 helicopter, ostrich feathers, Swarovski crystals, gold leaf, industrial paint, dyed leather upholstery embossed with fine gold, Arraiolos rugs, walnut wood, woodgrain painting, passementerie. 300 x 274 x 1265 cm. Private collection. Work produced in collaboration with Fundação Ricardo do Espírito Santo Silva, Lisbon © Joana Vasconcelos, VEGAP, Bilbao, 2018; Meeting Point (Ponto de Encontro), 2000. Chrome-plated metal, wood and upholstery chairs, metallized and thermolacquered iron. 120 x Ø 550 cm. Coleção da Caixa Geral de Depósitos, Lisbon © Joana Vasconcelos, VEGAP, Bilbao, 2018. All images courtesy Guggenheim Bilbao.