When talking about nudes, one cannot but mention Jock Sturges photos somewhere in the conversation. The New York-born, American photographer and his works have been marked as taboo numerous times, mostly due to the fact that he often depicts nude adolescents and their families.
This Marlboro College graduate has received an MFA in photography from the prestigious San Francisco Art Institute, and his career is the one surrounded by controversy.
One of the most debatable issues about his oeuvre is the choice of subjects that occupy his photographs, the aforementioned nude adolescents who primarily live in communes in Northern California and the naturist resort on the Atlantic coast called CHM Montalivet in France.
The question is, did Jock Sturges exploit these underage girls or are they proud to be his subjects?
According to the FBI, in 1990, they had raided his studio in San Francisco and confiscated his equipment, but the grand jury did not indict him in the end. In 1998, attempts have been made to classify his books The Last Day of Summer and Radiant Identities as child pornography in the states of Alabama and Tennessee in the United States.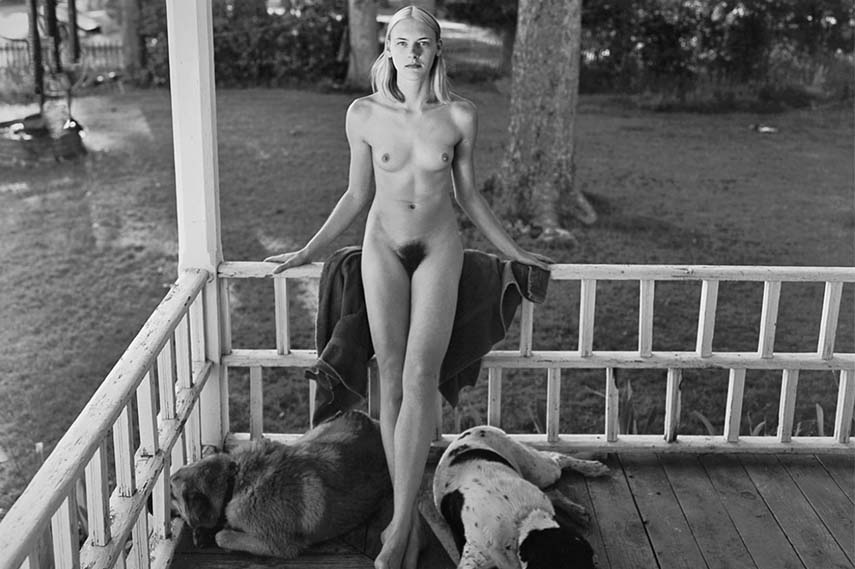 Jock Sturges Photos – Misty Dawn as a source of Inspiration
One of Jock Sturges' muses is definitely Misty Dawn, a girl whose evolution from just a little girl to a grown woman has been documented by Jock Sturges in a book called Misty Dawn: Portrait of a Muse.
The 100 duo-tone photographs are arranged in the chronological order, from the time when Dawn was only four years old, back in 1983, to her late twenties, in 2007.
What draws the public to this book is the documented changes that Dawn goes through as she gets older. From a skinny blonde girl with striking eyes to the sometimes awkward, but mostly graceful young lady, Dawn has changed through puberty and adolescence to turn into a beautiful woman in her late teens.
The final pages show the changes life has made on her face, which is now showing signs of worries, of motherhood, and of the troubles that she went through in her life. If we look back at all the photos we can see that she never smiled, and she almost always looks straight into the camera, naked but utterly confident.
Many have argued that Misty Dawn's youth was exploited during the making of these photographs. But what they fail to realize is that Dawn did not feel threatened or used, and that she willingly continued to pose for Jock Sturges for years.
In fact, the first photographs of her appeared in 1991 and 1994, when she was already in her early teens. As we can see, Dawn liked to dress up when she was a child, and appears hippie-like in most photos, mostly due to the fact that she was raised in a naturist family in Northern California.
The truth is, we know very little about her, and this book does not offer a glimpse into her soul. It does, however, present the depiction of her natural beauty, of her elegance and confidence, it is an idealization of a young woman photographed over the course of 25 years.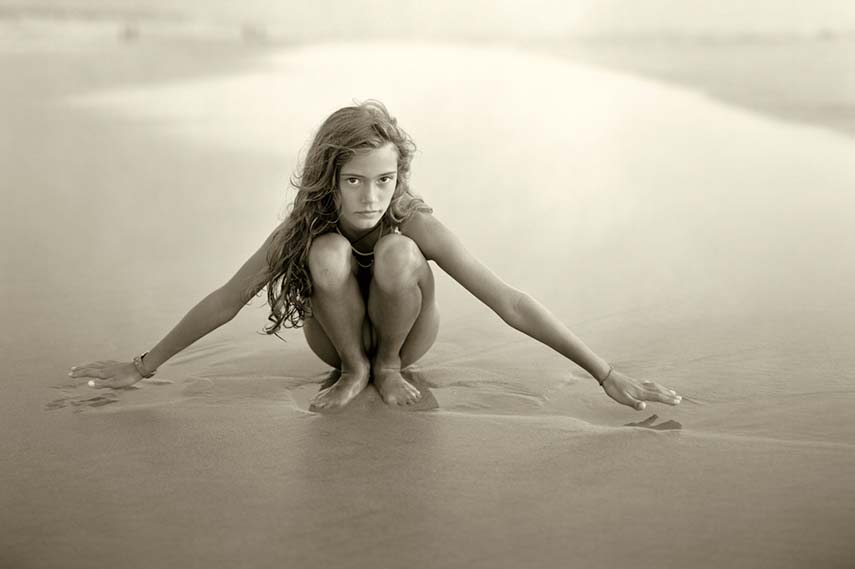 Jock Sturges – Radiant Identities and Fanny
Sturges has published many books during his career, and one of the most important ones is definitely Radiant Identities, a 1994 publication comprised of 60 black and white pictures of children and adults. In Radiant Identities, Sturges captured his own family and acquaintances from the naturist beaches of France and Northern California. The girl who stares at us with piercing eyes on the cover of the book is Misty Dawn, depicted in his works many a time. Jock Sturges manages to convey a spirit of Old Master paintings and 19th century photographic tableaux in his photography, and provoking the public with his controversial images that even led to a series of debates over whether these pictures were actually art or just child pornography.
Sturges evokes the sense of sexuality and intimacy in his works featured in this book, and offers a look into the American artist's understanding of beauty, bereft of prejudice and inhibitions of the non-naturist society that we live in.
Fanny, on the other hand, is just about one girl rather than a community of people. The book offers the portraits of a young woman captured in the period of 23 years, documenting her transition from just a child to a beautiful woman. Fanny is a naturist, and has been one since birth, thus very comfortable with nudity and natural body image. These photographs were mainly taken in Montalivet in France, one of Sturges' safe havens when it comes to photography.
What is most important about this book is that the portraits in it managed to captured Fanny's character and bring the naturist community closer to us through the breathtaking photographs of a beautiful woman.
Taboo or Art?
All my life I've taken photographs of people who are completely at peace being what they were in the situations I photographed them in.
The direct words of Jock Sturges can maybe ease some minds when it comes to the ongoing debate that surrounds his works. But why is that so?
In some cultures, it is perfectly normal to take pictures of your child naked, as these photographs are not considered sexual or provocative, they are just photos of an innocent child in the most natural state possible.
Nobody was born dressed, so why should this be such an issue? Of course, the Western culture fiercely bans any type of connection to the child's body to any form of nudity, but is that culture the only one that is right?
Western-centrism has marked the works of Sturges as obscene, much like the works of David Hamilton and his book The Age of Innocence. What we seem to forget is that there is nothing more natural and more beautiful than the nude human figure, and there is nothing purer than a child, so how can children and sexuality ever be linked together?
Sure, there is an expansion of child predators in the world, but those people are outnumbered by the non-pedophiles. Most of the society is not evil, most people do not think of sex when they see a naked child, and the Western culture should condemn those who seek to exploit the child's innocence, not those who simply love the photographs and have no problem that the figure of a young man or woman is depicted in it.
Featured image: Jock Sturges - Fanny, Montalivet, France, 1996 via aphotoeditor.com. Images in the slider: Jock Sturges - Gaëlle; Montalivet, France, 1996 via lumas.de; Misty Dawn, Northern California, 1991 via photographermagazine.net; Coralie, Nikki, Mylene, Estelle, Alice, Montalivet, France, 1998 and three others via dnfa.com. All images used for illustrative purposes only.