Robberies, arson, murders, protection rackets, assaults… These were the crimes of some of the most notorious English gangsters – the Kray twins. The foremost perpetrators of organized crime in the East End of London in the 1950's and 1960's, Ronald "Ronnie" Kray and Reginald "Reggie" Kray created their gang, the Firm, and became legends of old-school villainy. The infamous duo often associated themselves with prominent entertainers and famous figures such as Frank Sinatra, Judy Garland and Diana Dors. The criminals themselves became celebrities. Long after the sentence, which ended their notorious career, the Krays were synonymous to gangster legends. The English artist, poet and writer, Joe Machine, grew up listening to these legends and his father's recollections of the 1960's London gangland. This came as an inspiration for his new show entitled The Krays: Bed Time Stories, where the artist will be presenting new original artworks and prints at Lollipop Gallery.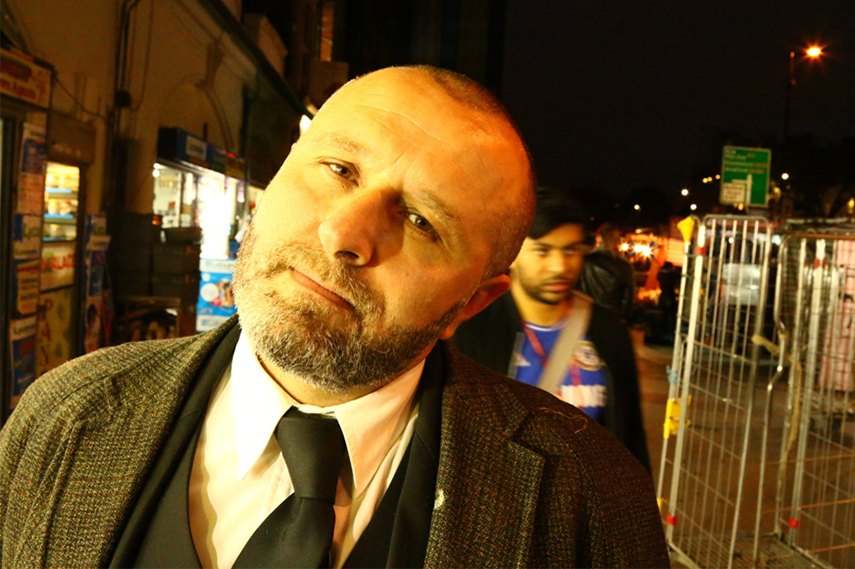 Art as a Way of Dealing with Violent Surroundings
Joe Machine (Joseph Stokes) had a life of violence of his own, having grown up amongst the pubs and drinking establishments of the cockney Riviera, he was surrounded by outbursts of physical brutality, and was sometimes even part of them himself. Soon, Joseph Stokes started making drawings of his experiences. He used this method of externalization through the visual image as a way of comprehending and dealing with his own vulnerability and as means to alleviate himself from the destructive behavior which dominated his life. Later on, he became a founding member of the Stuckists, an anti-conceptual art group, and further continued his autobiographical career. Drawing upon his personal experiences and visions, Joe creates work that is traditional, crude, brutal, uncomfortable and violent, but also refined, vulnerable and lonely at the same time.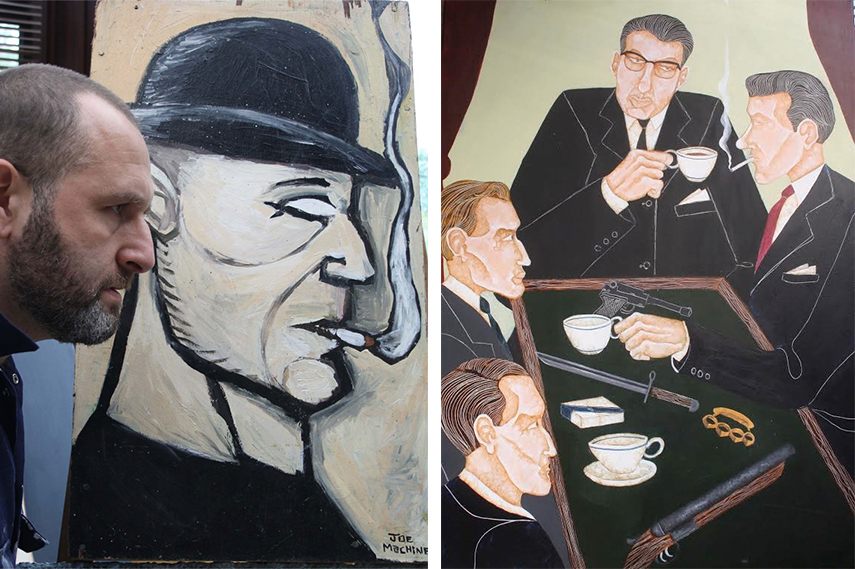 From Bandits and Gangsters to Royalty
In one way or another, mythology has always played a central part of Joe Machine's work. His fascination with Alice in Wonderland, the biblical stories and Russian fairy-tales has elevated his subjects to a mythological light, giving his subjects a symbolic character of darkness or light which resides in all of us. As Joe recollects, his father used to tell him bedtime stories about the shadowy Kray Twins who were described to him as a duo wearing suits as sharp as razor, and he listened to the tales of their notorious exploits fighting and shooting other villains in the smoke-filled, beer-dark clubs of the East End. Joe Machine made an interesting observation when he compared the rise of the notorious Kray twins with the historic origin of the royal families. He speculated that origins of European Royalty began in the ancient world as nomadic bandits and outlaws who were going from town to town, killing and burning and offering "protection" from their own exploits to towns that would pay. Eventually, the bandits would establish themselves as rulers, and in time, they'd become royalty. Whether this is true or not, this story reminded the artist of the Krays, who were indeed the British Royal Family of the underworld.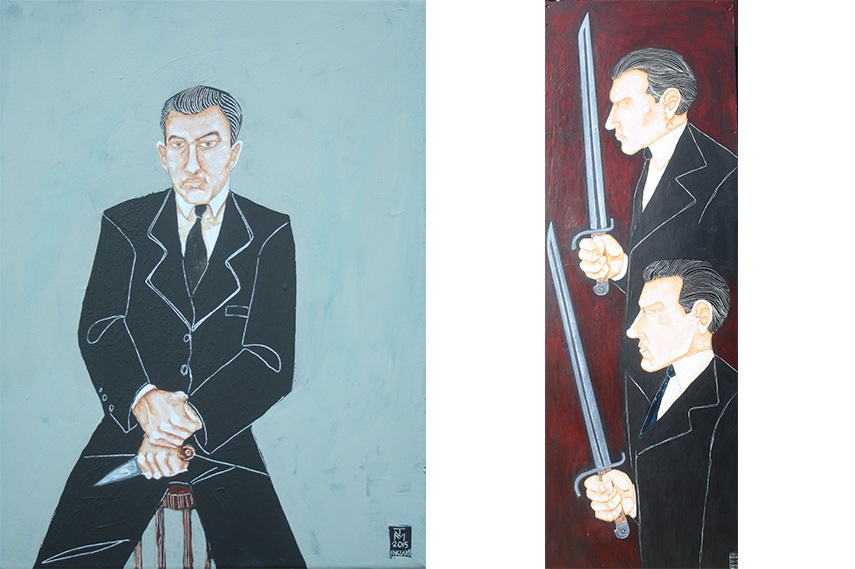 The Krays: Bed Time Stories by Joe Machine at Lollipop Gallery
With the much-anticipated new movie called Legend, starring the rising Hollywood superstar Tom Hardy as both the Krays, the gangster twins are being brought back into the focus of public attention. Joe Machine presents his portrayal of the infamous twins through a new body of work in an exhibition entitled The Krays: Bed Time Stories at Lollipop Gallery in London. Theme Artefact and Lollipop Gallery are proud to present this show featuring prints, woodcuts, scrapings and large format paintings by the prominent English artist. Joe Machine is perhaps the best suited artist for the given subject, considering his childhood and past, and all the stories retold by his father have fed him with enough inspiration to create his signature style art depicting the twin gangsters. The Krays: Bed Time Stories by Joe Machine is on view from 13th of November – 13th of December, 2015. Private view will be held on 12th of November, 6 – 9pm.
Art can be your escape from everyday surroundings with a free sign up for My Widewalls!
All images courtesy of Lollipop Gallery unless noted otherwise
Featured images:
Joe Machine - The Killing of George Cornell by Ronnie Kray
Joe Machine - The Krays tooled up and ready for the off (detail)
Joe Machine - Ronnie Kray (detail)