Mythology has been an influential factor in many of life's segments throughout history, including religion, literature, and of course art. How believable they may be along with their purpose has changed with the people that interpret them, and many of the myths that were even subjective to a certain nation or area got appropriated and changed. Such is the case of many British Isle-related myths, whose appearance can be tied to the times of invasions and conquest. Depicting some of these, the British artist Joe Machine works in collaboration with the academic and writer Dr Steven O'Brien in order to create his latest body of work. Displaying it in an exhibition titled Britannic Myths, the CNB gallery presents a second solo show by the acclaimed artist.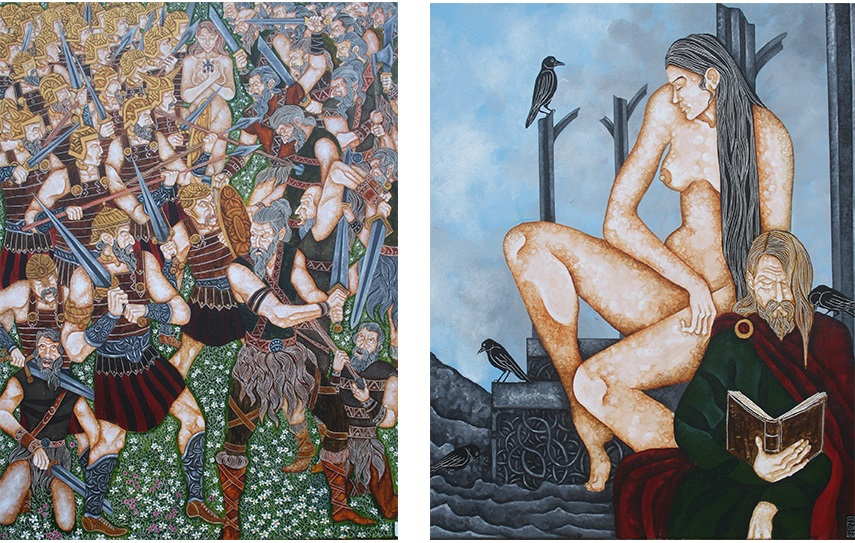 Autobiographical Art
Born in 1973, Joe Machine (Joseph Stokes) started painting around 1988 in an attempt to escape the background of theft. Without any formal art training or a college degree, he was one of the thirteen founders of the anti-conceptual art group called Stuckists, with which he widely exhibited. "Painting and writing have been far better for me than any of the mistakes I made in stealing and fighting" said Machine, and the life experiences of sex and violence influence his art, and are obvious in his strongly autobiographical paintings. A prize winner in the Cork Street Open Exhibition in London in 2012, some of his recent shows include Woland ART SPACE at Porto Piccolo Gallery in Trieste (2015); Fairytales – Russian and British at Russian Cultural Centre in the UK (2014); Alice in the Wonderland/ Alice in the Artworld at Omnibus in London (2014), and Machine Evolution at CNB Gallery in London (2013).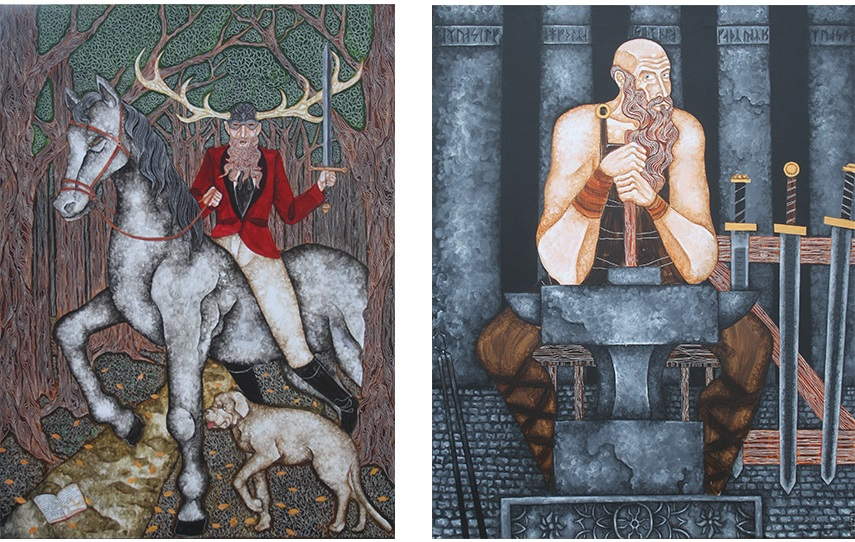 Visual Mythology
Thomas Mann wrote: "For the myth is the foundation of life; it is the timeless schema, the pious formula into which life flows when it reproduces its traits out of the unconscious," and Joe Machine's paintings aren't far from this statement. Pouring life of various myths into the canvas, he tells stories that have existed for ages through his detailed paintings. Writing Britannia Stories which explores twenty myths associated with the British Isles, Dr Steven O'Brien has influenced the artist as much as his paintings have influenced the book. Working closely together, they reexamine the timeless struggles of the human spirit,  emphasizing the importance of myths even in today's world.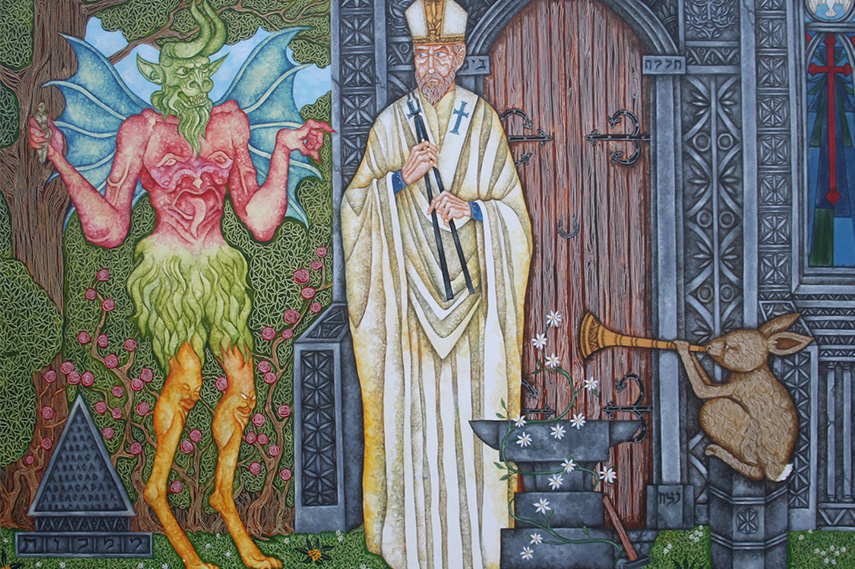 Joe Machine Exhibition at CNB Gallery in London
The stories of old are present in every part of the world, and they have survived the centuries due to the intriguing message or story they convey. Seeing them visually represented by the artist transmits its energy further, creating a memento for the generations to come. With twenty myths finding their way into the Britannia Stories, the show is sure to leave an impression. The Britannic Myths exhibition displaying paintings by Joe Machine starts on February 19th at CNB gallery in London, and will be on view until March 13th, 2016.
Featured image: Joe Machine - Math, Son of Mythonwy (detail), 2015. Images courtesy of CNB Gallery.