Wood has been used in many art techniques, from woodcarving, to sculpture and woodblock printing, just to mention a few. Modern-day technologies and the general shifting towards a more technologically-oriented art have not pushed art on wood out of the picture just yet. On the contrary, it seems that the use of wood in art is increasing, now bringing even street creatives to this old material. Used over centuries, wood gives artists the possibility to experiment with forms, textures and styles, in this easy-to-obtain material.
Joël Knafo Art Galleries in Paris, in an exhibition titled Urban Artwood, prepared for us a visual treat of urban art made on this material. In the mentioned show, they will showcase the works by urban artists who still adhere to wood as the main material in their practice, and as a source of their inspiration.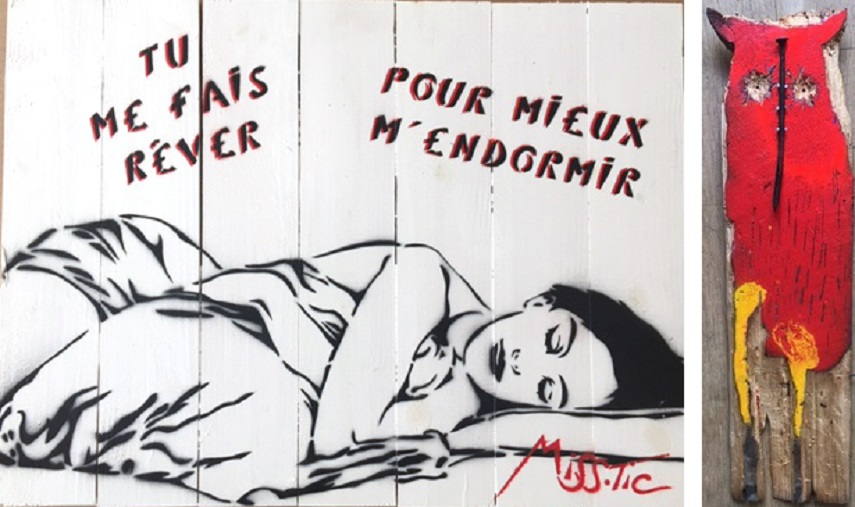 Art on Wood - Then and Now
If we are to look back for some art historical examples of art on wood, we would be surprised how many we could find. From Fayum portraits of the deceased dated to the period between the 1st century BC and the 1st century AD, over the Middle Ages, and early modern period, wood was used as either the material over which artists would paint their images, or it has being meticulously sculpted into new forms, often figurative in style. Medieval Byzantine frescoes were often painted on the wood panels, while relief forms found in both secular and sacral art carry the staple of the material in texture and color.
Contemporary art didn't leave wood to the past. Modern-day artists discover its qualities anew, bringing to the wood art the new dimensions of contemporaneity and relevance. Even urban and street creatives use wood for their expressive endeavours, as the Urban Artwood exhibition shows.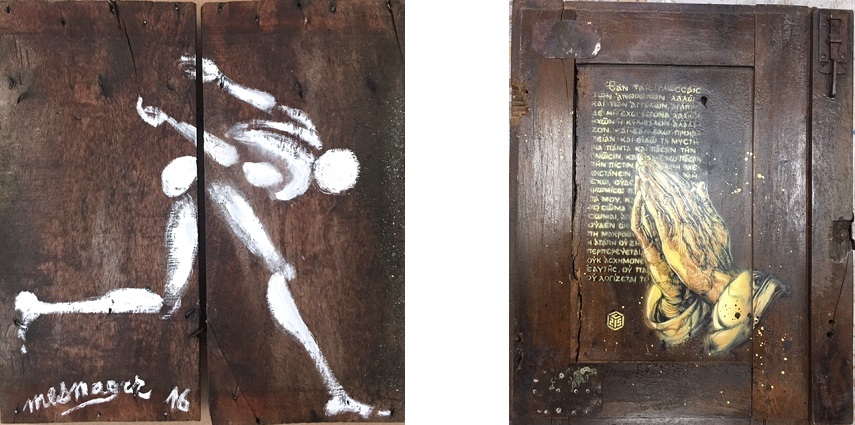 Twelve Creatives Bring Wood into Focus
The group show at Joël Knafo Art Galleries brings together twelve creatives who exhibit over 40 of their works made on wood. The listed names include Jérôme Mesnager, Bault, René Botti, Jo Di Bona, C215, Jana & JS, Romain Froquet, Philippe Hérard, Levalet, Miss. Tic, Monkey Bird, and Annabelle Tattu. The ways in which wood is deployed in their works differ from a more straightforward use as a canvas over which an image is depicted, as in works by Jo Di Bona and Levalet, to wood being visible in its color and texture as a background in works by Romain Froquet, Jérôme Mesnager, and Jana & JS.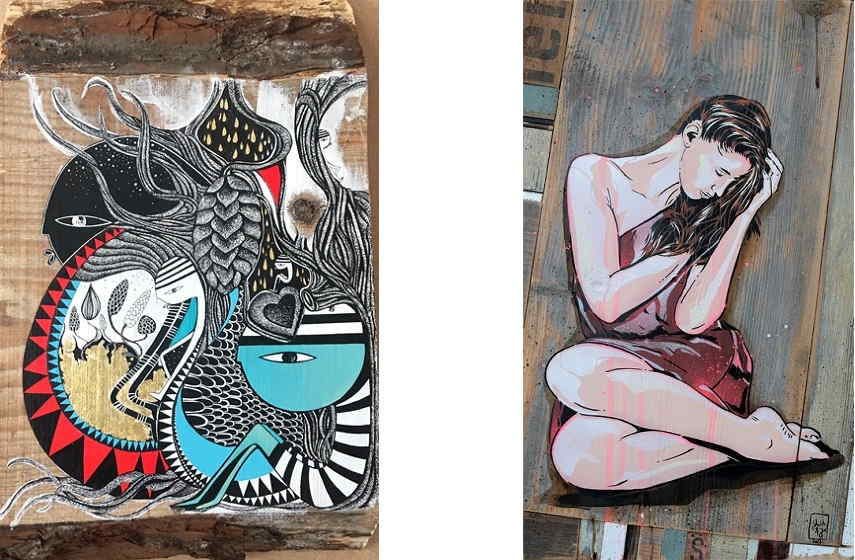 Urban Artwood at Joël Knafo Art Galleries
Joël Knafo Art Galleries had their inauguration last year, with the performance of Levalet and Philippe Hérard. The two spaces in Paris bring street art closer to the Parisian audiences, and have become premium spots for anyone interested in this art type. The Urban Artwood group exhibition at Joël Knafo Art Galleries, 21 and 24 rue Véron, Paris, opens on May 11th, and runs until June 3rd, 2017. Vernissage, in the presence of the artists, is scheduled for 11th May, starting from 6pm.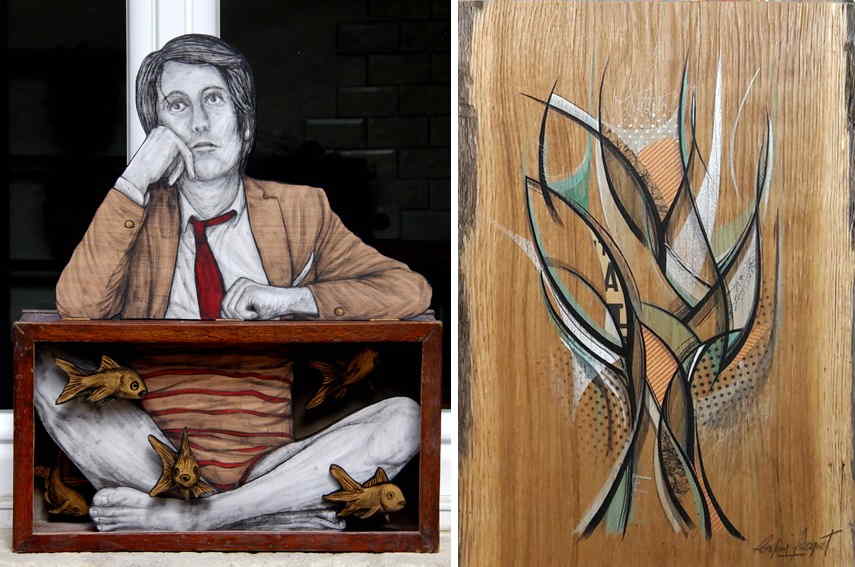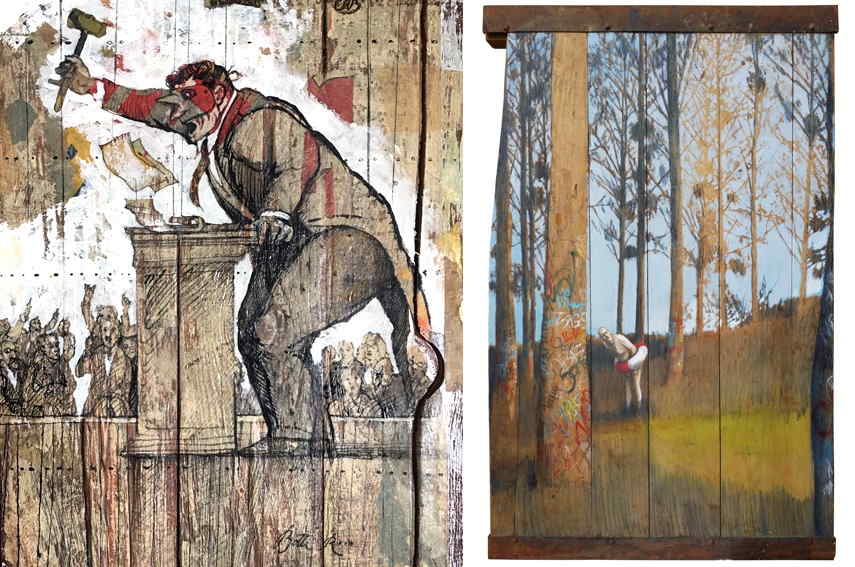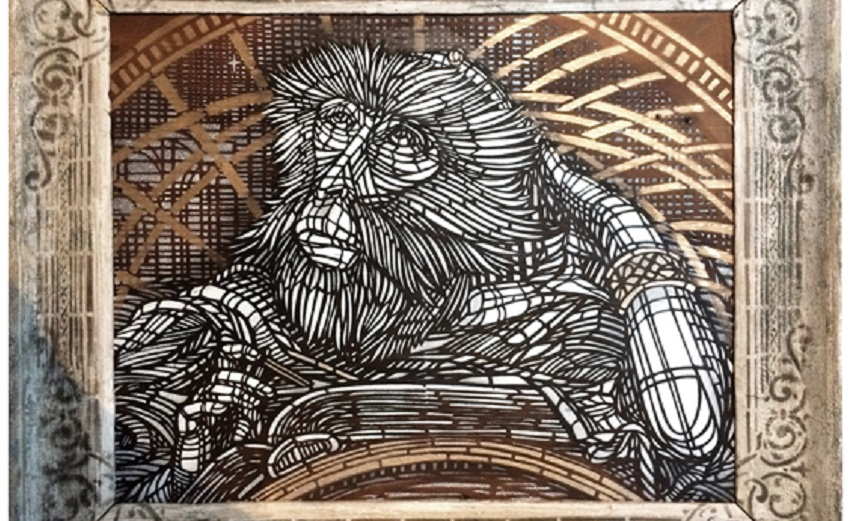 Featured image: Jo Di Bona - Morning in Japan. All images courtesy of Joël Knafo Art Galleries.