Flemish sculptor Johan Creten is coming back to his home gallery in New York, Galerie Perrotin, for another exhibition that will feature his remarkable sculptures. Through a meticulous use of techniques, textures and materials, he will question the existence of none other than God himself, inviting the viewers to reconsider certain aspects of life, existence, nature and identity, the recurring topics in the work of this extraordinary artist. Using his own kind of dynamism, Johan Creten will offer another look at the unconventional, the opposed, the controversial.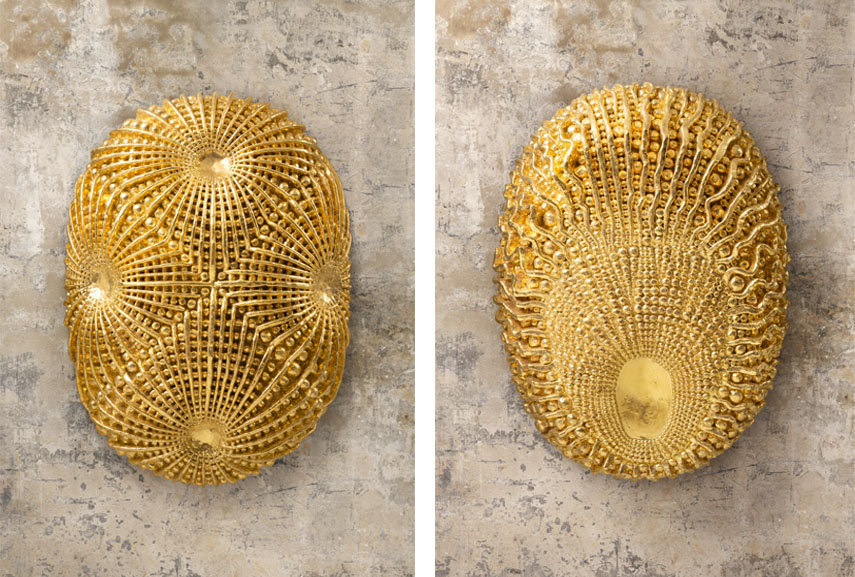 God is a Stranger
Along with Thomas Schütte and Lucio Fontana, Johan Creten re-introduced ceramics as a medium of the art of sculpting today. In a unique and innovative way, he transforms his free thoughts and existential questions about sexuality and nature into pieces immersed in glaze, fired or painted with splashes of colors. For his latest exhibition at Galerie Perrotin in New York, Johan Creten developed new bodies of work, which include a series of torsos in bronze, a recent addition to his artistic materials, entitled Odore di Femmina (A Woman's Scent), and Fireworks, flowery ceramic wall pieces which draw inspiration from ancient Greek sculptures of Aphrodite. Through a play with the physical aspects of his pieces, such as the creation of cutting-sharp details on the surface or the use of lost-wax casting, Johan Creten follows his ever-present urge to put together elements essentially different, contrary one to another. His art demonstrates the marriage of beauty and violence, the old and the new, the delicate and the strong, the refined and the crude.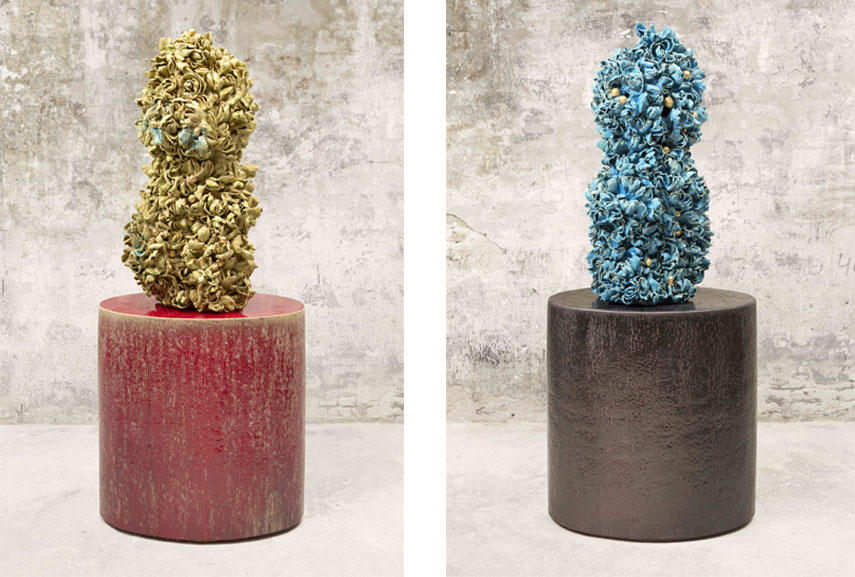 Massu II at Galerie Perrotin
One of the central pieces of Johan Creten's show in New York is surely his Massu II sculpture, a four-meter-tall bronze column contemplating the mystery of life and god. Citing Constantin Brancusi as one of his main guides, the artist once again applies his laws of contradictions, leaving the sculpture somewhere between the past and the present and entirely open for interpretation. Simple in appearance but complex in meaning, Massu II explores the symbolics of Christianity, evoking the relationship between humanity and nature. Looking to represent a tree, through its surface full of thorns it expresses the pain and sorrow, but it also reflects on the peacefulness of its presence. Another version of Johan Creten's Massu sculpture can be found at Abbaye de Gellone, in Saint Guilhem-le-Désert, France.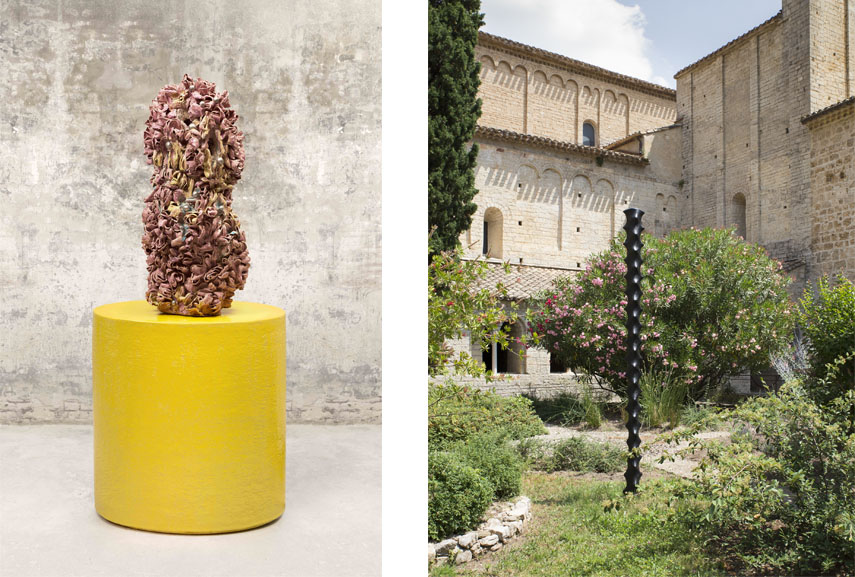 Johan Creten Exhibition in New York
And so, Johan Creten introduces us to yet another show of artworks which are found balancing between opposing forces. His acceptance of traditional materials like ceramics and bronze, and their placement on pedestals, as if to enhance their importance and value, correspond with the notions of the contemporary times and do not follow any defined rules, in art or otherwise. They simply celebrate beauty, the aesthetic, history.
God is a Stranger, an exhibition of works by Johan Creten, will be on view from September 9th until October 31st, 2015 at Galerie Perrotin in New York. The opening reception is scheduled for September 15th, from 6pm to 8pm.
Never miss a great new show on view! Sign up for My Widewalls today!
Featured images in slider:
Johan Creten - Fireworks - The Red Flares, 2014-2015, detail. Gold luster on glazed stoneware, aluminium structure. 105 x 77 x 20 cm / 41 1/4 x 30 1/4 x 7 3/4 in
Johan Creten - New York Glory - Pomona, 2015.
Johan Creten - New York Glory – La Trinité, 2015.
Gold luster on glazed stoneware, aluminium structures. Approx.: 100 x 75 x 16 cm / 39 1/4 x 29 1/2 x 6 1/4 in each.
All images: Copyright Johan Creten / ADAGP, Paris & ARS, New York 2015.
Courtesy of the artist and Galerie Perrotin.