The next exhibition at Mai 36 Galerie shall be an opportunity to see the new series of works by the iconic American artist John Baldessari, who has been represented by this Zürich-based gallery since the year of 1991.
Following Baldessari's typical artistic recipe, the new works reprise combinations of text and images. What makes these works unique, however, is the fact the artist found all the inspiration he needed to create them in Miguel de Cervantes' novel Don Quixote.
Spurred into existence by the famous book in a unique Baldessari fashion, these new pieces feature motifs of various windmills and minimalistic textual fields in contrasting colors.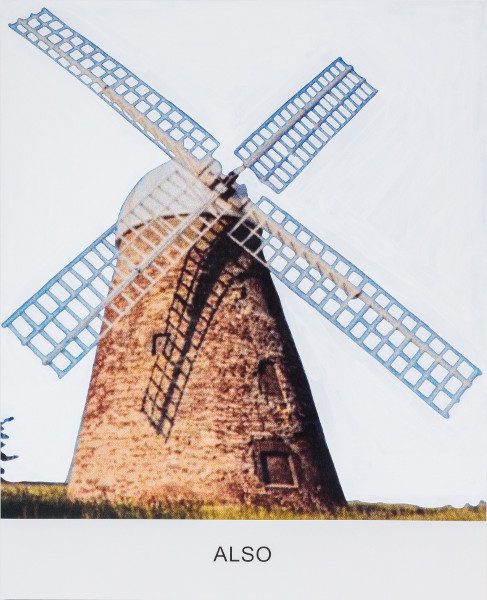 Bridging the Gap Between Observing and Reading
Since the 1960s, American artist John Baldessari has been regarded as an outstanding key figure of conceptual art. Over the course of decades during which he perfected his craft, he became a master of combining painting, drawing, photography and video.
As a result of his talent and unique approaches to art-making, John's works always enjoyed a lot of popularity, and many of them were sold for impressive prices.
Baldessari, who will actually celebrate his 87th birthday in June, is currently dedicated to investigating the connection between images and language by appropriating writing as a means of visual expression. Via such an approach, two forms of communication are brought together within a single artwork, addressing the complicated relationship between fundamentally different forms of human articulation.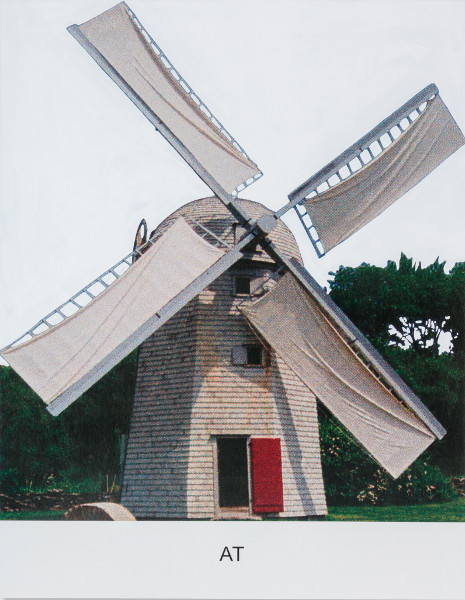 Finding Accidental Inspiration in Miguel de Cervantes' Don Quixote
The visual motifs in John Baldessari's latest series of works are interspersed with captions in the form of concise phrases or a single word.
These individual words and slogans were selected by a way of pure chance - the artist simply stuck a pin into a copy of Miguel de Cervantes' Don Quixote and used the "accidentally stabbed" word.
These statements also serve the role of each artwork's respective title. Some of them have a curt name, like As or And, while others are captioned with fuller phrasing, such as This Is To Say and Look At Me.
Although seemingly random, the titles of artworks themselves express a divergence in the interaction between text and image, one that dissolves once the connection between the image and the word is defined.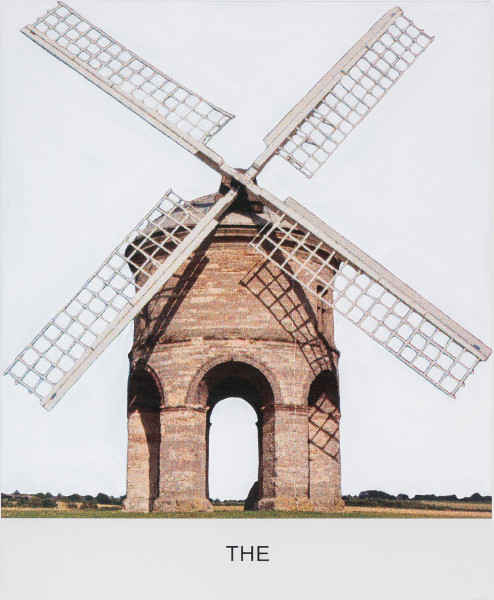 John Baldessari Art Exhibition at Mai 36 Galerie
Simply put, the latest series of works by John Baldessari uses text to explain an image and an image to illustrate the text. Baffling as the captions may be, the associations they trigger open up a broad spectrum of possible interpretations - ultimately, this approach to art-making prompts the viewer to pursue new avenues of thinking, stimulating both reflection and innovative thought processes.
John Baldessari's latest series of works focusing on windmills and short accompanying words shall be open for public viewing until the 28th of July 2018 at Mai 36 Galerie in Zürich, Switzerland.
Featured image: John Baldessari - Various Windmills: Look At Me, 2017; Varnished inkjet print on canvas with acrylic paint. All photos taken by © Joshua White, courtesy of John Baldessari.