That John Baldessari represents one of the pivotal figures on the Contemporary art scene of Los Angeles, but also anywhere else, shows the fact that MOCA, Museum of Contemporary Art, honoured the legendary visual artist artist in May 2015, to express their gratitude for his remarkable work and dedication to the museum as their longtime board member. So who better to open the new LA space of Berlin and London-based Sprüth Magers than this influential artist, who has been exhibiting at the gallery for almost three decades? The show will feature brand new series of paintings made by John Baldessari over the bast year, for an exclusive view at 5900 Wilshire Boulevard.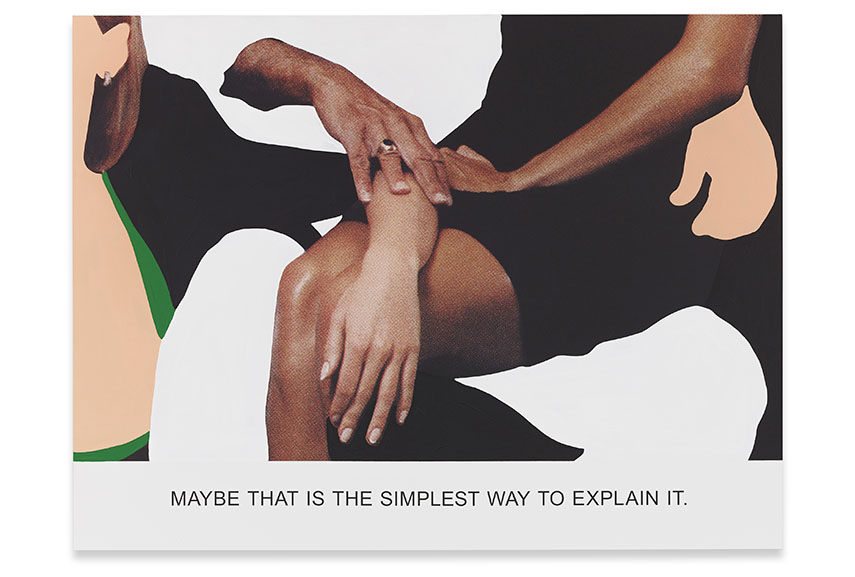 A Word on the Image
Whether it's painting, photography, sculpture or video, the art of John Baldessari tends to juxtapose two integral parts, which co-exist in a single environment, (in)dependently. From his earliest text paintings of the 1960s to the latest "storyboard" works, the American artist has been exploring the context of text and image, and the way they correlate between them in a playful, ironic, sometimes even puzzling way. His imagery lures us into a certain world we don't quite understand, made of found pictures stamped with saturated, unifying blocks of color. We see people, landscapes, situations, further clarified - or further confused - by accompanying captions that appear random, reminiscing of comic book text bubbles or writings on the walls in cities. From the combination of the image and text, we get to contemplate on an entire series of scenarios, all true and all false at the same time.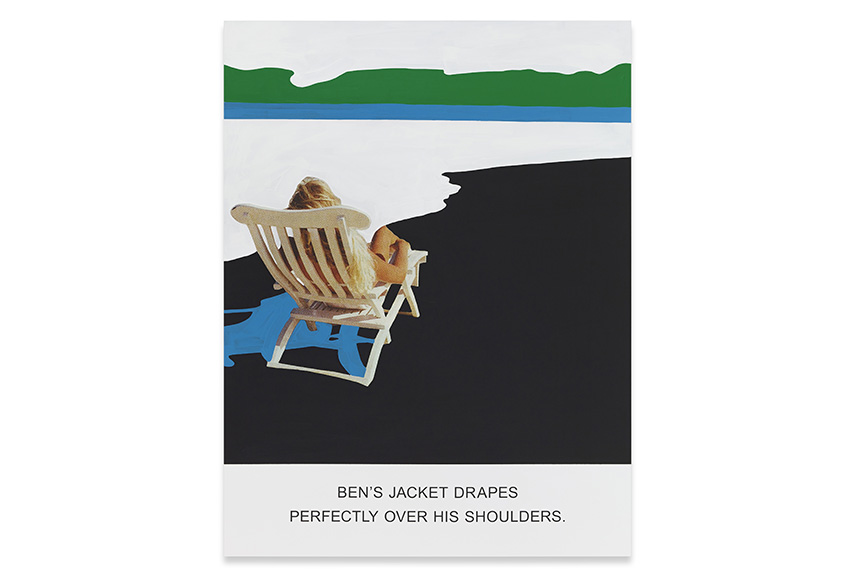 A Playful Threat
To highlight the show there will be brand new paintings created in John Baldessari trademark style. Among them, a work entitled Ben's Jacket Drapes…, which sees a woman relaxing on a blacked-out beach on a tropical summer day. The caption below reads "BEN'S JACKET DRAPES PERFECTLY OVER HIS SHOULDERS", even though there's no such man in sight. Is the woman day-dreaming? Who is this mysterious man? Another one, It's Possible, Although… depicts a man in a similar situation, resting on a hammock with a city skyline beneath the orange sky. IT'S POSSIBLE, ALTHOUGH HE WOULD LIKELY INITIATE CONVERSATION., says in the caption. What conversation? With whom? It is like we will never know, yet it is up to us to determine those exact answers and even further development of these stories.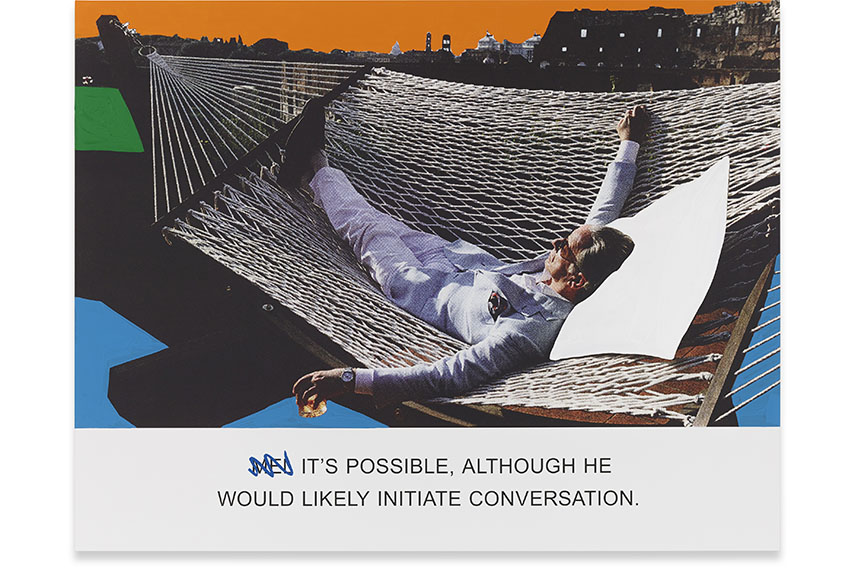 John Baldessari Exhibition at Sprueth Magers Los Angeles
John Baldessari has had an intriguing story-telling experience of over half a decade now, and hasn't failed to impress us once with the way he triggers our imagination. The exhibition of iconic and old works by American artist John Baldessari will be on view at Sprüth Magers Gallery in Los Angeles, USA, from February 24th through April 2nd, 2016. The opening reception is scheduled for February 23rd, from 6pm to 8pm. The exhibition is of Courtesy Marian Goodman Gallery.
All images courtesy the artist, Marian Goodman Gallery and Sprüth Magers.