To add the perfect finish to the year which celebrates two decades of The Städel Museum there will be none other than John Baldessari. As a result of an interesting collaboration between the Frankfurt institution and one of the most important living artists, there will be sixteen brand new artworks inspired by the museum's collection, which covers over seven hundred years of European art. By paying his respects to the great masters in history, John Baldessari addresses and ridicules the issues of contemporary art simultaneously, through his signature play with imagery, language and popular culture.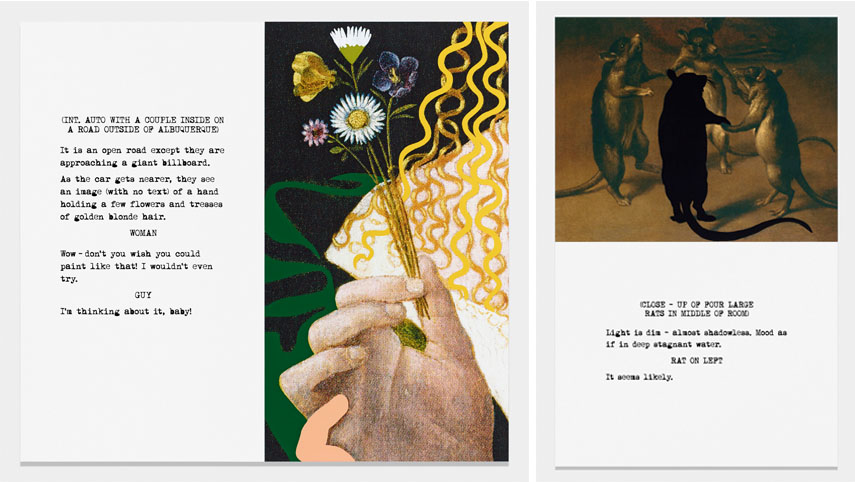 The Städel Paintings
The sixteen diptychs created exclusively for this show came from John Baldessari's explorations of the Städel Museum collection - they're related to and based on masterpieces by legends like Bartolomeo Veneto or Maria Lassnig, but also unusual finds in the storage depots. Focusing on only a small portion of each of these paintings, the artist partially paints them over and juxtaposes it with texts, invented scenarios reminiscent of Hollywood movie scripts. Via a series of witty and ironic comments, he calls to attention likely situations involving art and the society of today, also bringing into question the valuation of art, its reception, execution and clichés. Always up to date with trends and tendencies of mass media and the world today, John Baldessari once again engages his conceptual practice to talk about fundamental issues.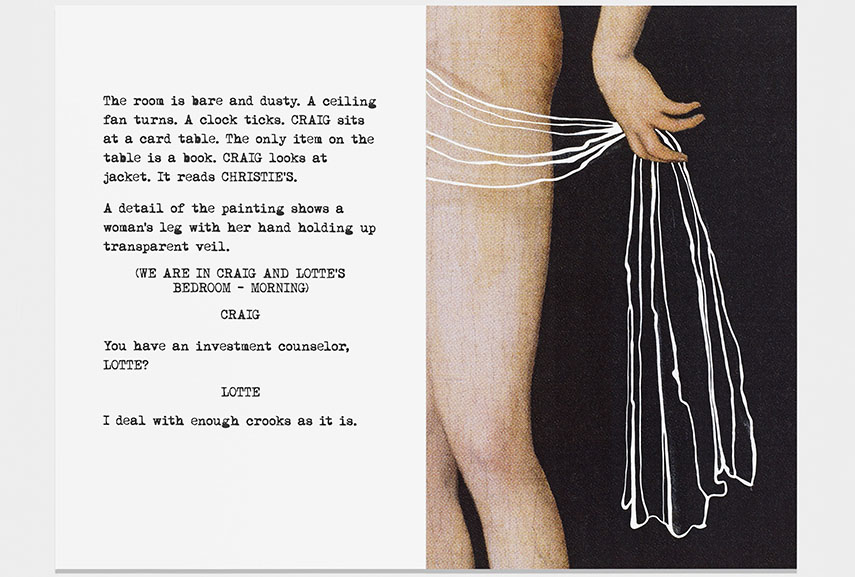 The Absurdity and Stereotypes of Art and Society
These large horizontal or vertical collages, encompassed under the name The Städel Paintings, provide an original critique of our perception of art, but also of problems conceived within the art market itself. By taking only a detail of famous paintings, John Baldessari draws our attention towards something particular, more profound, and then introduces us to a scene at a fictitious Sotheby's auction, in a car with a random everyday couple, in their bedroom. We could almost hear them talk when reading these lines, as they give usual comments and opinions about art, artists and artworks, such as "don't you wish you could paint like that?" or "should I up the bid?". In a clever way, the collages call out both the public and the art world for their often absurd actions and words.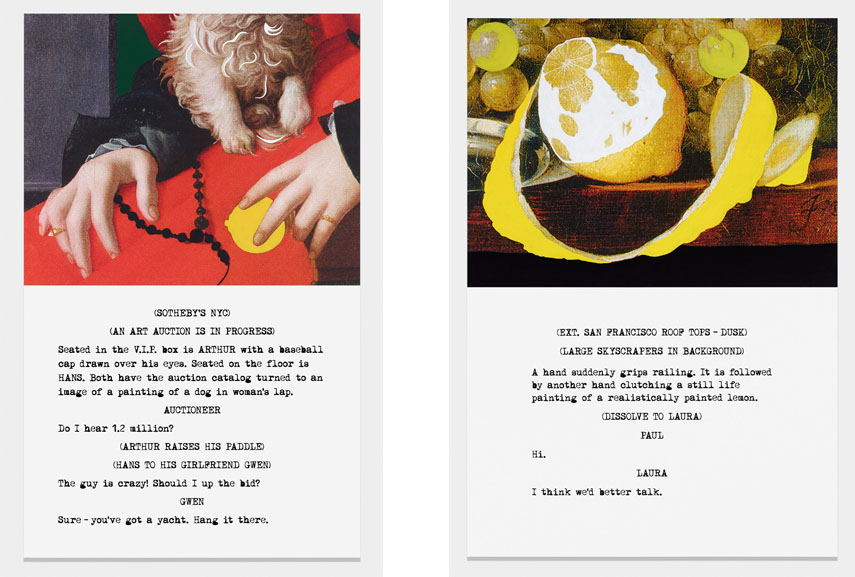 John Baldessari in Frankfurt
By building a bridge between the past, present and future, John Baldessari triggers our thoughts and assigns new contexts to notions of our culture and society yet again. This intervention of his is here to further expand his fantastic oeuvre and to remind us of the importance of media art today - a movement in which John Baldessari reigns.
John Baldessari. The Städel Paintings will open on November 5th 2015 at The Städel Museum in Frankfurt, Germany, and will run until January 24th, 2016. The press preview is scheduled for November 4th at 11am.
For more exhibitions and market news coming up in November, sign up for My Widewalls today!
Featured images in slider:
Movie Scripts / Art: ...With a fly crawling on it, 2014. Diptych; varnished inkjet print on canvas with acrylic paint, 174.3 x 273.4 cm
Movie Scripts / Art: One must act quickly, 2014. Diptych; varnished inkjet print on canvas with acrylic paint, 159.5 x 274.3 cm
Movie Scripts / Art: ...A large puddle of milk, 2014. Diptych; varnished inkjet print on canvas with acrylic paint, 197.2 x 274.3 cm
All images © John Baldessari and courtesy of Marian Goodman Gallery and Städel Museum