An illustrator, author and artist, John Bond is best known for his whimsical doodles of dogs. The artist is fascinated by their characters, personalities, shapes and movements, relating himself as being quite dog-like too. Seeing parallel narratives over the top of real life, he turns ordinary objects into something extraordinary, creating fun shape-shifting characters.
The latest body of work by John Bond will soon be on view at Vertical Gallery in Chicago. Titled Wrong Time / Wrong Place, the artist's first show in the United States will bring together 30 new original paintings which see "man's best friend" inserted within a surreal life/death universe drawn from John's dog-obsessed mind.
An Award Winning Illustrator
Having a background in animation and digital media, John Bond has spent 7 years at award-winning agency Kanoti. He worked as both the Art Director and lead creative across a multitude of animations, games, apps, commercials and web content. He also picked up several awards along the way.
Since 2014, John has worked independently in both digital and print, continuing to put his often witty and irreverent stamp on a wide variety of projects. His Creatures card range for Paperchase and Ohh Deer was nominated for Best Children's range at the prestigious Henries awards. He has recently published a picture book for HarperCollins. Titled Mini Rabbit Not Lost, it is the first of three books written and illustrated by John.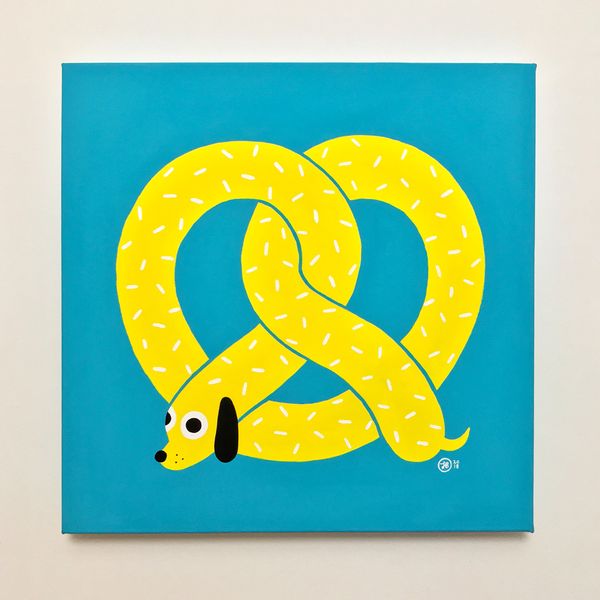 The Practice of John Bond
As John Bond explains, his childhood experiences have shaped who he has become as both an adult and artist. Inspired heavily by nature and his childhood growing up on a farm in the Cotswolds, he has created a world thriving with creatures and idyllic landscapes. Mixing a hand-drawn illustration style with bold, graphic design, he makes work that's original, imaginative and playful.
Defined by brevity and wit, his work is populated by an array of imaginative dog and dog-like characters, playful ideas and simplistic design. Through a concise style, irreverent voice and deceptively simple concepts, he explores our day-to-day existence. Both mundane and abstract, his cast of charming characters thrives in his imaginative universe.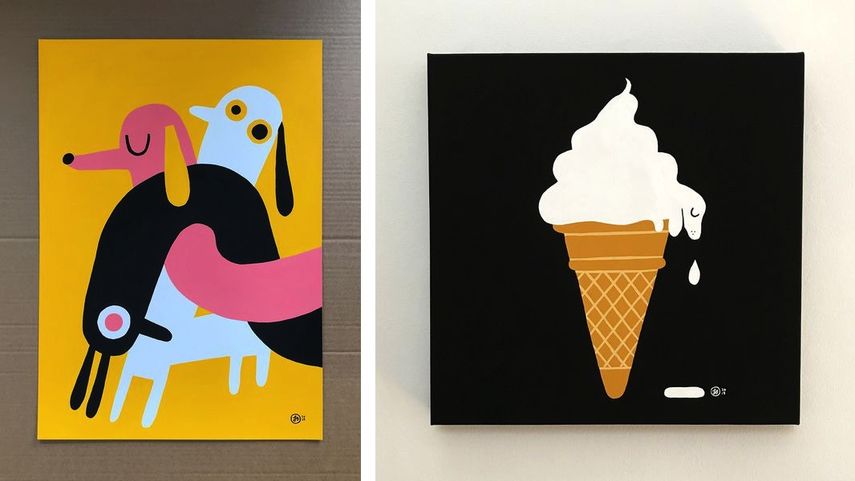 John Bond Exhibition at Vertical Gallery
The charming quality of John Bond's work invites people to engage with his spontaneous and whimsical take on the day-to-day.
The exhibition Wrong Time / Wrong Place will be on view at Vertical Gallery in Chicago from 
November 30th until December 29th, 2018. The opening reception will take place on Friday, November 30th, from 6 to 9 p.m.
Featured image: John Bond - Hot Dog, 2018. All images courtesy of Vertical Gallery.