An elegant and mysterious portrait, Madame X was ranked by John Singer Sargent himself as one of his best works. It features a young socialite named Virginie Amélie Avegno Gautreau, who was known for her unconventional beauty that made her an object of fascination for artists. A study in opposition, the portrait shows her wearing a plunging black gown with gold straps, highlighting her white skin - an overt contrivance of "aristocratic pallor", from her high forehead down her graceful neck, shoulders, and arms.
However, when presented at the Paris Salon of 1884, the work caused a scandal that amounted to Sargent moving out of the country and his sitter having her reputation forever tarnished. Why did this work scandalize Paris?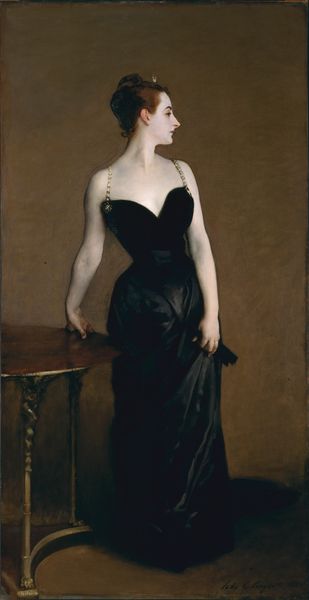 John Singer Sargent and Madame X
An American expatriate who married a French banker, Madame Pierre Gautreau was known in Paris for her artful appearance. She was described as "professional beauty", a term used to refer to women who use personal skills to advance themselves socially. Her unconventional beauty made her an object of fascination for artists, yet she had refused numerous requests for having her portrait taken.
Sargent biographer Charles Merill Mount circulated a rumor that the artist was introduced to Gautreau by a prominent gynecologist named Samuel-Jean Pozzi, with whom she may have been having an affair. However, in her book Diva and the Doctor God: Letters from Sarah Bernhardt to Doctor Samuel Pozzi (2010), Caroline De Costa suggested that Gautreau and Pozzi were merely friends. Hoping to enhance his reputation by painting and exhibiting her portrait at the upcoming Paris Salon, John Singer Sargent launched a full campaign to convince Gautreau to sit for him. He wrote to a friend:
I have a great desire to paint her portrait and have reason to think she would allow it and is waiting for someone to propose this homage to her beauty. If you are 'bien avec elle' and will see her in Paris, you might tell her I am a man of prodigious talent.
As Gautreau was an expatriate like Sargent and sought to attain high status in French society, she accepted his offer in February 1883.
Yet, Gautreau turned out to be a particularly difficult subject. The progress was going slow as she was distracted by social engagements and lacked the discipline of sitting for a portrait. After several months, she invited the artist to her estate in Brittany in June to continue working on the portrait. Yet again, she lacked patience for "the interminable, boring process, the frequent sessions of enforced stillness." She also had a rigorous social calendar, as well as the responsibilities of tending to her four-year-old daughter, her mother, house guests, and a full domestic staff. Writing to a friend, Sargent complained that he was "struggling with the unpaintable beauty and hopeless laziness of Madame Gautreau."
During this time, the artist made a series of around 30 preparatory drawings in pencil, watercolors, and oils, attempting many poses. Among them is an oil sketch entitled Madame Gautreau Drinking a Toast, showing the subject's profile and bare arms against a dark background.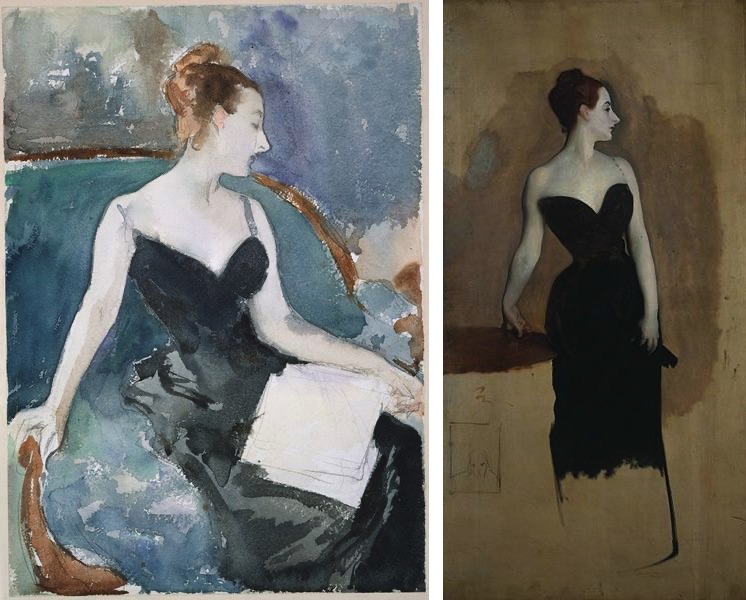 A Study in Opposition
After a lengthy and tiring process, the Madame X portrait was finished in 1884. The simple composition shows Gautreau in a black sating dress with gold straps, one hand clutching a fan while the other rests on a round table, with a body facing forward and head turned in profile. To highlight her porcelain-looking skin, Sargent created an artificial tone by using a palette composed of lead white, rose madder, vermilion, viridian, and bone black. The model is set against a rich brown which is at once luminous and dark, providing contrast to the whiteness of the skin.
The pose itself was considered sexually suggestive at the time. Seeking to emphasize her daring personal style, Sargent showed the right strap of her gown slipping from her shoulder. This enhanced the erotic suggestion of the work.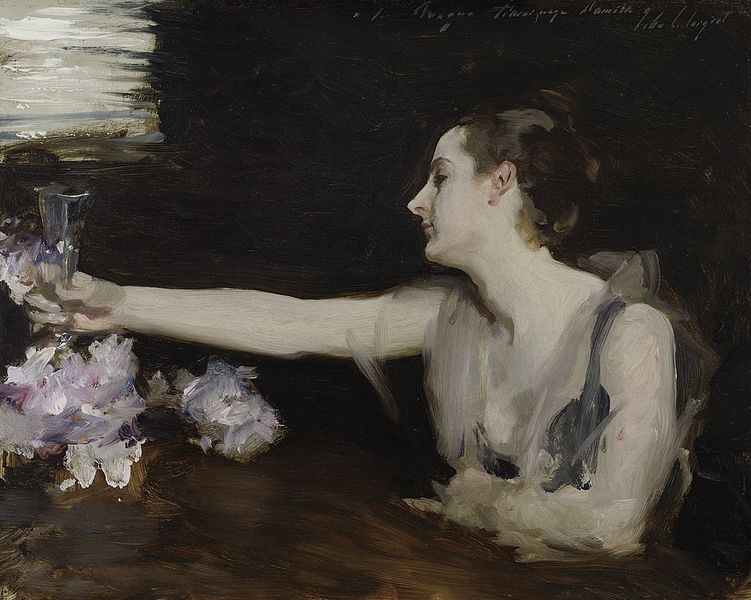 The Reception of the Painting
Coming in at an imposing 82 by 43.25 inches, the Madame X painting was exhibited at the Salon under the title Portrait de Mme ***, with Sargent hoping it would make a powerful statement and propel his career in portrait commissions. Gautreau was also enthusiastic, believing that Sargent painted a masterpiece.
However, people were shocked and scandalized and the artist and his model faced ridicule. The public saw it as overly-sexual and provocative, mostly due to the off-the-shoulder dress strap. Even worse, the public and the critics thought it was downright tacky. As the attempt to preserve the subject's anonymity was unsuccessful, this dangling strap and exposed cleavage was understood as a nod towards Gautreau's loose sexual morals, who already had a reputation as an adultress. Even the sitter's mother requested that Sargent withdraw the painting from the exhibition.
In a review of the 1884 Salon, the Times wrote, "Sargent is below his usual standard this year… The pose of the figure is absurd, and the bluish coloring atrocious. The features are so exaggerated that the natural delicacy of outline is entirely lost." Focusing on the strap, a critic in Le Figaro wrote, "One more struggle, and the lady will be free."
In the aftermath, Gautreau was humiliated and Sargent soon left Paris and moved to London permanently. He repainted the shoulder strap to raise it up and changed the title into Madame X, giving the illusion of the woman archetype. After keeping the work in his studio for thirty years, he began to exhibit it in a number of international exhibitions from 1905. In 1916, Sargent eventually sold Madame X to the Metropolitan Museum, where it remains to this day, stating "I suppose it is the best thing I have done." Yet, he asked that the Museum disguises the sitter's name.
Over the years, the Madame X painting has become more famous for the scandal it caused than for any artistic merit. In 1981, mid-century American critic Hilton Kramer described it as "a solid and comfortable picture".
Editors' Tip: Strapless: John Singer Sargent and the Fall of Madame X
The subject of John Singer Sargent's most famous painting was twenty-three-year-old New Orleans Creole Virginie Gautreau, who moved to Paris and quickly became the "it girl" of her day. A relative unknown at the time, Sargent won the commission to paint her; the two must have recognized in each other a like-minded hunger for fame. Unveiled at the 1884 Paris Salon, Gautreau's portrait generated the attention she craved-but it led to infamy rather than stardom. Sargent had painted one strap of Gautreau's dress dangling from her shoulder, suggesting either the prelude to or the aftermath of sex. Her reputation irreparably damaged, Gautreau retired from public life, destroying all the mirrors in her home. Drawing on documents from private collections and other previously unexamined materials, and featuring a cast of characters including Oscar Wilde and Richard Wagner, Strapless is a tale of art and celebrity, obsession and betrayal.
Featured image: John Singer Sargent - Madame X (detail), 1884. All images via Wikimedia Commons.