If you've never heard of him before, it is possible that the titles of John Waters movies would seem quite ordinary too you, maybe even romantic. Pink Flamingos, Cry-Baby, Female Trouble... You might start to wonder if maybe that's not the case after A Dirty Shame, Multiple Maniacs or perhaps Pecker. But nothing about John Waters is ordinary and the truth is that is it the title of Mondo Trasho which best describes his entire artistic oeuvre. He is the master of the grotesque, the carnivalesque, the perverse, the depraved, the fetishistic and the provocative, the poster boy for the disgusting and the divine whose pencil-thin moustache and skinny suits are as famous as his filmography. Shamelessly and daringly, John Waters portrayed topics that would always remain largely hidden from sight, in life and cinematography, such as incest, exhibitionism and even singing anuses, and it is in this very act that hosts his brilliance and fuels the critics' and the mixed reactions of the audience at large.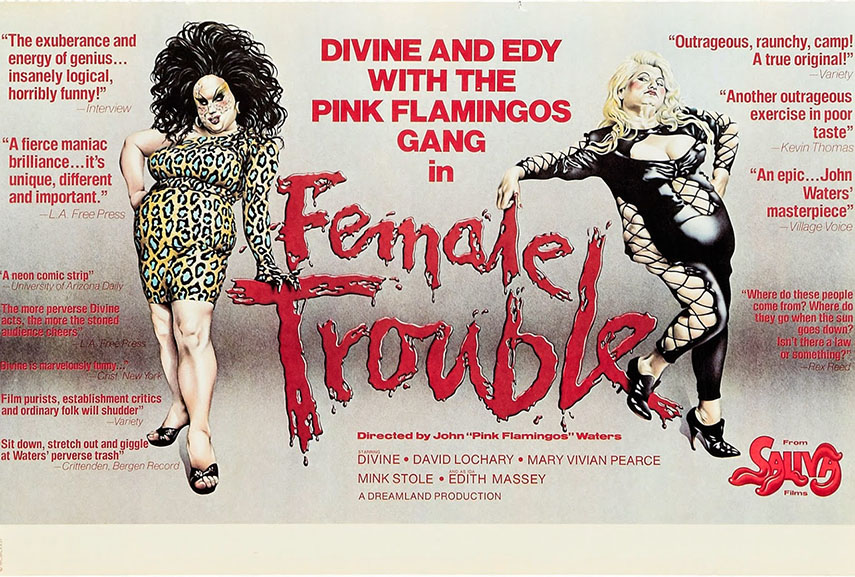 The Sultan of Sleaze, The Prince of Puke and The King of Schlock
To understand the lavish and eclectic aesthetic of John Waters movies, we must first understand the man himself. We certainly couldn't expect anything less from someone who used a pair of binoculars to watch B-rated - and sometimes even X-rated - movies at the local drive-in, or who got his first camera and made his first movie when he was only 18. In fact, it was clear from this 17-minute short, called Hag in a Black Leather Jacket that John Waters plans on being colourful, unusual and very tongue-in-cheek. Carefree and rebellious, he was expelled from college from smoking marijuana at New York University's film school campus and was arrested and charged with "conspiracy to commit indecent exposure" when he tried filming a scene featuring a naked hitchhiker in a convertible. And so, John Waters became an entertainer and a true pop culture icon, but he also assumed perhaps a less recognized role: of someone who turned the perception of Hollywood and its predisposed values upside down.
People Reacting to John Waters Pink Flamingos in 1972
Pink Flamingos - A Disgusting and Divine Gem of Filmography
We can't speak of John Waters without Pink Flamingos, still a cult underground movie which back in 1972 sent the film business, critics and audience into a state of shock. Without a budget or shame, it follows an overweight drag queen Babs Johnson, played by the director's long-time muse Divine, and her curious family living in a run-down, pink trailer in Baltimore, his hometown. Proclaimed "the filthiest person alive" by the local tabloid, Babs works hard to maintain this title, through increasingly heinous acts which culminate in what is still known as both hilarious and sickening finale: Babs eating a fresh piece of dog feces while winking at the camera.
Now, let's go back to the infamous year of 1972: Hollywood was all about the glamour and highly polished imagery, where female protagonists and femininity in general were portrayed by beautiful, slim, smoking starlets, looking almost like a repeating product of an established beauty pattern. And then, imagine a completely unfeminine, vulgar, careless male transvestite doing the unthinkable things on screen - to say that Divine was not very ladylike is a hilarious understatement. John Waters and his Pink Flamingos, pretty much like the rest of his infamous filmography as well, sent a direct critic to the conventional, discriminatory stereotypes imposed by the movie industry, through invigorating visual choices and trashy obscenity.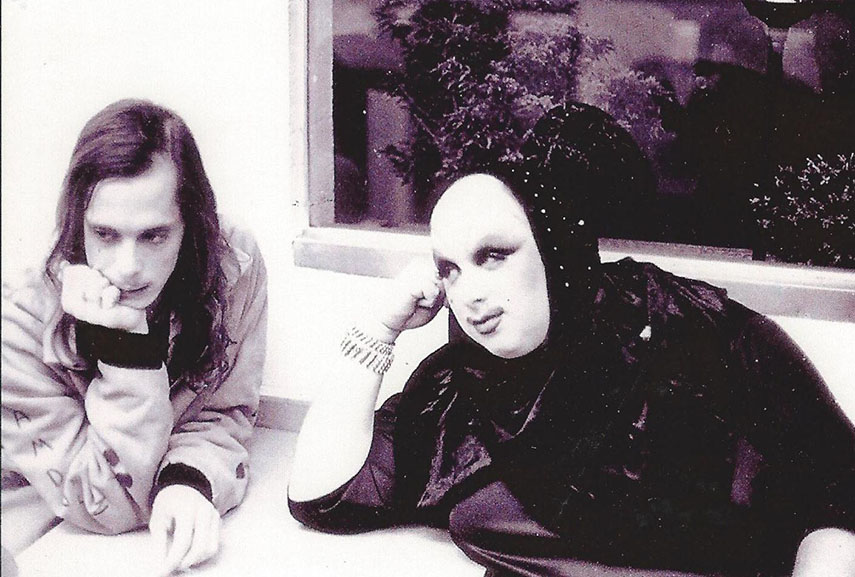 An Eternal Muse
Was it John Waters who brought Divine to fame or vice versa? What matters is that this remarkable artistic duo came to create an entire subculture in pop filled with wigs, glitter, marvelous dresses and sheer fabulousness. Divine was the queen of drag queens, a recurring muse of the celebrated director, an icon of an era of taboos and countercultural life happening underground. Fitting in John Waters' idea of making "the trashiest motion pictures in cinema history" perfectly, Divine was the natural star of his films, endlessly inspired by Elizabeth Taylor and Jackie Kennedy, a talented performer who feared nothing and whose role in Pink Flamingos was simply impeccable. Before his untimely death at the age of 43, Divine was a prolific stage performer, often flirtatious, touchy and rude with his audience, the inevitable part of Hairspray, as well as of the documentary films dedicated to her life and career, such as Divine Trash and I Am Divine.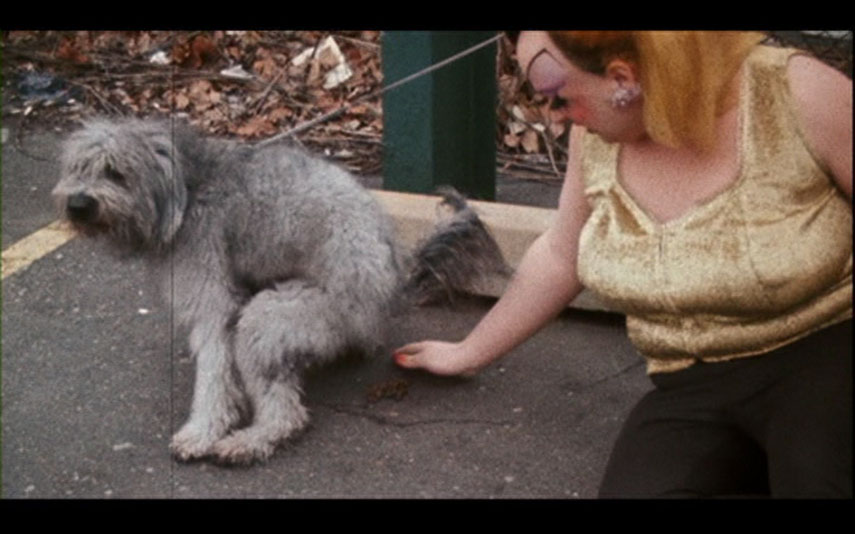 The Allure of John Waters Movies
I may not speak for everyone, but there's just something about John Waters movies that make us completely unable to stop watching. Let's face it: they're all but "nice", with all the black humour, full frontal nudity, but also rape, murder, violence and human trafficking going on. Perhaps we should just call it "a bad taste joke with a coveted point wrapped up in lowbrow" and call it a day. John Waters certainly has nothing to hide, and if you're grossed out… well, that's exactly what he aimed for. Many of his films often featured someone from a close group of friends that were named Dreamlanders, after his Dreamland production house. Among them, there were real-life convicted criminals and porn stars, like Patty Hearst, Liz Renay and Traci Lords. But in all fairness, it wasn't *just* about maimed bodies, food fetishes and murderous hitchhikers for John Waters, even though that is still what he's most famous for. He is also the brains behind Hairspray, as well as a series of films he created post-2000 as humorous, theatrical commentaries on modern day America. Today, he is still working on Hollywood projects and turns his own hitchhiking adventures into books and… who knows? Maybe he'll find it in himself and possible intrigued sponsors to make another shocking feature, since we sure live in a time when actual shock became an obsolete matter.
  Editors' Tip: Carsick: John Waters Hitchhikes Across America
Perhaps as a result of a mid-life crisis, John Waters embarked on a bizarre trip across America, from Baltimore to San Francisco, by hitchhiking. But at least he restored his faith in humanity. Armed with wit, a pencil-thin mustache, and a cardboard sign that reads "I'm Not Psycho," he is braving lonely roads and treacherous drivers, previously fantasizing about the best and worst possible scenarios he could encounter, all as vivid and provocative as his movies. So what really happens when this cult legend sticks out his thumb and faces the open road? His real-life rides include a gentle eighty-one-year-old farmer who is convinced Waters is a hobo, an indie band on tour, and the perverse filmmaker's unexpected hero: a young, sandy-haired Republican in a Corvette. Laced with subversive humor and warm intelligence, Carsick is an unforgettable vacation with a wickedly funny companion - and a celebration of America's weird, astonishing, and generous citizenry.
Featured images in slider: John Waters. Image via madfilm.org, scenery from John Waters movies. All images used for illustrative purposes only.