Our everyday existence is followed by the constant lack of time caused by the ever-changing labor conditions. Stress, anxiety, and frustration become triggered, and desires and yearnings become suppressed. The human beings are very often condemned to the basic or poor pattern of living without any hope of things moving forward.
Although this sounds quite horrifying, this set up is quite real and various artists were and still are dealing with this topic. One of them is John Wesley, whose paintings depict affections of slightly deranged characters inhabiting undetermined spaces. A selection of the works which he produced over the course of three decades is currently on display at Fredericks & Freiser gallery.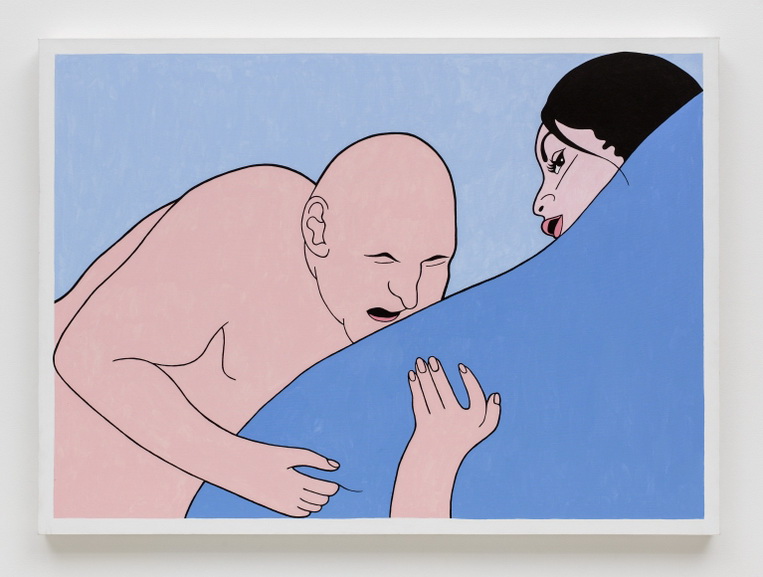 The Domains of John Wesley's Practice
John Wesley was born in 1928 in Los Angeles. He started painting intensively in his mid-twenties. Initially, Wesley's works were mostly abstract and simplified canvases reminiscent of the Color Field and Minimalism, but during the 1960s the artist moved forward to Pop art and started including cartoon figures. Wesley himself perceives his work as close to Surrealism, which can be justified in some of his later paintings.
A number of retrospectives of his work were held in influential institutions such as the P.S.1 Contemporary Art Center. The curiosity is that Wesley was commissioned to design the cover of the accompanying catalog of the Armory Show back in 2006.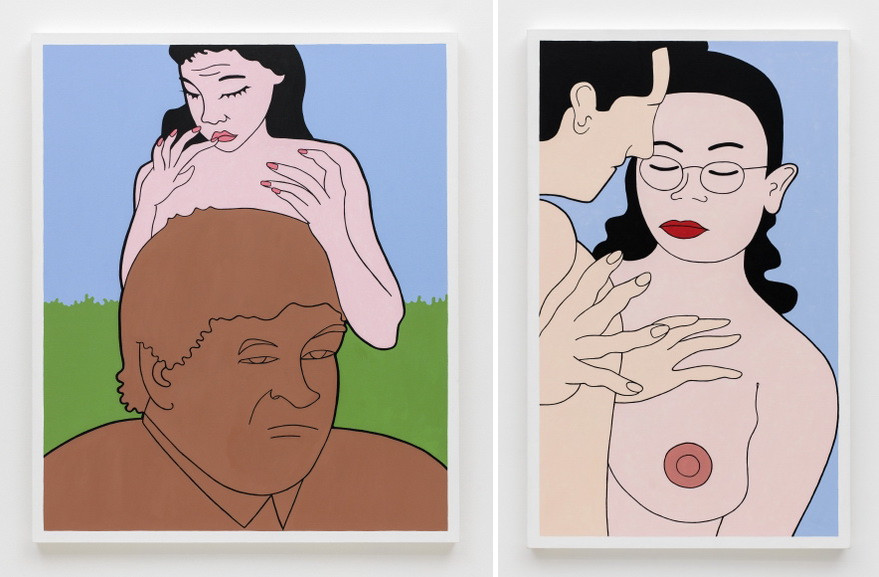 The Installment
All of the works are displaying negative spaces inhabited with enigmatic and apparently anxious couplings. The tormenting feeling is an often aspect of John Wesley's practice and is based on a synthesis of neurotics and erotics.
By appropriating mass media imagery and combining it with bold and sexually explicit gestures, Wesley creates distinct narratives through which he articulates the strangeness of violent affection. All of the characters represented are caught up in their shameless states and are somehow embodying the cannons of (im)morality.
Furthermore, these sights of forbidden pleasure activate the observer and so they can be perceived as allegories of contemporary longing.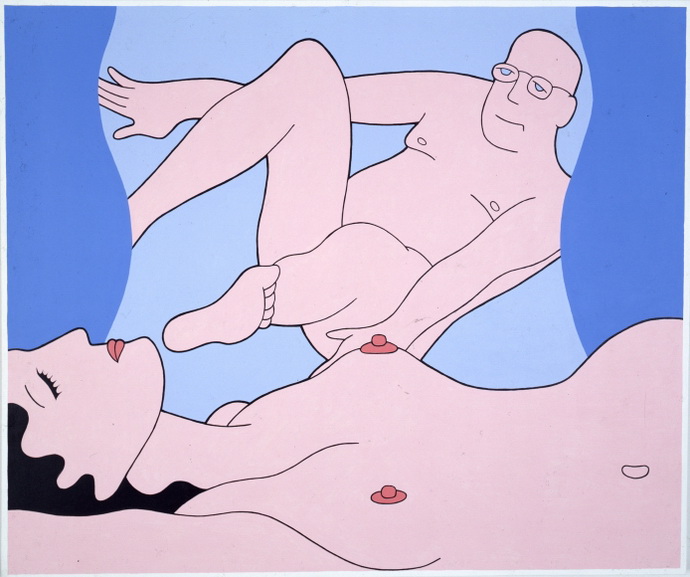 John Wesley at Fredericks & Freiser
This survey on a three-decades-long career of John Wesley should be perceived as an important contribution to better understanding of his work especially in a contemporary moment colored with the ongoing debate on the devastating effects of capitalism.
Together and Alone is currently on display at Fredericks & Freiser gallery in New York, located at 536 West 24th Street, which represents the artist, and the audience will be able to see the show until 20 October 2018.
Featured image: John Wesley - Together and Alone, installation view. All images are courtesy of Fredericks & Freiser gallery