Female figures have always been part of modern and contemporary artworks. And, representing female figures has been always perceived without any prejudices, no matter what art medium is been used. However, when we talk about female artists, the situation is quite different. During the 20th century, it wasn't easy for female artists to make a breakthrough in the mainstream contemporary art (including street art), due to many reasons – one of them being patriarchal societies. Even in the 21st century, when the position of women has been significantly improved, we may often witness female artists being marginalized (Widewalls has extensively written about these problems in March, when we celebrated International Women's Day - you may check out our article about 10 women in contemporary art). Recognizing the need to promote some amazing female artists, Jonathan LeVine Gallery presents Trifecta, a group exhibition curated by Yasha Young featuring works by Handiedan, Mimi Scholz and Sandra Chevrier.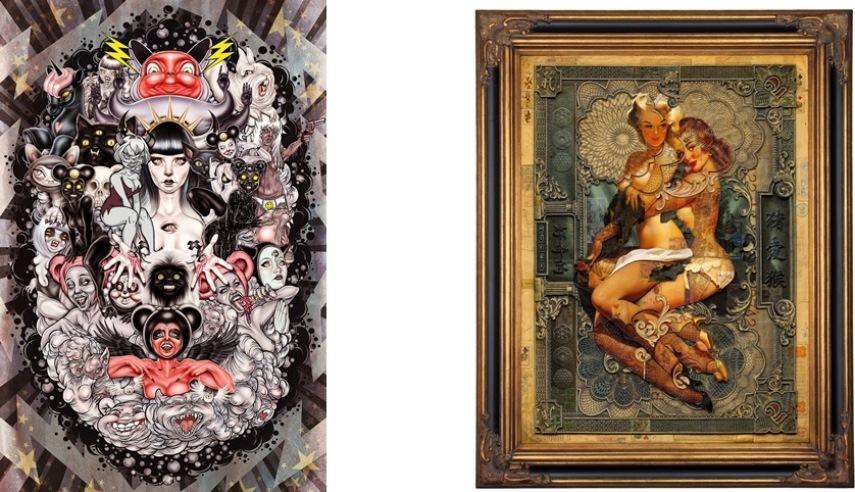 Trifecta – The Art of Handiedan and Mimi Scholz
Handiedan is Amsterdam-based artist whose artworks are characterized by a complex cut and paste mixture of computer montage and highly detailed sculptural hand cut collages, complimented by conscientiously collected antique ornamental frames. With very interesting technique and method, she creates classic female pin-ups using ornamental components such as currencies, sheet music and her own cartoon drawings. Her pin-ups look like something between an oriental adorned femme fatale from a noir film, a sexually joyful pin-up from a 1950s calendar and a tattooed rockabilly girl. Handiedan's compositions are full of symbols, inspired by cosmology, Eastern philosophy and sacred geometries. On the other hand, Mini Scholz creates digital paintings that sarcastically comment on clichés regarding the female psyche and sexuality. Her technique work is also quite interesting and complex. She starts with a detailed sketch and then uses a tablet to add multiple layers of color, while her compositions are printed on canvas and have an airbrushed quality that closely resembles oil painting.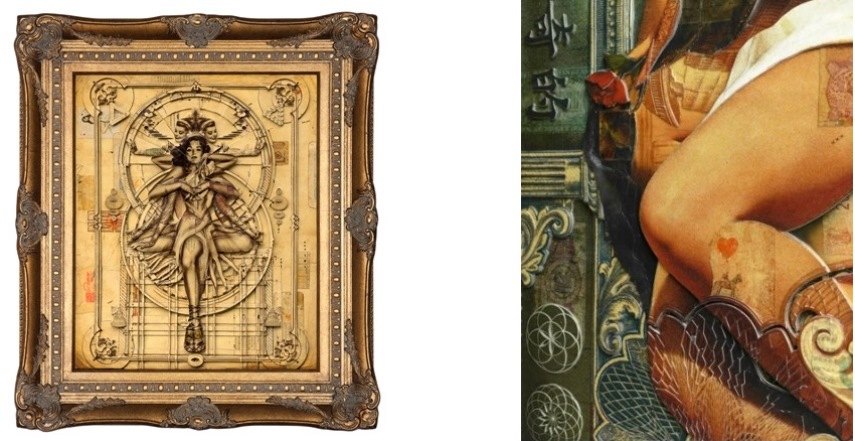 Trifecta – The Art of Sandra Chevrier
Sandra Chevrier is Montreal-based artist, whose works are characterized by the merge of painting and collage. Her art reflects upon the self-imposed limitations within our world and the underlying tragedy of oppressed female identity. Her Cages series is consisted of finely hand-painted portraits of women that are masked with pages from comic books, symbolizing the struggle of having to uphold unrealistic expectations of beauty and perfection. The notion of identity (female identity) is one of the central points in Sandra Chevrier's art, while she tries to deconstruct dominant discourses that often place women in a marginalized position (check out our article about feminist art movement).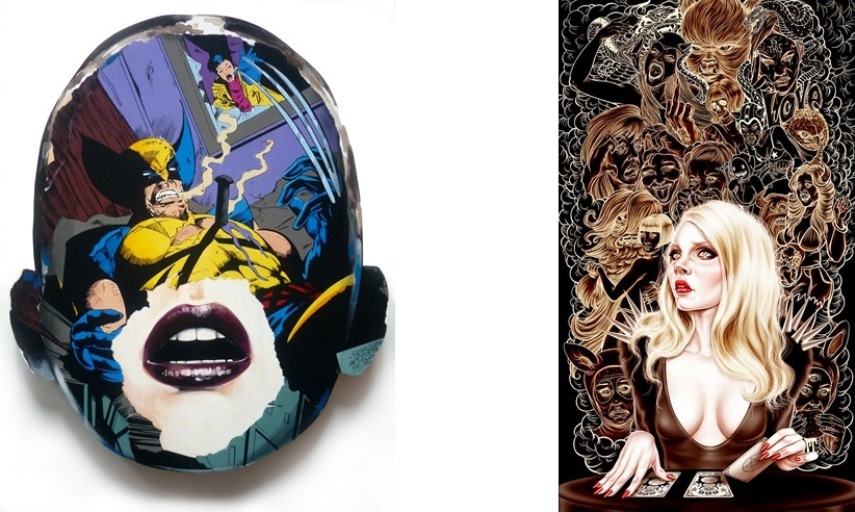 Jonathan LeVine Presents: Trifecta
Trifecta group exhibition at Jonathan LeVine brings together three international female artists who are at the forefront of a contemporary art movement, reimagining representations of women. Through an array of media, Handiedan, Mimi Scholz and Sandra Chevrier use the female figure as their subject and are strong voices for a new generation of artists. The curator of the show is Yasha Young. In conjunction with Trifecta, each of the artists will release a limited-edition print. Trifecta group exhibition will be on view from June 27th until July 25th, 2015, at Jonathan LeVine in New York.
Sign up for My Widewalls, and be informed about new exhibitions!
Featured Image: Sandra Chevrier - La Cage et la Rage au coeur
Image in Slider:Sandra Chevrier -La Cage et le drapeau déchu (detail)
All images courtesy of Jonathan LeVine Gallery.