Committed to cutting-edge art, Jonathan Levine Projects has nurtured careers of many celebrated artists. Relocating to Jersey City with a newfound focus on community and collaboration, the gallery continues to explore the terrain of the high/low and everything in between. The gallery has been quite busy at the very beginning of summer and they are mounting not one, but two concurring exhibitions. It will present the latest body of work by Jeremy Fish in an exhibition titled The Spirit Animals. In his debuting solo exhibition at the gallery, the artist will present works inspired by a theme he has been drawing since he was a child – the mankind's relationship to motor vehicles. At the same time, the gallery will present the group exhibition Multiples of Multiples featuring the work of fourteen artists.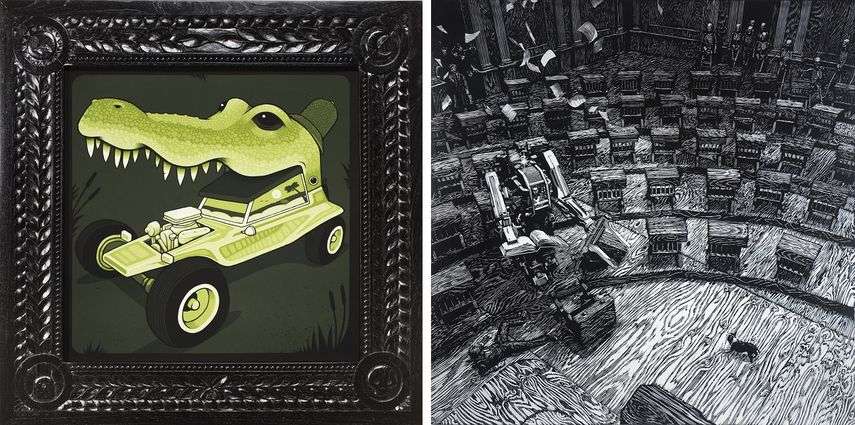 The Spirit Animals
Through his refined illustrative sensibility and a vast library of unique characters, Jeremy Fish tells wondrous stories. Influenced by children's books and cartoons from the 70s and skateboard graphics from the 80s and 90s, he creates surreal environments that blur the line between whimsical and sinister. Influenced by the mankind's relationship to motor vehicles, his latest body of work merges anatomical features of animals with cars, resulting in a variety of comical mashups. As the artist explains, this relationship with motor vehicles seems more intense than most objects as people risk their lives each time they choose to ride in them. For this reason, he thinks the vehicles develop individual traits and quirks much like the animal kingdom.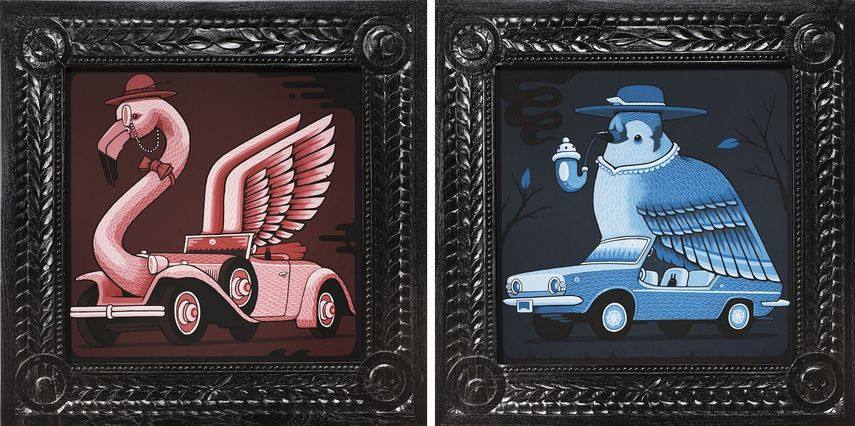 Multiples of Multiples
The work of Jeremy Fish will be also exhibited at the concurring group show along with thirteen other artists. The exhibition Multiples of Multiples will bring together a diverse selection of prints and editioned works. The featured artists are Ashley Wood, highly regarded for his fine art work in a variety of mediums, including oil and acrylic painting and sculpture; Augustine Kofie, merging traditional graffiti with his deep love for illustration to create a new and dramatic form of abstraction; Ben Tolman, known for painstakingly detailed ink drawings; Ben Venom, best known for taking imagery from traditional craft arts and juxtaposing it with modern imagery that draws attention to the fringes of society; Brett Amory, best known for his ongoing series depicting anonymous commuters he encountered in urban settings; Dennis McNett, creating works featuring a complexity of characters, events, tradition and meaning; Dylan Egon, addressing themes that include American values, pop culture, and issues of production and consumption, as well as referencing the history of fashion and design; Hellbent, known for his vibrant use of color and pattern in abstract paintings; Jeff  Soto, creating allegorical paintings that are both apocalyptic and playful; João Ruas, painting a haunting world inhabited by enigmatic figures and regal beasts; John Jacobsmeyer, blending  a grand ancient tradition and contemporary aesthetics;  and a desire to remain completely contemporary, meld these two opposing urges; Nick Walker, best known for merging freehand work with stencilled imagery; and finally, Shepard Fairey, the acclaimed artist and activist disrupting the distinction between fine and commercial art.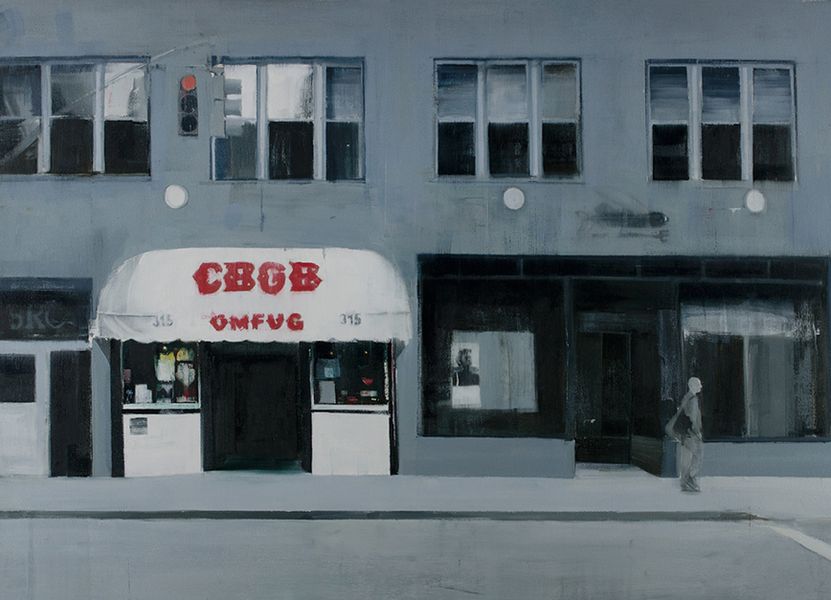 Two Exhibitions at Jonathan Levine Projects
The latest body of work by Jeremy Fish celebrates our relationship with motor vehicles and attempts to give these vehicles new animal kingdom identities. At the same time, the audience will have an opportunity to see a diverse selection of works created by fourteen celebrated artists. The exhibitions The Spirit Animals by Jeremy Fish and the group show Multiples of Multiples featuring fourteen artists will be on view at Jonathan Levine Projects in New Jersey from June 24th until July 22nd, 2017. The opening reception for both exhibitions will be held on Saturday, June 24th from 6 to 8 p.m.
Featured images: Jeremy Fish - Deez Nutz; Jeremy Fish - Piaggio Falcon; Jeremy Fish - Road Hogs; Jeremy Fish - Eagle Bunnevel; Jeremy Fish - Baja Burger Bear; Augustine Kofie - Innerfold Overwhelm; Left: Ben Venom - Once Bitten Twice Shy / Right: Nick Walker - Krylon Cans. All images courtesy of Jonathan Levine Projects.