Galerie Michael Haas is pleased to present Jonathan Wateridge exhibition featuring his new paintings. The British artist is one of the foremost figurative painters of his generation. His paintings investigate the concealed influence of the photograph and the film in our everyday lives. Educated at the Glasgow School of Art in the early 1990s where he studied painting and became interested in film, Jonathan Wateridge engaged with a realistic aesthetic in 2005. He had created a series of disaster paintings that illustrated plane crashes and shipwrecks in hyper-realistic settings. Due to the growing popularity of hyper-realism today, this exhibition will surely bring together the viewers interested in this type of art as well as those who still did not have the opportunity to enjoy such works. Jonathan Wateridge's paintings are so realistic that one may mistake them for photographs at first glance, and stand in awe upon realizing they are actually oil paintings.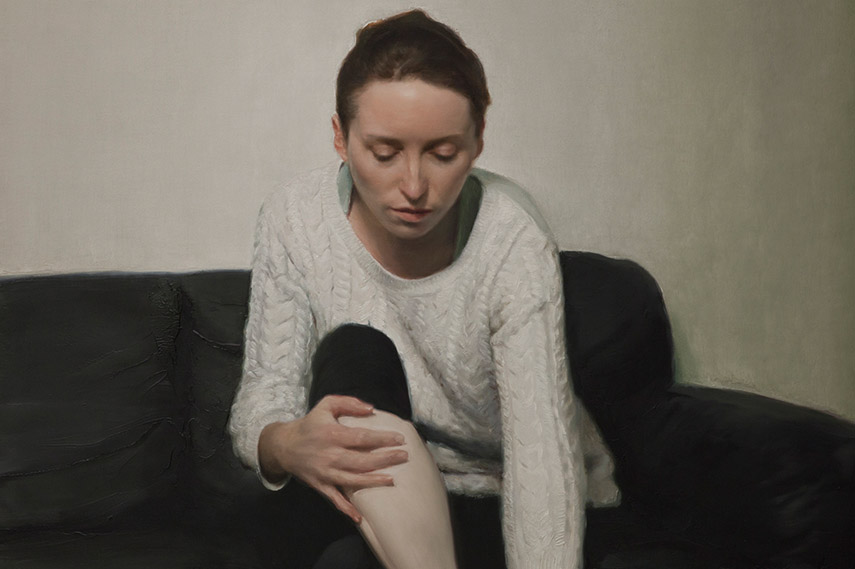 Jonathan Wateridge's Work
Jonathan Wateridge will present the new series of paintings in this exhibition at Galerie Michael Haas. His photo-realistic work, first realized in the aforementioned plane crash/shipwreck series, was followed by the Group Series, a gathering of fictional tableaux settings portraying actors in the roles of Astronauts or Sandinista rebels, posing for commemorative photographs. The British artist further developed the theme of fictional space in his 2007 series Another Place. This series was a collection of seven large-scale paintings that investigated Jonathan Wateridge's discerned memory of Los Angeles as envisioned through a fictional film set, exhibited at the Palazzo Grassi, Venice in 2011. In this series, the process of painting reminds of filmmaking itself. Before any marks on the canvas were made, scale model sets were constructed, props were made, costumes sutured and actors were cast in their roles.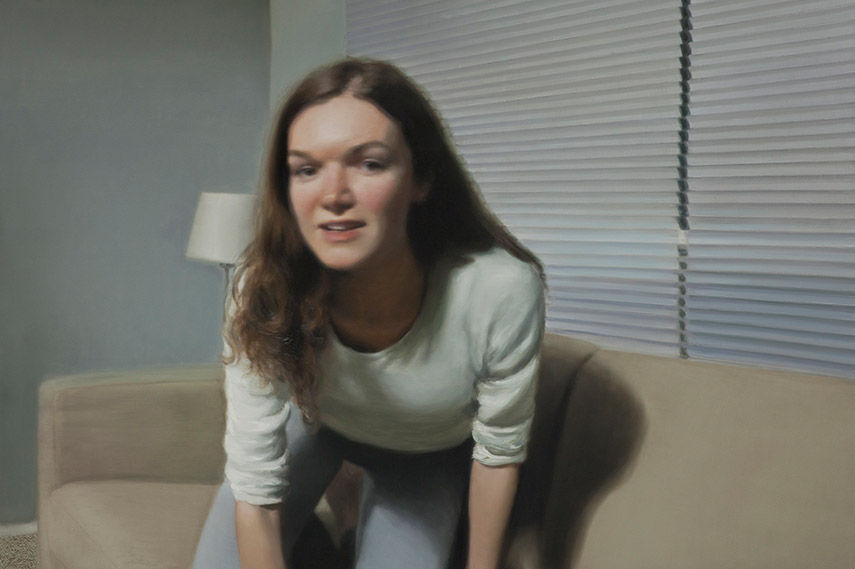 Current Work and Photorealism
Jonathan Wateridge's current series Colony, presented in Berlin, carries on the artist's interest in the notions of photography and film. The series is comprised of sixteen new paintings side by side with a selected set of works from his Monument series of paintings from last year. In this series, Wateridge's starting point is the unremarkable setting of new-build apartments inhabited by millennials living in an Ikea heaven. In one of the paintings, we can see a young woman crouching on the sofa as she is preoccupied with a Skype call. In another one, we see a young man stretching his body in preparation for exercise, or simply pulling a sweater over his head. These depictions of seemingly boring and mundane everyday life actually present a new version of engagement with the surface of the canvas, or linen, or any other for that matter, to alter the dullness of everyday existence into the flowing and absolute certainty of paint.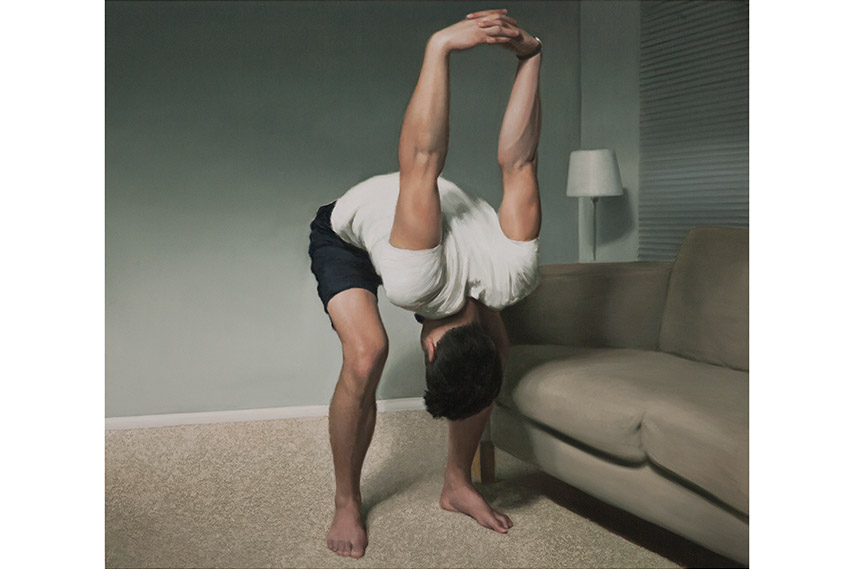 Jonathan Wateridge Exhibition
Jonathan Wateridge's series Colony will be exhibited at Galerie Michael Haas in Berlin. The opening reception is scheduled for Friday, April 1st from 7 PM to 9 PM. The exhibition will be on view from April 1st to April 23rd, 2016. Galerie Michael Haas is a gallery which focuses on classical modern art, German and international post-war art, and contemporary art. The gallery has presented works of renowned artists such as Georg Baselitz, Jean-Michel Basquiat, Jean Fautrier, Hans Hofmann, Otto Dix, and Gerhard Richter, among others. Galerie Michael Haas also supports and represents young artists, with the emphasis on the fields of painting, sculpture, and works on paper. The gallery regularly participates in international art fairs such as Art Cologne and Art Basel. This Jonathan Wateridge exhibition is realized in cooperation with Mark Sanders Art Consultancy. The gallery is located in Niebuhrstraße 5, 10629, Berlin.
All images © Galerie Michael Haas / Mark Sanders Art Consultancy, Jonathan Wateridge
Featured image: Jonathan Wateridge - Couch, 2015-2016