John Andrew Perello's alias, JonOne, is today often associated with Paris, as it is the place where the artist currently resides. His origin and the history of his work are, however, related to a completely different environment. As a 17 year old, enthusiastic and talented Harlem-raised boy, JonOne, who went under the name Jon156, began painting the streets of his neighborhood, and merging with the New York graffiti scene. By the year of 1984, he had founded 156 All Starz crew, after which he moved to Paris. After a while, the 5 and the 6 fell off of his name, and he officially became what he is now: JonOne (John 1), a pioneering artist in the world of street art. If you're completely new to street art, and JonOne's works look like you've seen them somewhere before, you probably did. Not only did he take part in a large number of exhibitions, as a solo artist or together with his fellow muralists and painters, but he also did numerous commissions, and painted on cars, airplanes, houses, etc. Do not get surprised if you see some of his works used with or without authorization, in form of prints or patterns, applied on products, or found in commercials. All in all, JonOne started out guided by intuition, painting the New York subway, which he referred to as a "mobile museum which travels through the city", and ended up on the very top of the world.
Abstract Expressionist Graffiti
Knowing what you're doing is one thing, and knowing how to call it is another. Some artists are not really capable of either of the two (which doesn't have to be a bad thing). However, in JonOne's case, it is absolutely clear that he is in perfect correspondence with his art. He picked just the right words in order to distinguish his works, and to complement their already unique appearance. On the other hand, it seems a little bit confusing, trying to identify a profoundly intuitive action, such as expressionism, as something conscious and deliberate. That is something one of his upcoming exhibitions, perhaps, described best, using the title Predictably irrational. In other words, as much as JonOne's expression is instinctive, and his gestures relieved of any kind of restriction, not just everything is left open, and uncontrolled. He also relies on his inspiration, which comes from the city he is engaged with (which used to be New York, and now it's Paris), and combines the subconscious paint dropping with precise, repetitive calligraphy. While correlating abstract expressionism with street art, the artist shows how much New York has been important for the development of his style. When it comes to his paintings, the fruitfulness of all the expected and unexpected combinations of color, the astonishing density of the content and the genuine typography that he uses, will probably never be exhausted.
Three Upcoming Exhibitions
If you're amazed by the colors and overwhelmed with the rich content of his paintings, and therefore trying to find a hidden message, a face or a paisaje in JonOne's pieces - you have not one, not two, but three shots at completing that task properly. All three of the upcoming exhibitions of JonOne's works will be showcasing some of his new pieces, and as old-fashioned as it may sound, it could be possible that perceiving these works in person might open another chapter in contemplating these complex works. In one moment they seem to be in perfect balance, in another they look like they're going to explode and spill tons of color all over the audience. This disjunction between the kinetic making and the static reality of a painting lies at the core of JonOne's style. You can only imagine the way that he creates these works, but the painting is what's left of it, and you can look at it and wait for the time to start unfolding before your eyes. So, in case you're in Zurich, hurry up, because the first exhibition will be held there - from March 11th, at Kolly Gallery. If you find yourself in Paris around March 18th, there is an exhibition of JonOne's works prepared by Le Feuvre. And finally, if you're in Italy, don't miss JonOne's solo show, featuring some of his new works, at Wunderkammern, Milan.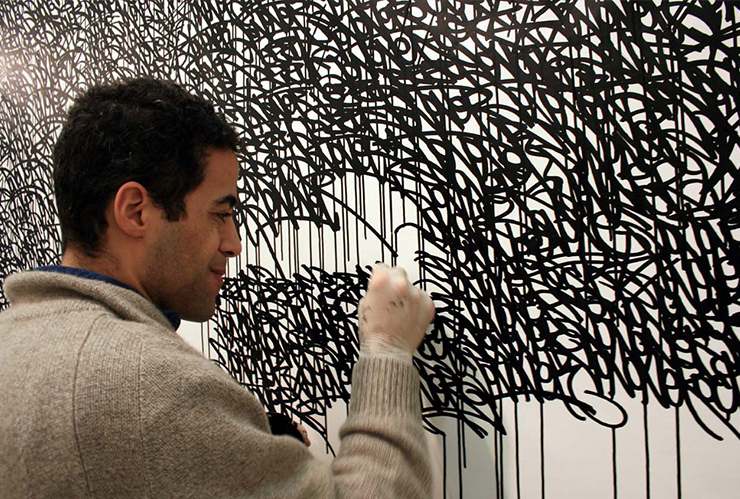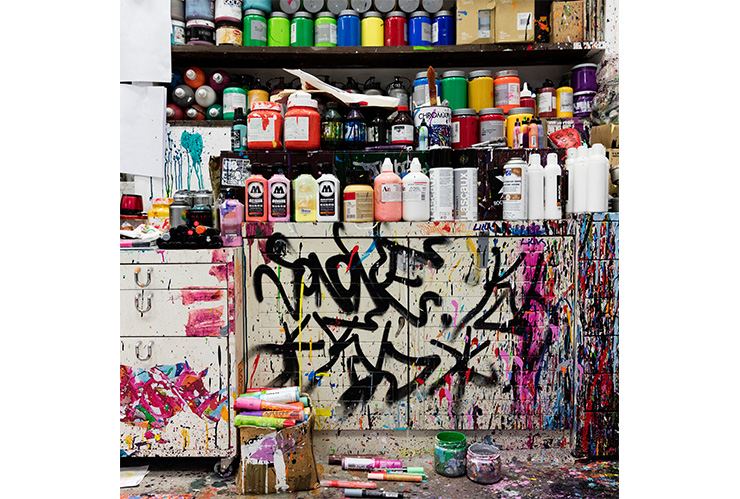 Featured images: JonOne - Commemoration Abbé Pierre, fresco, 2011 © Séb! Godefroy, courtesy of Wunderkammern Milan; JonOne - First Class, Acrylic and ink on canvas, 2016, 98 x 102 cm © JonOne, courtesy of Wunderkammern Milan; JonOne, portrait, © wsimag; JonOne's print for Air France. All images used for illustrative purposes only.