An artist who began writing his name in the city of New York and on subway trains at the end of the 1970s, JonOne has developed a unique abstract language over the years, concerned with the agitation and movement of color. Defying the rules of graffiti, he combines freestyle, hand-painted aesthetics with a sense of repetition akin to textile patterns, creating uniquely balanced yet dynamic visual experience.
Only when freed from technique can an artist give in to expressionism. In fact, abstraction starts where control stops. - JonOne
Galerie Martine Ehmer in Brussels and David Pluskwa Art Contemporain from Marseille are hosting the latest solo show of this constantly innovative artist. Titled Abstracted Expressionism, the exhibition marks a new step in the artist's pictorial trajectory, charting yet another evolution in his abstract research. In this new body of work, JonOne once again explores his own moniker, writing it "calligraphed in a jazzy vide, with a mere twist of the wrist", creating compositions characterized by density and concentration of colors never seen before in his work.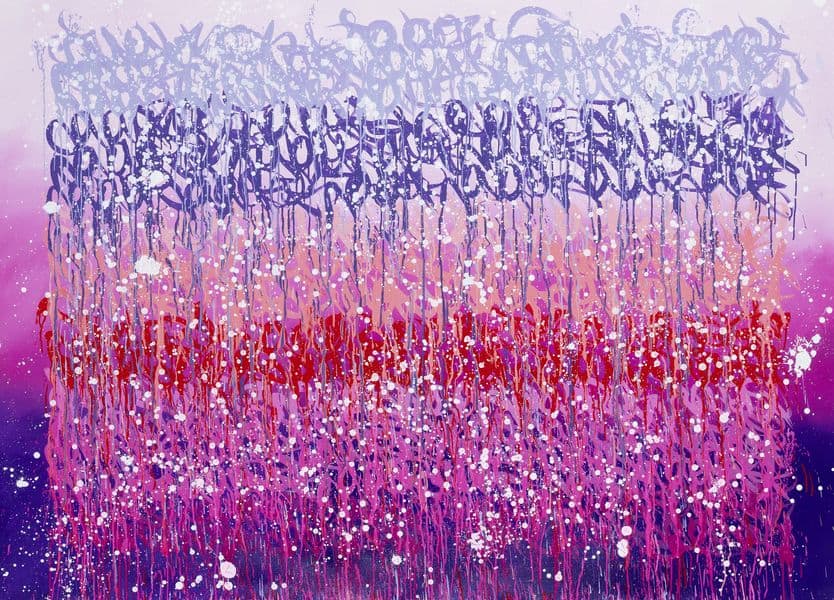 The Practice of JonOne
Born in Harlem in the early 1960s, JonOne's early artistic career is firmly rooted in the rule-bound hierarchy of tagging and graffiti culture of New York. After moving to Paris in 1987, he started working on canvases, developing a colorful and frenetic style which continues to make waves. Although he differs from other graffiti artists with his abstract style, his unique calligraphy but also his talent as a colorist, he continues to draw extensively from the richness of his practice and his personal history.
Created through layering of precise strokes and vibrant color, his work has often been compared to that of abstract expressionist Jackson Pollock and French artist Jean Dubuffet.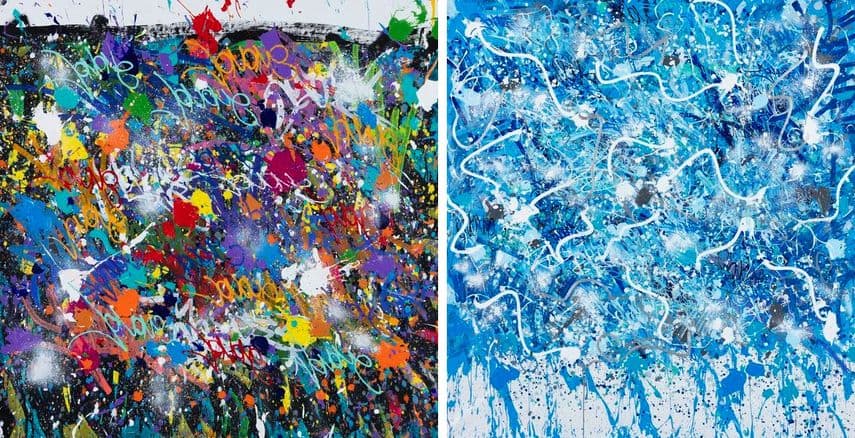 Undergoing Constant Evolution
JonOne continues to undergo constant stylistic mutations and transformations, producing a multi-faceted body of work. From his blue period to his oil paintings, pointillism, compulsive punishments and wild acrylic explosions, he has now mastered an impressive range of diverse techniques. As the artist explains, "it is the price of the evolution of my abstraction."
His latest experiments were given birth in his small studio in the Lilas suburb in Paris, the "suburb of [his] mind" as he likes to call it.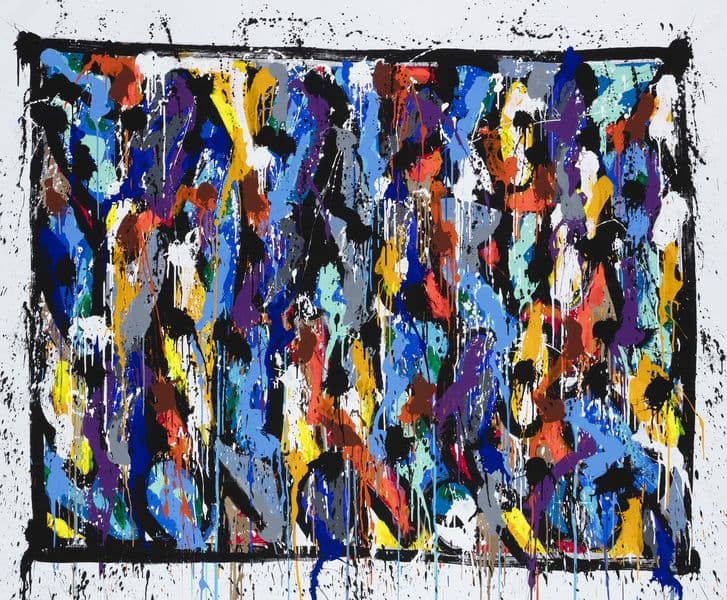 JonOne Exhibition at David Pluskwa
This latest exhibition shed new light on the diversity and incredible richness of JonOne's work. The artist explained:
If only one voice had remained, I'd like it to be that of my work and its many tones, before that of their author.
A collaboration between Galerie Martine Ehmer and David Pluskwa, the exhibition Abstracted Expressionism will be on view at two locations in Brussels: at 33 place du Chatelain 1050 from March 22nd until March 24th, 2019 and at Galerie Martine Ehmer at 200 rue Haute 1000 from March 28th until May 5th, 2019.
Featured image: JonOne - Escapes (detail), 2018; The Stories Of Kings And Queens, 2019; Seeing Straight, 2019. All images courtesy of David Pluskwa.