Ever since the eighties, gay and bisexual men have been banned from donating blood. The FDA introduced this legal policy in 1983 and in the last decade there were numerous protests against this donor policy from groups and individuals who demanded the revision of the unnecessary and discriminatory health law. On October 6th American University Museum in Washington DC will host a new public panel discussion on this subject and one of the highlights of the lecture and the following discussion will be the work Blood Mirror created by the American artist Jordan Eagles out of preserved blood of nine gay men donors.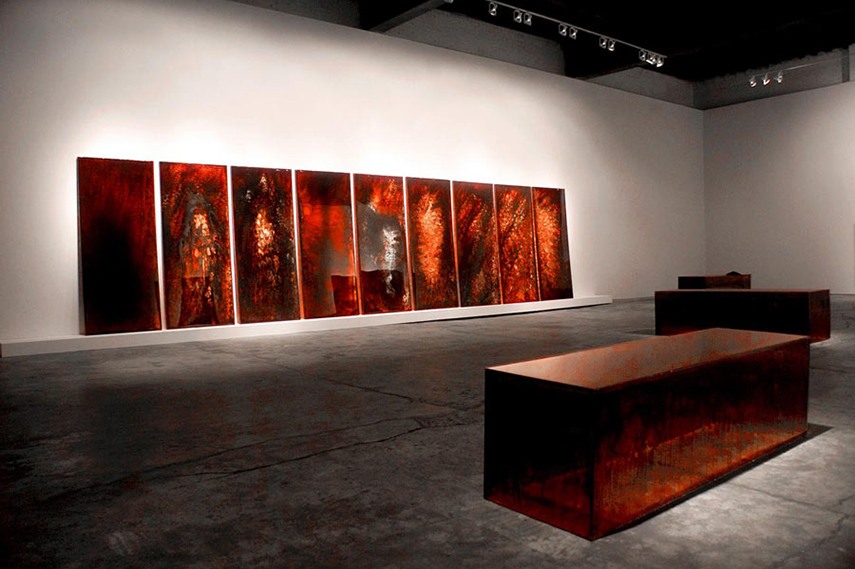 HIV Panic and FDA Policy
The US Food and Drug Administration enacted their policy during the AIDS crisis three decades ago and until this day the men who have sex with men, regardless of how they identify, are prohibited of donating blood or tissue for organ transplants due to HIV health risk. For years this decision was highly protested as it can hardly be based on valid medical or scientific facts. Last year, FDA lifted some restrictions and men who identify as gay or bisexual are allowed to become donors, but only if they remain in celibacy for a year. Rather than actual risk to the blood supply these men are prevented from donating blood solely because of their sexual orientation. The decision to lift the restriction off the policy remains discriminatory still, and this law will be addressed once again this October during the Blood Illuminated discussion which will be fueled by the controversial and ingenious work by the artist Jordan Eagles.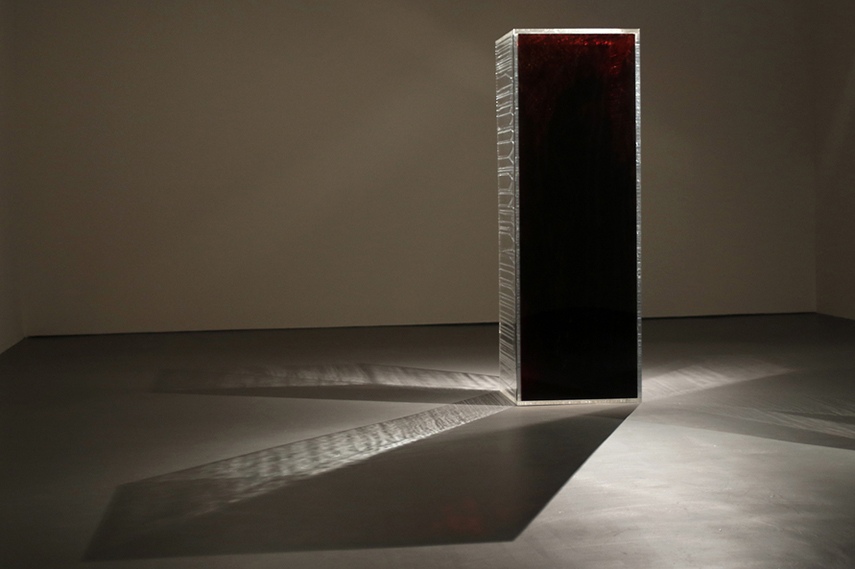 The Art of the "Blood Artist" Jordan Eagles
Jordan Eagles is a New York-based artist nicknamed the "Blood Artist" due to his unconventional choice of material. Eagles is famous for his paintings and sculptures made of animal blood, preserved in Plexiglas and UV resin. His art explores the intricate relations between life and death, body and nature, and themes of rebirth presented in the multi-sensory works of art which merge organic elements with synthetic materials. Blood Mirror installation and series of works by the same name are the first time the artist has worked with the human blood. Given the aim of the work, which is to address the FDA law that bans gay men from donating blood, the artist used blood from nine openly gay, bisexual or transgender men who were forbidden to donate their blood for medical purposes. A choice of donors from various background stands for the variety of people who are deprived of their donor rights in a society as a whole.
Film by Leo Herrera: Discrimination of Gay Men as Blood Donors and the Idea Behind the Blood Mirror
Blood Mirror in Washington
Blood Mirror installation is a seven-foot tall monolithic sculpture made of reflective resin slabs and Plexiglas which encapsulates the blood of the donors. This particular installation presented at the panel is only one part in the series of works by Jordan Eagles. Complete Blood Mirror exhibition is currently on view at the Katzen Arts Center in Washington and it will run through October 18th, 2015. Blood Illuminated scheduled for October 6th will be hosted by the Slate Editor Mark Joseph Stern and will feature a panel and public discussion with medical experts, activists, and the donors for Jordan Eagle's sculpture.
Do you support Jordan Eagle's work? Tell us on our Facebook page!
For more art news create your profile via My Widewalls for FREE!
Featured image:
Jordan Eagles - LIFE FORCE 2012-5, 2012. Blood, copper, preserved on plexiglass, UV resin, detail
All images and the video courtesy of Jordan Eagles